Many things in Switzerland contribute to the fame of this country around the world – bank secrecy, the Swiss knife and so on. The list is long, but everything starts with breakfast. This is the most important meal, and the Swiss breakfast gives us a great, nutritious and delicious beginning of the day.
Here are some ideas that are easy to prepare, which will make you feel like Swiss people in the morning, and why not every morning? Here is an exemplary weekly menu containing different traditional Swiss breakfast and variations: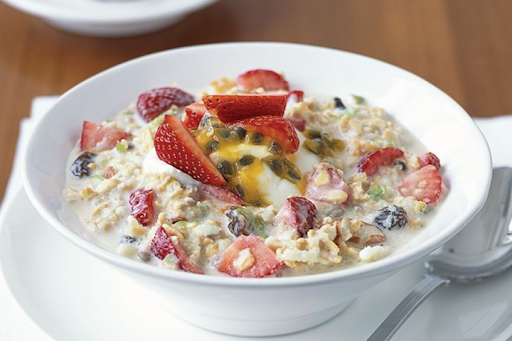 Monday – a typical Swiss Bircher-Benner muesli
As in other parts of the world, many Swiss people nowadays choose to start their day with cereals for breakfast. In fact, Switzerland is the homeland of muesli, as we know it today. It was invented more than a hundred years ago by the local dietician Maximilian Bircher-Benner. At first it was used as a recovery food for the patients of Bircher-Benner, who insisted increased fruit consumption. Nowadays, muesli is one of the most popular breakfasts in the world.
Instead of buying prepared muesli mixtures from the store, Swiss people often prefer to put dried fruits in regular oat flakes, which must be soaked in some water, milk or fruits juice and left for the night before consumption. You can also garnish with whole or chopped raw nuts of your choice. In this way, our morning breakfast bowl becomes a real fresh start of the day. In combination with a glass of freshly squeezed orange juice, this dish turns into your fully charged battery ready for the new day.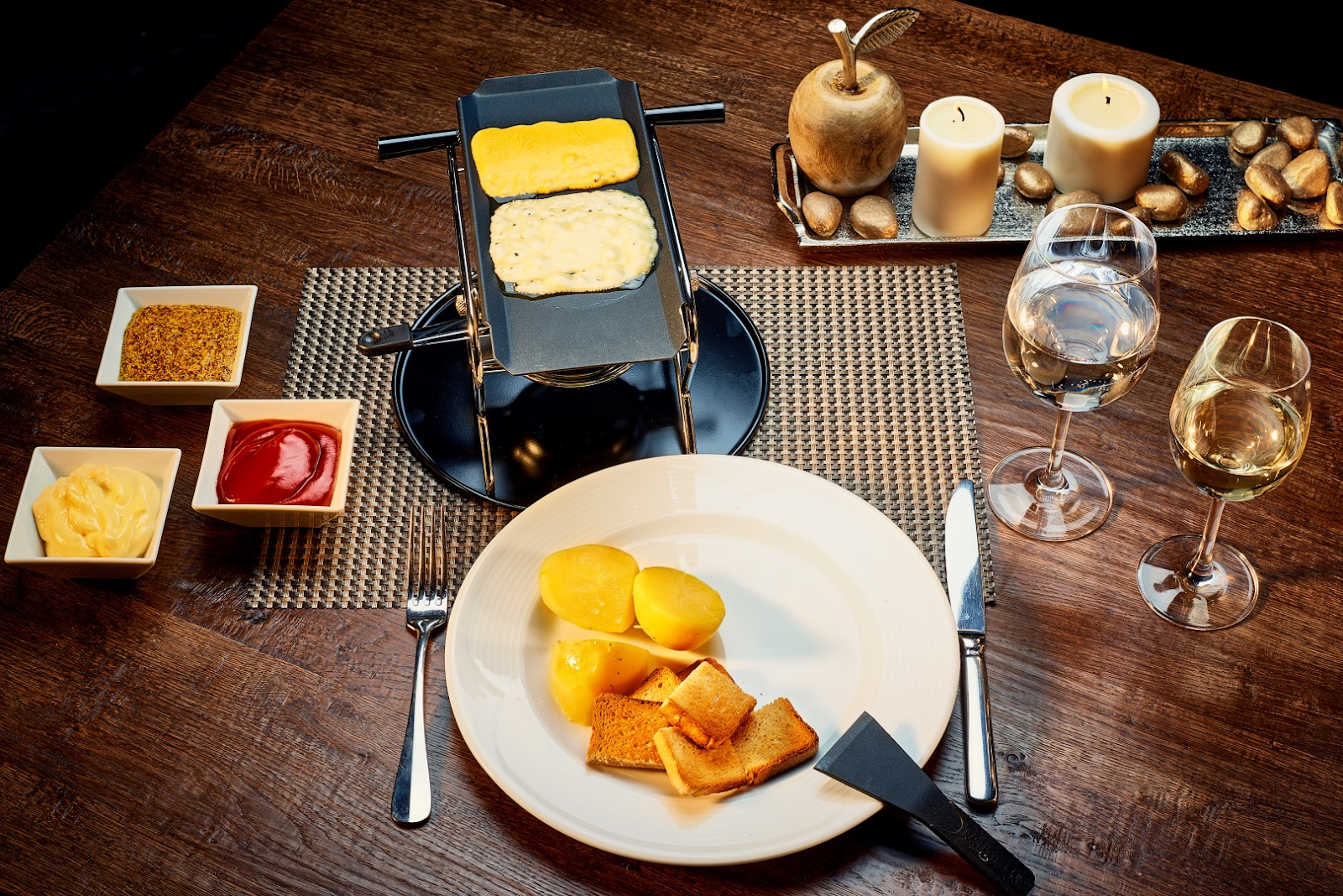 Tuesday –  just simple: bread with butter
Although the muesli is leading the breakfast charts in the last century, to the present day bread smeared with butter remains one of the emblems of Swiss morning breakfast. It can be consumed both with cheeses and salty appetizers, as well as with marmalade, honey and even liquid chocolate, combined with a cup of aromatic tea or coffee. Those who would prefer dietetic meals may try to reduce the amount of bread and they can replace it with fresh fruits or vegetables.
Switzerland is famous all over the world for its vast variety of traditional home-made breads and other Swiss doughy products – their total number is over 200. Each canton has different recipes for preparation of bread. The common thing about most of them is that they are distinguished by their crispy crust.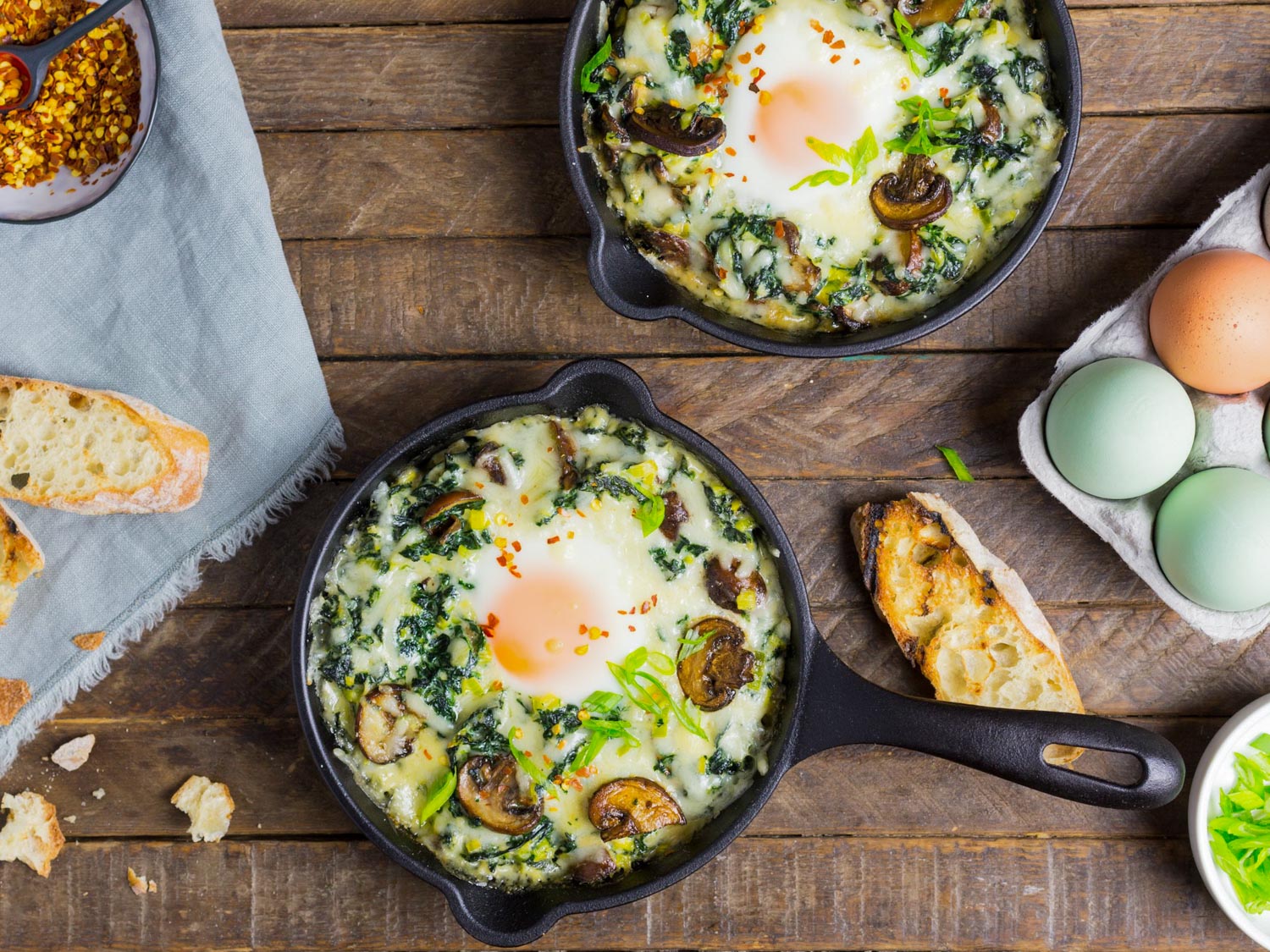 Wednesday – eggs for protein supply
Eggs are a favorite part of the traditional breakfast of many nations around the world. Some people prefer the eggs fried, others like them cooked, and Swiss people often prepare them in the form of a fluffy omelet. It can be cooked natur, as well as with stuffing of various Swiss cheeses, with vegetables (Brussels sprouts, mushrooms, onion) and so on. One of the peculiarities of Swiss omelet is that it is more spongy and bigger than the American one, for example. This is because a small amount of flour is also added to it.  
The good thing about omelets is that we can always use for their preparation products left from the dinner – chicken or turkey leftovers, the last two leaves of lettuce that are not enough for a salad, or one or two pickles. Typically, we can cook the more sophisticated omelets when we have more time or we are about to have late breakfast.
Another cooking idea is to put the eggs in the multicooker or in the oven in a casserole with a mix of fresh vegetables spices and Swiss cheeses. This, however, requires longer cooking time, and maybe it is a good idea to use it as a breakfast option at the weekend.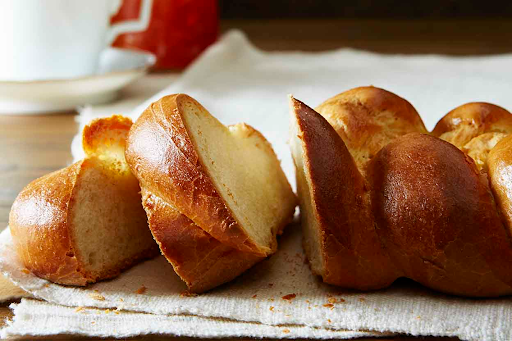 Thursday – gipfeli (Swiss croissants)
The Swiss croissants re called gipfeli. They usually have a neutral taste or are slightly sweetened and are certainly the best company to your morning coffee. They are made from homemade or ready-made dough, they have a relatively long shelf-life, and they can be prepared over the weekend and consumed as an on-the-go breakfast every day.
And if you have not been able to eat all croissants during the work week and you worry that the other have dried out, you can cut them in large pieces and bake them with a topping of eggs, Swiss cheeses and spices.
Normal croissants with butter are usually called butter gipfeli. And the king of croissants is His Majesty nusgipfel – this is a sweet muffin filled with walnut cream, which is generously covered with glaze on top.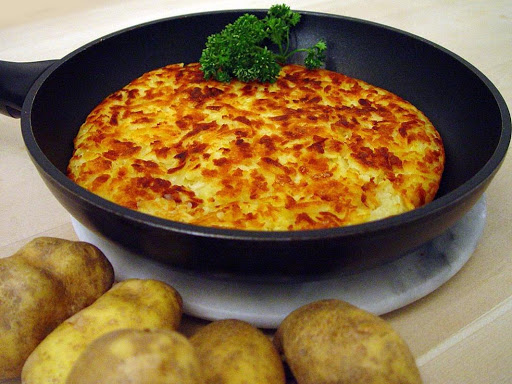 Friday – rösti (potato pancake)
One of the most popular Swiss breakfasts and a great way to to finish the work week is the so-called rösti. This dish is like a pancake that is prepared of grated potatoes. it originated from the canton of Bern, today is popular all over the world. The best thing about rösti is that it can be combined with any other type of breakfast  such as eggs, bacon and so on.
Rösti is typically served with parsley or other green spice for decoration and freshness. Its "secret"ingredient is the nutmeg, which is one of the most appreciated spices in Switzerland.
Saturday  – time to indulge
On Saturdays and Sundays, or during the holidays, usually we are able to spend more time to prepare our breakfast and enjoy it. That's why our weekend breakfast table is more abundant compared to the breakfast during the working days. On the first weekend day we can eat some pretzels, which can be varied, for example, with goat cheese and herbs.
Another recipe with which we can start the weekend is polenta – this dish is similar to the Bulgarian katchamak, with cow's milk, butter and parmesan cheese. Polenta is a typical food for the Swiss canton of Ticino, where people speak mostly Italian.
For dessert you can prepare the so-called rublitorte – cake with carrots. It is a great idea because it is both delicious and very nutritious, and it can be consumed from the breakfast on Saturday until Sunday dinner. The history of this cake dates back to the Middle Ages, when cooks and hosts used carrots as a sweetener in the food. Typical for the rublitorte is the decoration of small marzipan carrots. This traditional confectionery decoration can be found in almost any supermarket in Switzerland.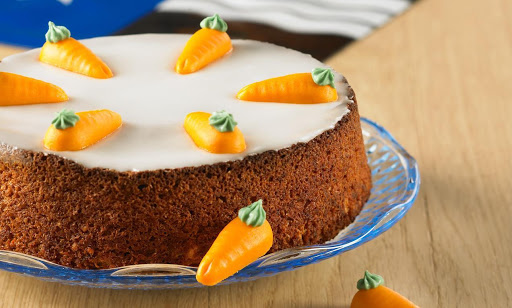 Sunday – doughy foods and chocolate temptations
On Sunday, a person usually seeks for abundance and a sense of well-being. One of the things that is almost always present in the Swiss breakfast menu for the weekend, is the traditional Swiss braided bread called Zopf. Just like the most popular toast bread, zopf is garnished with marmalade and cheeses. The good thing about it is that the rising process takes relatively short period of time and the baking requires about an hour.
If you are not in a hurry to go out and you would like to turn the Sunday breakfast into a brunch, with more abundant dishes, then why not prepare a fish pie with salmon? For this purpose, you will need some dough for the form, and you can add to the stuffing of the fish a mixture of onion, eggs, grated emmental or other hard Swiss cheese, green peppers, a spoonful of flour and some lemon juice.
The pancakes made by the Swiss at weekends are in fact very similar to those in our country – they are thin, fine and airy. The pancakes are served with fresh or canned fruits, cheeses, etc.
And since we are not in a hurry on Sunday, we can afford to replace the coffee on that day with a cup of hot chocolate, and why not even cold. Swiss people often spice their chocolate with cinnamon and sometimes they serve it with whipped cream on top.