Christmas in the Alps – sounds like a true winter tale. In addition to the snow paintings, we inevitably begin to imagine a fire in the fireplace and spectacularly decorated tables littered with many delicious foods. Winter and the mountain predispose to solid meals, much more satisfying than the daily food of most urban Europeans.
The harsh climate leads to the mountain's tradition of preparing heavier but delicious food, and Christmas is a time for a real feast. The Alps cover territories mainly in Switzerland, Austria, Germany, Italy and France and it is natural that the culinary festive traditions of these countries are intertwined and the food in the highlands brings some common characteristics. This also reflects on the prepared Alpine Christmas menu.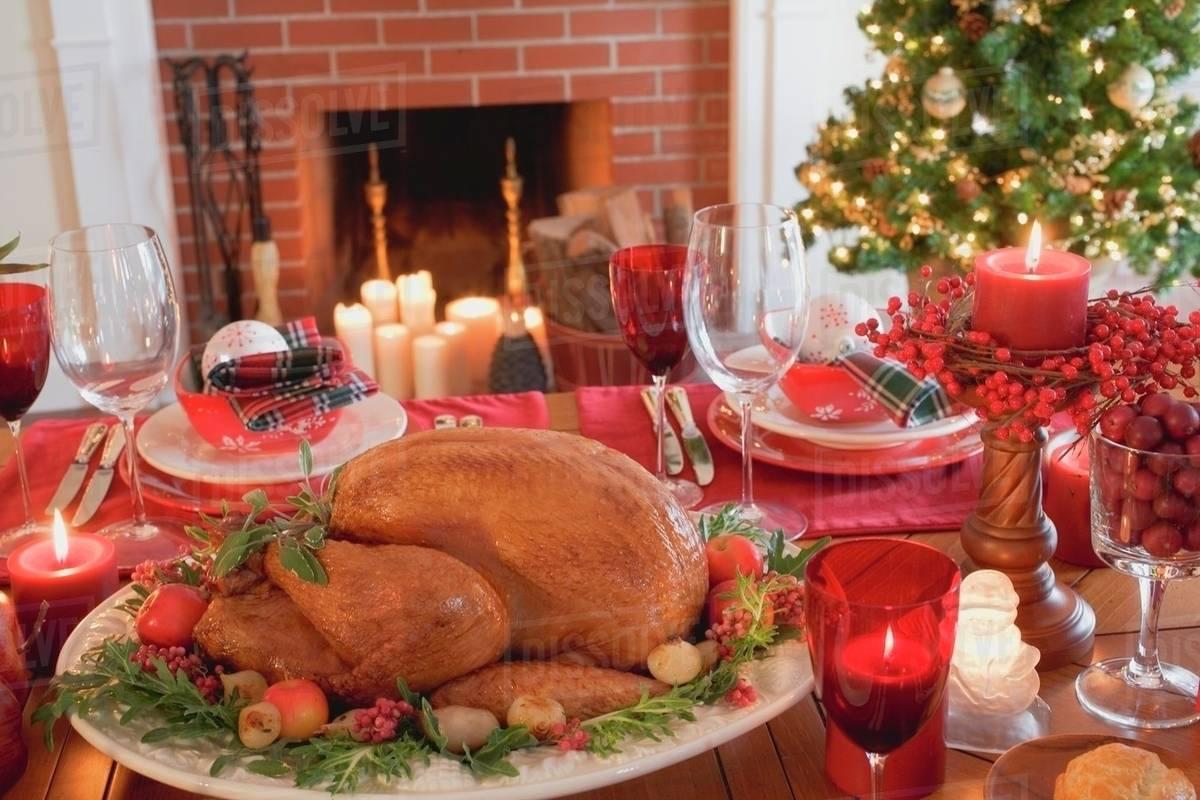 What meals are served and what are your custom for Christmas?
In most of the Alpine countries there are similar meals without which the Christmas table cannot pass. Such a crown dish is a stuffed duck or goose that is the focus of the Christmas menu in Germany, Austria, Switzerland and elsewhere.
In Germany, the Christmas tree is decorated on Christmas Eve when gifts are exchanged. The Germans call it the Christmas goose Weihnachtsgans, and it is typical that it is often filled with sour apples, baked and served with Brussels sprouts sauce and garnish. Many German families prefer to roast duck .
The table cannot be left without the favorites of all German sausages in their various delicious incarnations, which are also revered by the neighbors from Austria. Spicy mustard potatoes are also part of the German Christmas menu.
The Germans are preparing a must-win world-class venue. The good thing is that it can be done long before the holiday because it has great durability. Originally, the gallop was just a short loaf of flour and yeast mixed with oil and water. Now, eggs, butter, fresh milk, some sugar and the obligatory candied and dried fruits are added to the pastry dough.
Different types of marzipan, nuts and spices are put in the different types. Sprinkle a lot of powdered sugar on top, which increases its durability.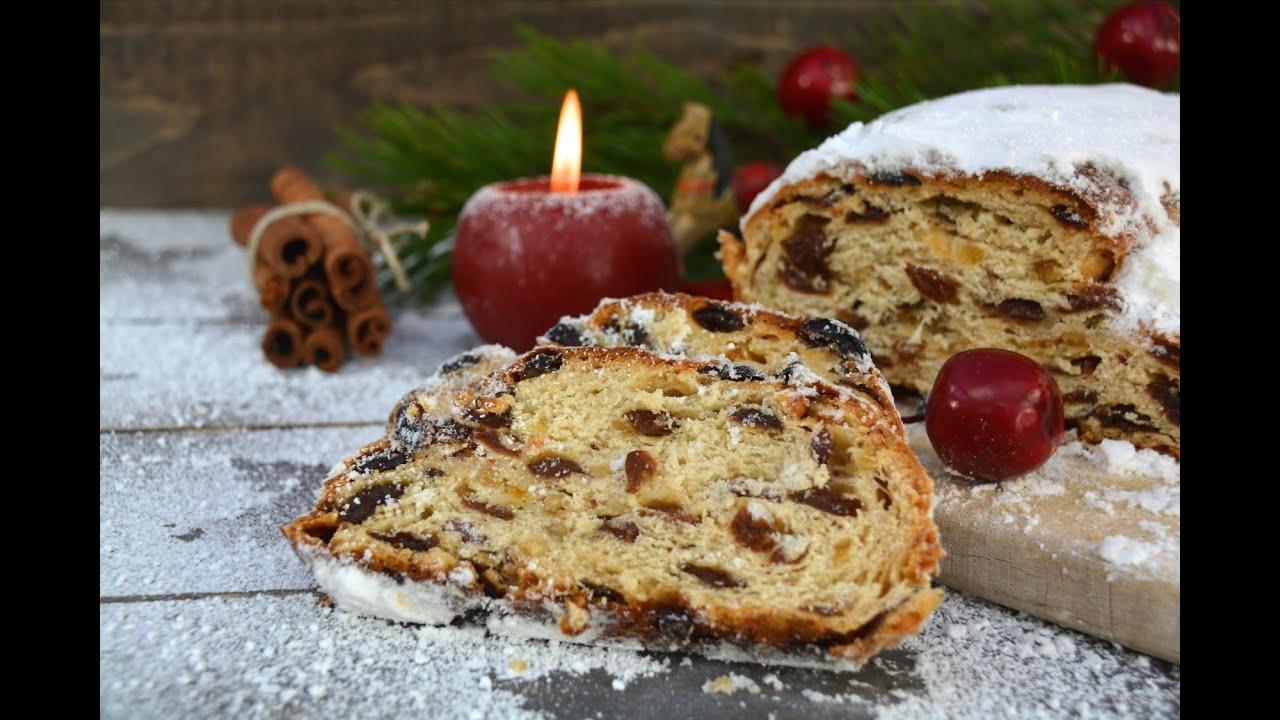 Traditional bread and biscuits are also baked for the holiday in Germany. There is a delightful smell of cookies from every Christmas home. In Austria and Germany it is also customary to make delicious Christmas strudel with apples.
The Swiss do not stay back from their neighbors and present themselves at the Christmas table with duck with mushrooms and small things. Put rice, carrots and onions in the stuffing. It is more interesting that some of the stuffing is made with cabbage leaves and baked in a deep pan with the duck, covered with sauerkraut leaves. In some Swiss homes, interesting nutty mayonnaise is also being prepared and served with baked duck along with fresh bread. It is made from walnuts, garlic, olive oil, lemon juice and some salt.
Due to the cultural diversity of Switzerland, it is generally difficult to emphasize any specific Christmas menu – each canton is known for its unique taste preferences. So in the French-speaking part of
The Confederate festive meal will not go without meat – pork fillet in dough is very popular. The locals also serve turkey. By the way, the Swiss love the turkeys not only for their taste but also for their symbolic meaning – the bird represents wealth and abundance.
In the German-speaking regions of Switzerland, they will certainly give preference to the main national dish – fondue. For Christmas, however, locals may choose not traditional fondue with cheese but an option with meat.
This specialty is cooked in a special metal canister, which is placed in the middle of the table. Vegetable fat is heated in it and the pieces of meat, mushrooms, and vegetables cooked on long forks are immersed. Meat is used tenderly  beef, pork or chicken.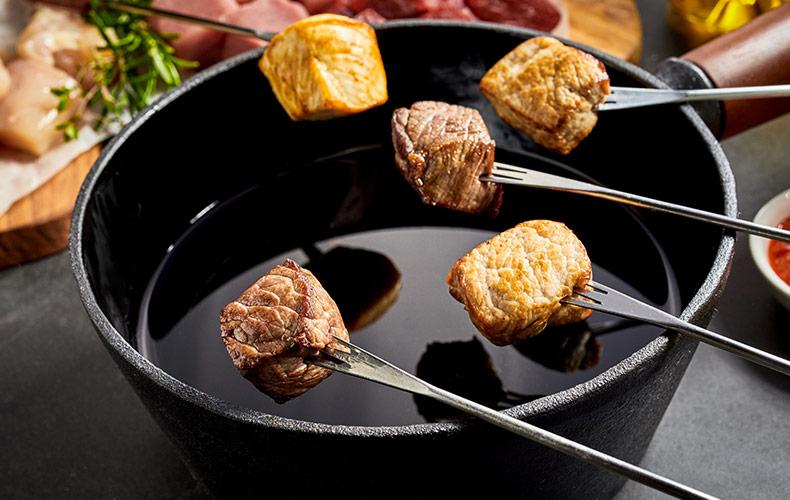 When fried meatballs are served fresh or heat-treated vegetables and sauces Served with small cubes of two types bread – white and rye.
 In the spirit of the Alpine culinary tradition, a delicious raclette or yam can be prepared for the holiday.
In the Canton of Bern, one of the main dishes for the holiday is traditional Swiss food: meat with potatoes and sauerkraut. Also, ham with potato salad is very popular with residents of the German-speaking region of Switzerland. The inhabitants of the Italian-speaking Canton of Switzerland – Ticino, on the other hand, can include ravioli with all kinds of fillings because of their influence from Italy.
No Christmas in Switzerland is complete without the traditional Christmas cookies – with cinnamon, ginger and cardamom. Especially for Christmas, many Swiss hosts prepare exclusive honey sweet cherry liqueur. Christmas cookies are not only a decoration for the holiday table, but also a great gift.
France's major contribution to the Christmas holiday menu across Europe is the Chocolate Christmas Stuff (Christmas tree). Tradition dates back to the old days, when on Christmas Eve the whole family sat around the table and the Christmas tree burned.
French pastries are inspired by tradition and the Christmas Stuff has become a dessert called Bûche de Noël. It is a chocolate roll with cream spread on all sides with chocolate to make it look like a tree. The recipe for this Christmas miracle was first described in the late 19th century.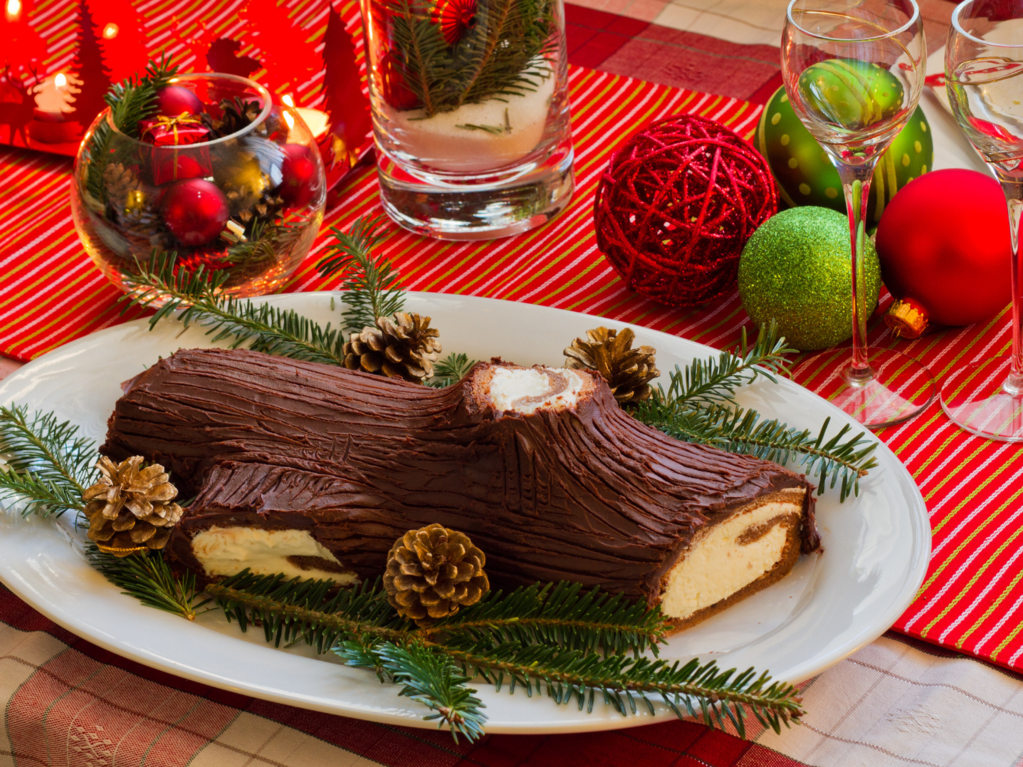 Although France is home to this dessert, it has long gone beyond its borders and is a sweet part of many peoples' holidays. The base of the Christmas stump is the pan-spun roll. Nowadays, the "stump" is prepared in dozens of different ways, with the shape of a tree and the chocolate cream coating that resembles a tree bark.
Decorations can be made with figures of chocolate, fondant or marzipan. Mushrooms, twigs, cottages, Santa's sleigh and other Christmas symbols are made. The roll itself is most often made from pandishpan swamp, but for example a roll of honey dough can be prepared.
Just as the French table cannot be deprived of the Christmas stump, so the Christmas feast for the Italians will not take place without Panettone. This is a traditional sweet bread similar to ours. It is believed that the tradition of its preparation comes from the Middle Ages, and even earlier.
Panetone products are flour, yeast, butter, aromatic spices and many dried fruits – a mix of raisins, cranberries, cherries, orange peels and more. Usually sprinkle with almonds and powdered sugar on top.
Alpine Christmas Menu Recipes
Duck with mushrooms and small things in Swiss
Products:
1 big duck
500 grams of trifle
2 heads of red onion
1 large carrot
about 250-300 g of fresh mushrooms
1 teaspoon of rice
salt
black and red pepper
olive oil or oil
sour cabbage
Preparation:
Clean and wash the little things. If you do not have duck, you can buy chicken millet, liver and hearts from the store. They boil, foaming during cooking and salt. After they cool down slightly, they are cut into small pieces. Onions are also chopped and stewed in melted butter.
Add grated carrots and sliced ​​mushrooms and let simmer until liquid is minimal. Put salt and pepper. Stir and add the rice and then the finely chopped pieces.
Pour two to three cups of broth and place on the stove until the rice has absorbed the water. The duck is smeared with salt and red pepper, stuffed and sewn with thread.
The stuffing should be left to wrap it with small cabbage sarmas that line around the duck in the tray. Sprinkle grease on top and cover with sauerkraut leaves. Baking is long – about 3 hours, at a temperature of 180-200 degrees, and burnt cabbage leaves are replaced periodically.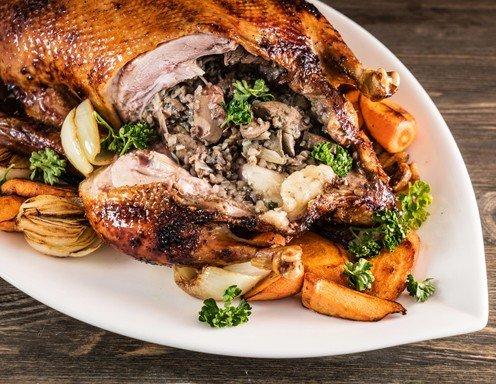 Christmas Strudel (Weihnachtsstrudel)
Products:
For the dough:
250 grams of flour
1 egg
100 g of warm water
20 g of oil
pinch of salt
a separate bowl with the oil to stand the dough
For the stuffing:
150 g breadcrumbs
150 g of cinnamon sugar
140 g sugar
170 g raisins
10 ml of lemon juice
1 kg of peeled and sliced ​​apples
powdered sugar for sprinkling
Preparation:
The flour is sifted into a bowl. The other dough products are added. Knead to form a soft, elastic ball-shaped dough. It is placed in a greased bowl for about 30 minutes.
The galette is baked in a frying pan with oil on the stove. The apples are cut and sprinkled with lemon juice. This is done so that they do not darken. Raisins are soaked in rum and then drained. The stuffing is poured into a bowl and stirred.
The dough is removed from the bowl with oil and sprinkled with flour on all sides. Sharpen to a thin crust that is placed on a clean cloth.
At one end of the dough sheet is the stuffing. It is wound on a roll with the help of a towel. The edges are gripped like candy papers and fold under the strudel.
In this way, several rolls can be made. Again, with the help of a towel, the raw strudel is transferred into a large pan, which is pre-oiled and sprinkled with breadcrumbs, and arranged. Grease the top with melted butter.
The oven must be pre-heated to 190 degrees. The strudel is baked to a golden color, and after removing it, spread with melted butter. Sprinkle with copious amounts of powdered sugar until cool.