Alpine cuisine is a unique blend of all the culinary traditions of Europe. In addition, the locals have adapted their diet to the difficult conditions of the mountains. The result is a unique cuisine that emphasizes a lot of meat. Potatoes, mushrooms, cabbage also help with the nutritional qualities of the food and there is no way to go without them – milk and dairy products.
Alpine cuisine is a delicious mix influenced by French, German, Swiss, Austrian and Italian culinary culture . Not to forget Slovenia, which is also an alpine country.
The harsh conditions in the Alps require that the dishes be very nutritious and satisfying. This applies in full to soups, which in addition must be hot. And of course they are delicious and useful, of course, because their products are natural from the mountain.

History of soups
The history of the origin of the soups is so ancient that culinary historians have already abandoned their attempts to find out who invented them and in which parts of the world they first appeared. They say with certainty that the dish in antiquity was not like the present soup, but was prepared from crushed cereals previously baked on stones that were simply soaked.
It is believed that with the advent of ceramics the transition to cooked soups has occurred. The oldest culinary recipe that survived to this day is from the 4th century. In the Middle Ages, pork soup, frozen cabbage soup and cheese were very popular in Europe.
As you know, in the field of cooking the French have extraordinary talents. Only soup recipes at the end of the 15th century are over 70-80.
On the menu of the French peasants at that time, soup was a main course served twice a day. So it's no wonder that the international soup name comes from French. It is customary to serve the soups as a first course. Their name depends on the components of which they are prepared. Soups can be hot and cold.
Types of Alpine soups
As has already become clear, the Alps are focusing on meat. That's why most of the popular soups there are meaty, but not lacking in meatless performances. However, these are not traditional rich vegetable soups for other European countries, but rather those based on milk, dairy products and eggs.
The varieties of soups vary greatly by region, but the culinary tradition is so intertwined that the famous goulash, for example, is prepared in many Alpine countries. He is number 1 in every decent alpine catering establishment.
Some restaurants honestly admit to the menu that the soup is Hungarian, others ignore this fact and give the impression that it belongs to the typical Tyrolean specialties. On the other hand, this culinary element of Europe changes its citizenship so often that food internationalism in local latitude is justified. Bread and cheese milk and egg soups are also found in the cuisines of most Alpine countries.
Soups in different regions of the Alps
Austria is the birthplace of extremely nutritious and, according to most Europeans, heavy food. You will find thick meat soups everywhere and in large quantities. In the mountains, this is justified – snow, cold, regular exercise and other difficulties require real food. For example, after a wonderful walk in a frosty minus twenty-five degrees, it is not a sin to warm up with nutritious Austrian soup.
As you know, Swiss cuisine is based on simple products, few in number in the individual dishes. This also applies to soups. Swiss Alpine soup of barley with bacon, seasoned with cumin, for example, is a particularly good choice in winter. Milk soups with cheese and bread are also popular. Being milky does not prevent them from getting stronger with meat broth.
In the French Alps, you can try Soupe de Chalet. This soup was prepared in chalets on days when shepherds were not able to get fresh vegetables during the pasture season in high pastures. It requires milk, potatoes, pasta, cream and Gruer cheese. For seasoning, wild herbs from the mountain.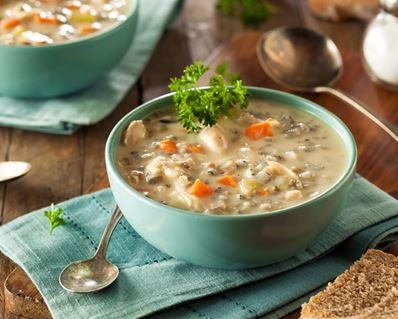 Authentic alpine cuisine can be tried in the cities and villages of Northern Italy and the Aosta Valley region.  Centuries-old traditions are observed, only  organic products are used in cooking. Rural soup bread loaf and fountain cheese are prepared in the region.
In July, the town of Valpeline  even hosts a gastronomic festival dedicated to this local culinary attraction. In one of the neighboring towns – Horse , there is also a fragrant soup made of cheese fountain with cow oil, a pinch of nutmeg and Carnaroli rice, which is considered one of the best Italian varieties.
Slovenia also contributes to the Alpine soup variety. Traditional national Prezganka soup is also called Brown soup and is very common in the country, while Slovenian soup Ricet is one of the oldest Slovenian national dishes.
Recipes of the most popular alpine soups
Alpine milk soup
Products:
800 ml of milk
4 yolks
300 g of dry white bread (without crust)
2 tbsp cow oil
2 tsp sugar
5 tsp salt
1 tbsp grated cheese
Preparation:
Cut the bread into thin strips about 10 cm long and 5 cm wide. Melt the butter in a frying pan over low heat, fry the bread pieces for a short while. Put the fried bread pieces in a soup bowl. Milk should be warmed up and sugar and salt added.
Turn off the stove and gradually add the beaten yolks, constantly stirring with a wooden spoon. Before serving, sprinkle with grated cheese.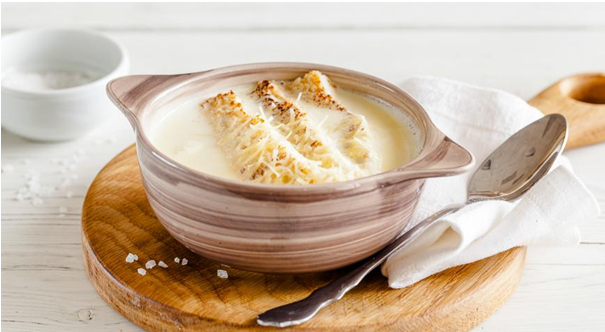 Austrian goulash soup
Products:
700 g of beef
2 red peppers
1 hot pepper optional
3 large potatoes
2 large onion heads
5 cloves of garlic
100 ml of red wine
150-200 g tomato puree / or canned tomatoes /
2-3 tbsp flour
1 tbsp ground red pepper
1 tbsp salt
1 teaspoon cumin
Preparation:
Cut the meat into cubes. Mix the flour with red pepper and a tablespoon of salt. Roll the pieces of meat into the mixture and fry them in butter in a preheated pan, preferably with a thick bottom, in small portions.
Transfer the meat to the soup pan and pour it with 2 liters of water, let it cook over medium heat, stirring occasionally. Onions cut into small pieces, fry in a pan and add to the soup. Put the sliced ​​peppers and cook, stirring, for another 30 minutes. It is not necessary to put pepper in the soup.
Fry the sliced ​​garlic cloves in a pan, add the tomato paste, and stir. Pour the wine. The aromatic mixture boils for 10-15 minutes. Add the tomato-wine mixture and cumin to the soup.
Slice the potatoes into cubes and place them in a saucepan. Now let it all boil for about 30 minutes. Try the meat and, if not ready, let the soup boil to the desired consistency.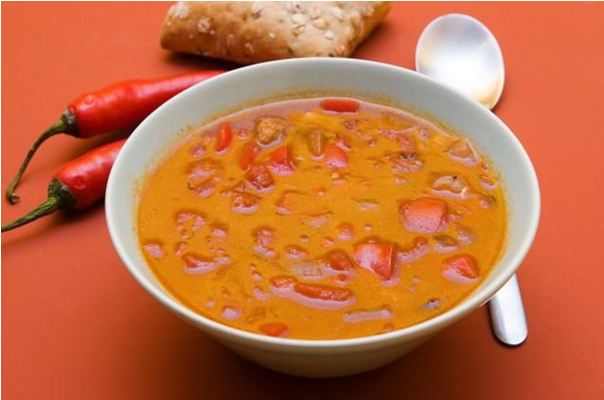 Soupe de Chalet
Products:
10 potatoes
2 onions
1 handful of wild spinach
1 handful of nettles
1 liter of milk
2 liters of water
200 grams of pasta
salt
Grüer cheese sliced
Mountain herbs
Preparation:
For this mountain French soup, the potato cubes are boiled in water, milk and salt. Add the thinly sliced ​​onions, followed shortly by the nettle and the spinach. Boil for 45 minutes to one hour.
Add the pasta and cook for another 10 minutes. Put the sliced ​​cheese on a plate and pour the soup over the cheese. You can add bacon to flavor.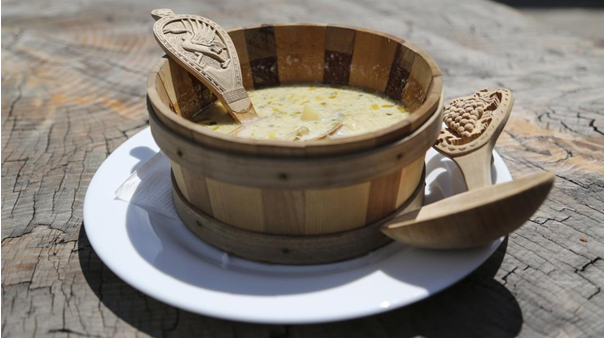 Alpine chicken soup
Products:
1 large chicken
carrots – 1-2 pcs.
onion – 1 pc.
bay leaf – 1 pc.
garlic – 1 clove
Melted cheese – about 250 g
salt, pepper – to taste
Preparation:
Put the cleaned chicken in a saucepan and pour 3 liters of cold water. Bring to a boil, remove the foam, add the sliced ​​carrots, onion, bay leaf, garlic. Season with salt and pepper and cook until the meat is ready. Remove the chicken, carrots, onions, bay leaf and garlic from the broth.
Divide the chicken into small pieces and crush the carrots with a fork. Slice the melted cheese into cubes, add to the broth and cook by stirring. Leave to simmer for 10-15 minutes. Return the cooked chicken to the pan  and the crumbled carrots, let it simmer for a while. Spread the hot soup in bowls.  Serve with chopped herbs optional.
Slovenian soup Ricet
Ingredients:
One large glass of barley and beans
3-4 carrots
2-3 potatoes
2 tomatoes
1 head of onions
bacon or some kind of sausage
2 bay leaves
3-4 cloves of garlic
parsley
Preparation:
Barley and beans soak in water all night. Then put in a pan with 6-7 glasses of water. They cook for about an hour. During this time, vegetables – carrots, tomatoes and onions, and bacon or sausages are chopped. Sliced ​​vegetables, pressed garlic, bay leaves and bacon or sausage are added to the soup.
If necessary, top up with hot water, but the soup should remain thick. Cook for about another hour, seasoning with salt and ground black pepper. Serve with parsley when serving.