The culinary side of Switzerland
Switzerland, the country of pointy snowy peaks and breathtaking alpine meadows and lakes, has much to offer in terms of its national cuisine. Switzerland is a country with many faces. Mixing different culinary traditions has led to the emergence of a varied cuisine.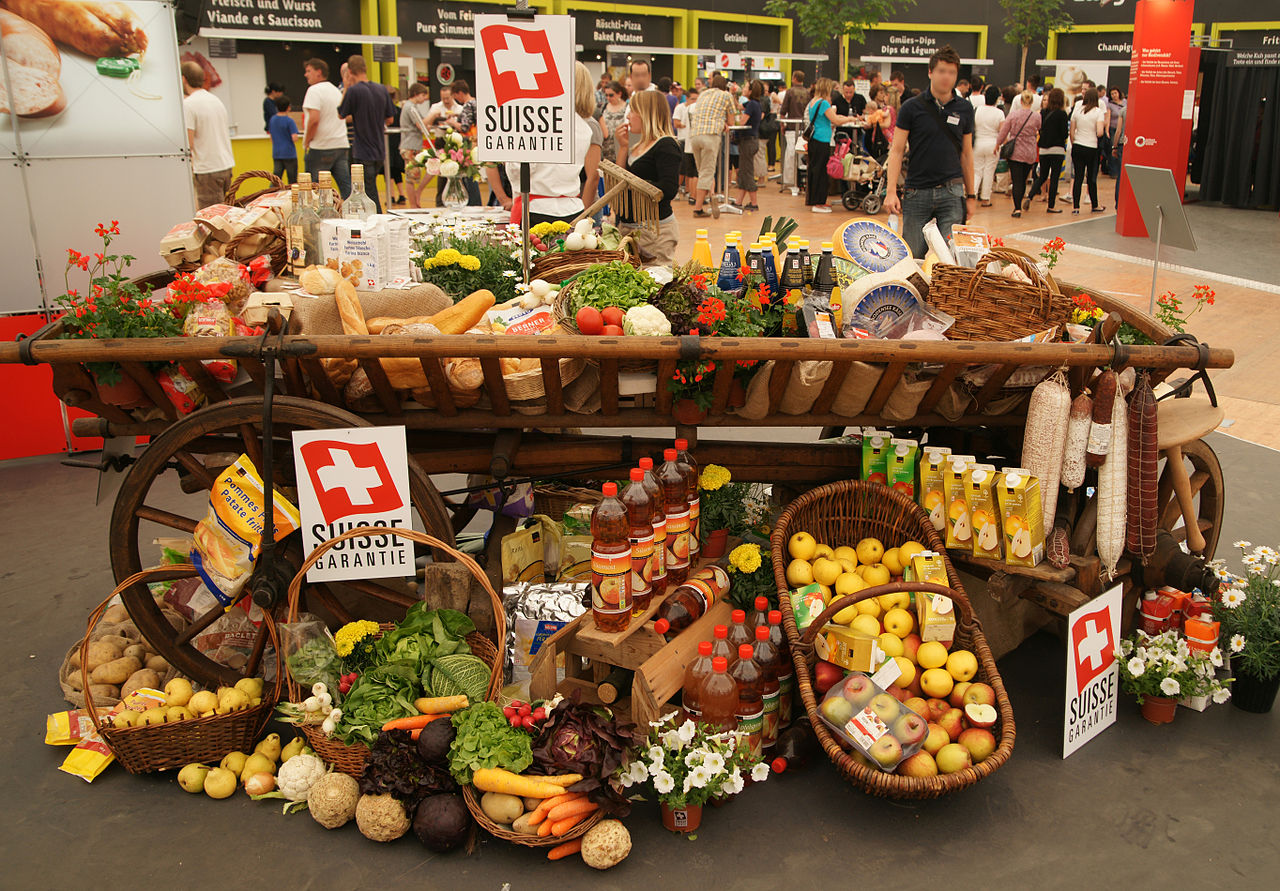 Most of you probably know that Switzerland is known for its variety of cheeses, as the country is a leading world dairy producer. The Emmental, Vacherin, Gyuere and Appenzeller cheeses are some of the most widely used Swiss cheeses.
The traditional cuisine of Switzerland is dominated by simple products such as cheese, potatoes, onions and butter. This is because many of the current Swiss specialties are invented by farmers for farmers. Their purpose was to prepare meals during hunger times when food supplies were limited (in winter, for example), and it was supposed to be both tasty and nutritious because farmers had hard work and needed satiating food to take with them in the field.
All products in the traditional Swiss dishes are accessible to the average person and the alpine specialties are both easy to prepare and bring satiety and delight. Each region of the country has its distinct culinary traditions influenced by neighboring countries of Switzerland such as Germany, France and Italy. Some of the types of food symbolizing Switzerland are undoubtedly Fondue, Rakюclette, Rötsch, and Shepards'Macaroni (Alplermagronen).
If you have not yet tasted authentically prepared Swiss dishes, we advise you not to miss this great culinary experience. Here, we will introduce you to some traditional Swiss dishes that everyone should experience.
Raclette
This traditional Swiss dish has begun to gain popularity in recent years beyond the borders of the country. It is another winter specialty that is prepared with Raclette cheese and is found in all parts of the Alpine country. It is one of these traditional Swiss dishes that every man prepares on their own and is a type of food that has a unifying character as it gathers everyone at the table.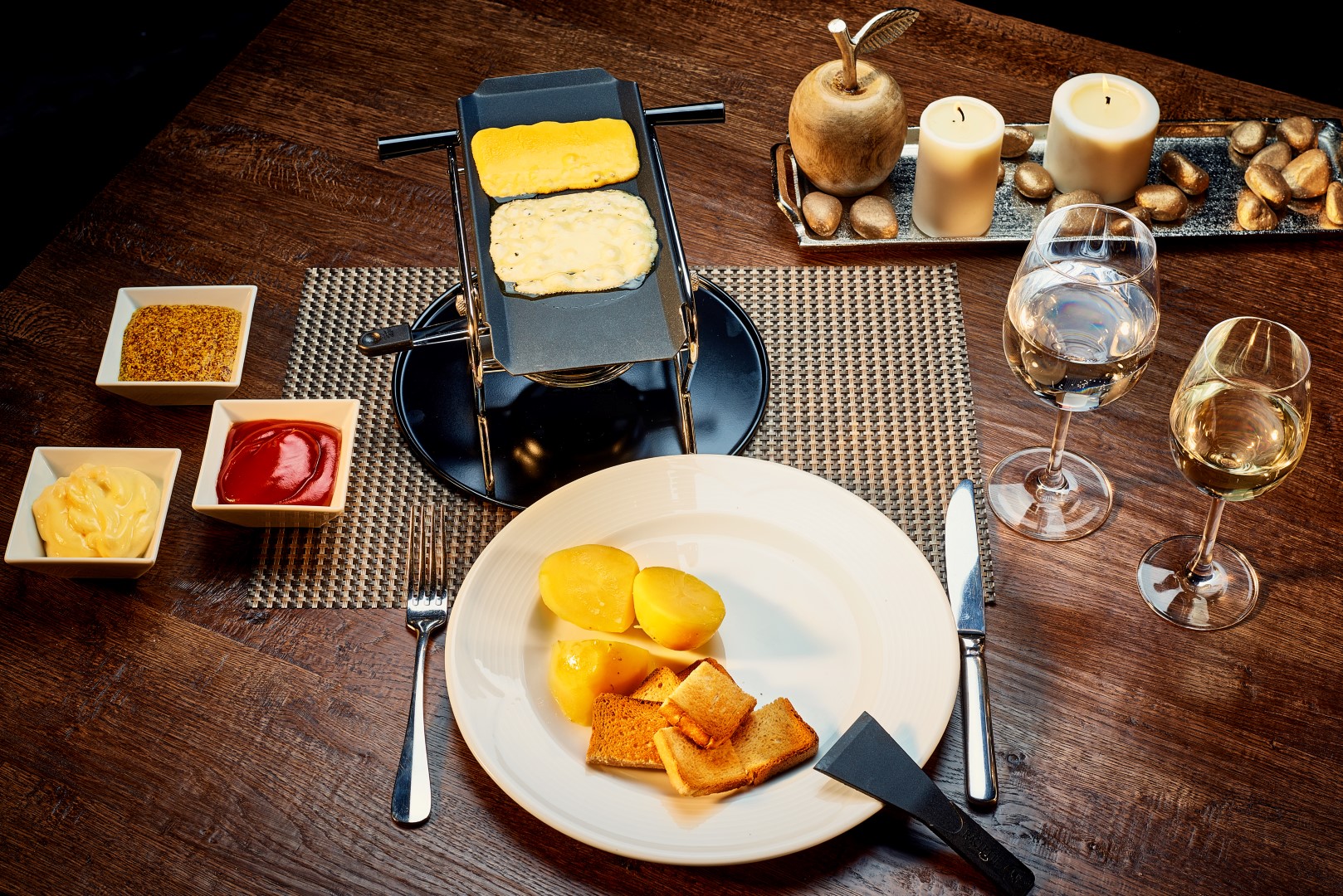 It's made with original Raclette cheese. The cheese is cut into large pieces and melted on fire or a special household grill electric appliance to prepare the Raclette which has a set of individual small pans called "coupelles" where the cheese is melted.
If you don't have Raclette, Emmental cheese can also be used. Melted cheese can be sprinkled with paprika and pepper. Once the cheese is melted, the hot mixture is poured over a plateau served with a variety of foods such as medium-sized cooked or roasted potatoes, gherkins, marinated miniature onions, a type of a Swiss dried beef sausage called Buendnerfleisch, Italian prosciutto, salami or salami peperoni, French bread.
Raclette is served in combination with Swiss Kirsch brandy or light white Fendant wine coming from Switzerland and even herbal tea during the cold winter months. Some supermarket chains in France and other European countries sell kits for electric raclette grill along with ready cut slices of cheese or selections of dried meats, especially during Christmas holidays. Some Swiss restaurants even organize raclette evenings and parties.
Zürich Geschnetzeltes
The name of this Swiss specialty in literal translation means crushed Zurich-style meat. It is made from veal, kidneys, butter, white wine, onion, Demi-glace sauce, sour cream, pepper, chilli powder, lemon juice and some flour. It is usually served with a mushroom and potato garnish but can also be served with rice, tagliatelle, Spätzle (a type of German noodles), mashed potatoes. You can also add parsley to the recipe
Alpine Macaroni (Älplermagronen)
This simple and tasty dish has rustic roots and is the favorite comfort food of the Swiss during the winter months. It is prepare by putting layers of penne pasta, potatoes, butter and Gruyere and Emmental cheese which are baked with rings of caramelized onions and served with apple sauce and cinnamon can be added as well. Other types of pasta can also be used in the dish.
Malakoff
Another super easy-to-cook Swiss temptation, which can also be described as a seductive street food that is most common in the region of Western Switzerland. It consists of fried balls made from flour, grated Gruyere cheese (other types of cheese can also be used), nutmeg, finely chopped garlic, black and white pepper, beaten up eggs, dry white wine, a small quantity of Swiss cherry brandy bearing the name Kirsch (cherry liqueur) and vegetable frying oil.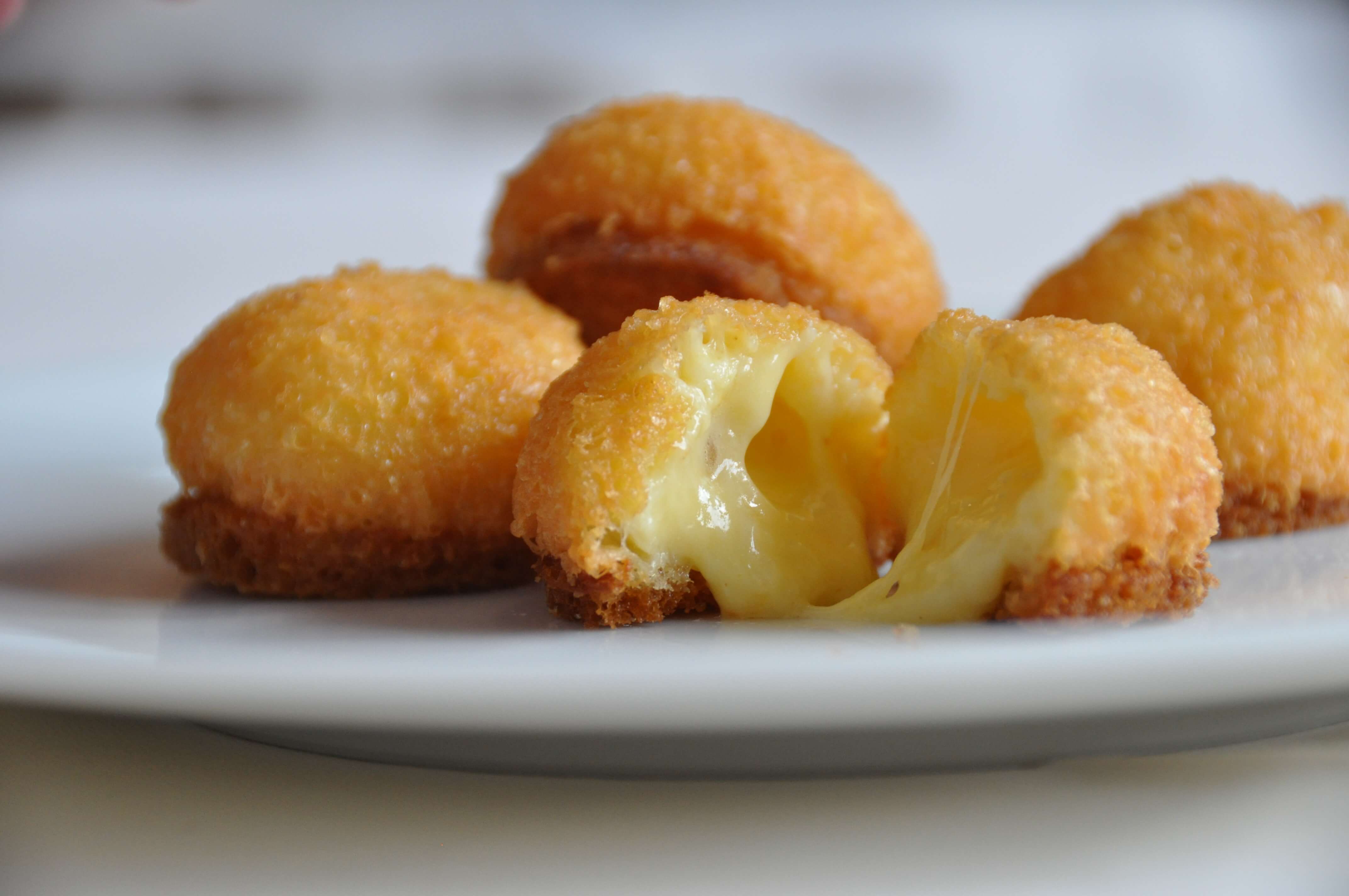 Malakoff is served with pickled onions and gherkins and a glass of white wine and is eaten both as a main course and as an appetizer. Its name derives from the Battle of Malacoff during the Crimean War. The Swiss mercenaries prepared Malakoff during the siege of Sevastopol.
Cervelat (Saveloy)
Due to the fact that Swiss traditional cuisine is influenced by German traditions, a wide variety of sausages can be found in it. The name saveloy is familiar to most of us, but certainly not everyone has heard that this type of salami loved by every Swiss comes from Switzerland and more specifically from the region of Alsace and Lyon.
It is made from beef, pork skin and bacon and can be prepared in different ways (cooked or baked on fire or barbecue). The flavor resembles the flavor of the Frankfurter sausage but is shorter than the Frankfurter Wurstchen.
The name of the Swiss sausage actually comes from the Latin word "cerebrum" which means brain and this name was used in the first years after its creation. According to a culinary Swiss tradition that has existed for centuries, before the sausage is cooked the two ends of it are split, this tradition is prevalent in some areas of Germany.
Bratwurst
Another example of a Swiss type of salami originating in the region of Germany. This pink-colored salami contains pork, beef and veal, ground or whole, spices such as black and white pepper, oregano and cumin.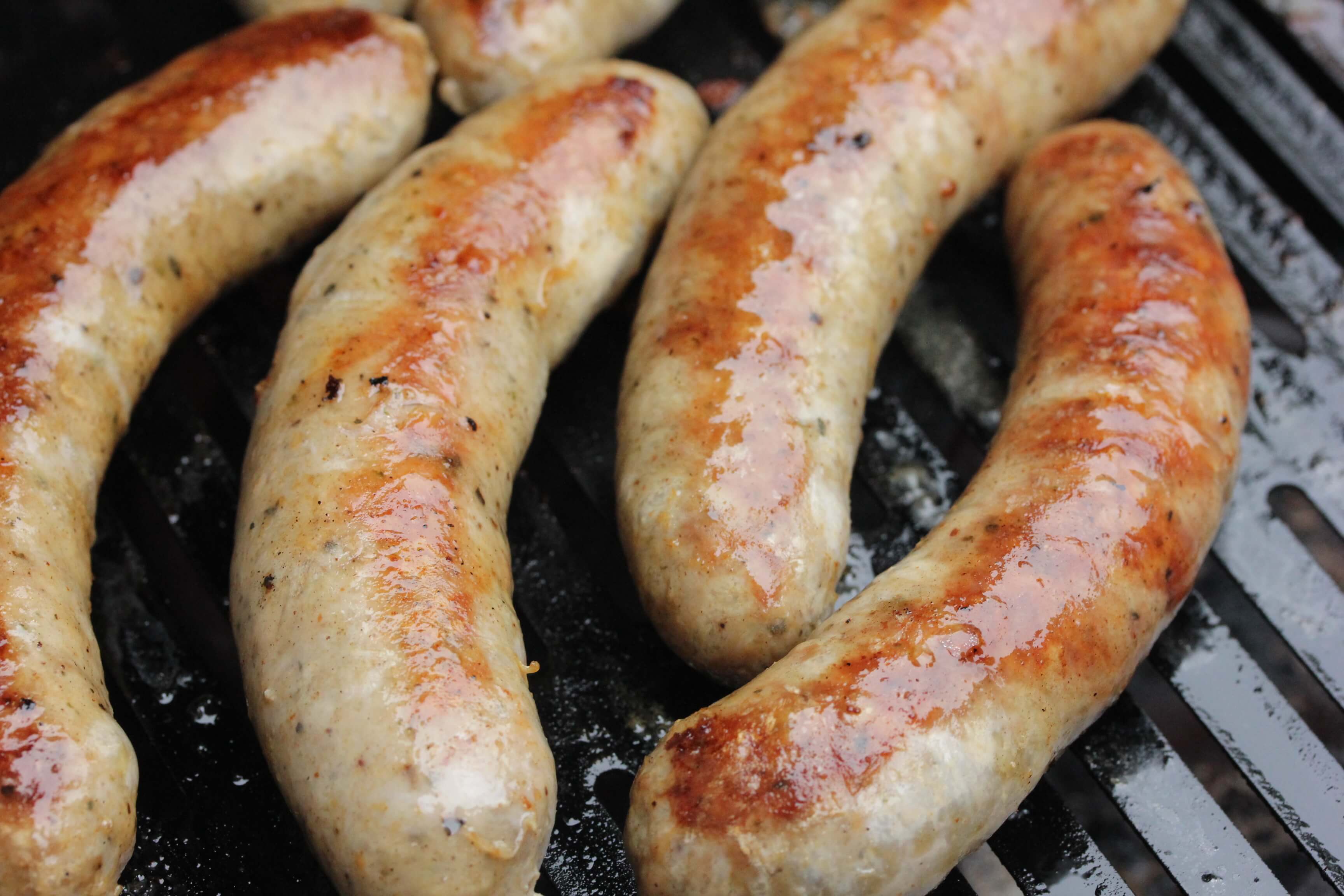 The salami has several varieties of preparation. Its name comes from the Old English word "brat", which means finely chopped meat, but also comes from the German verb braten, which means bake or fry in a pan.
Served boiled, grilled, and in some cases raw, as a single dish, and in some cases fried or roasted potatoes and sauerkraut can be added to it.
Croissants with ham
If you travel around Switzerland, you will notice that some of the usual roadside types of food are croissants with ham. Remember that Switzerland produces some of the most delicious ham in the world and the combination of original Swiss ham with freshly baked puff pastry is great.
Meringues
In fact, our well-known sugar "kisses", also known as French meringue which are usually associated with French cuisine, are actually a popular dessert in Switzerland and Italy.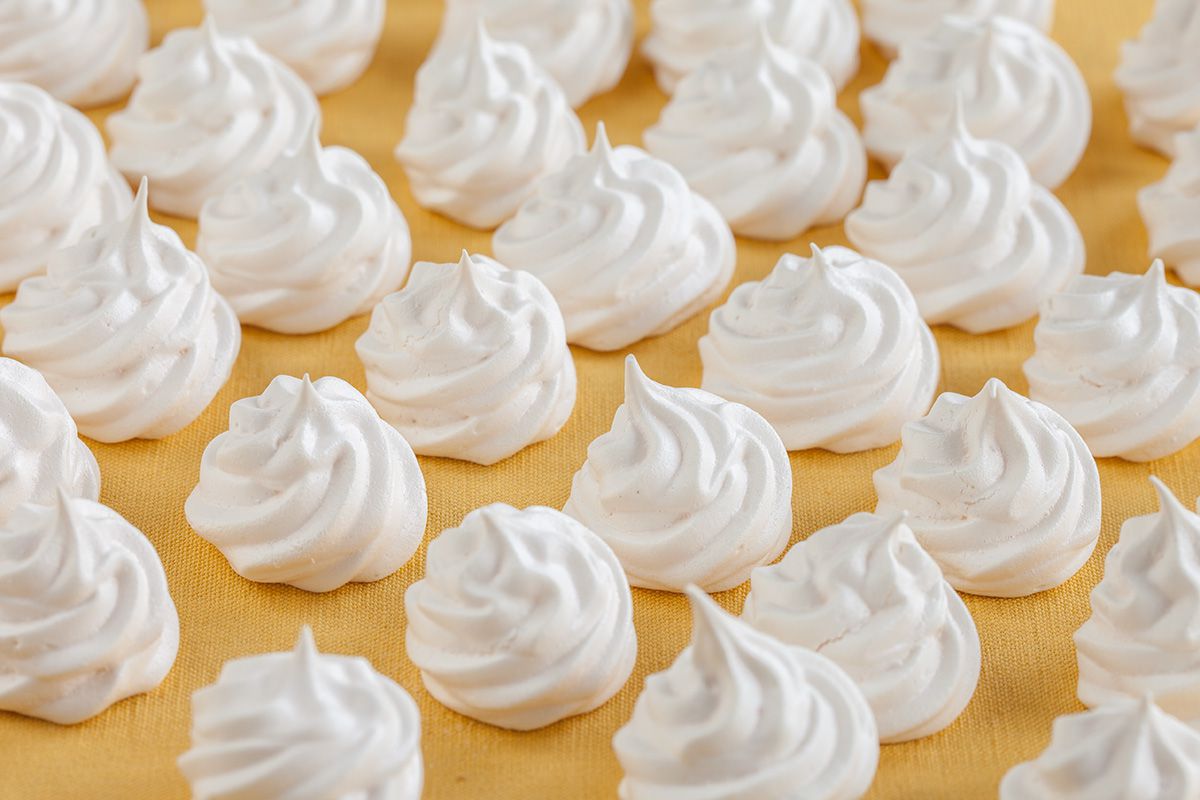 For those who do not know, this light air dessert is made from beaten up egg whites, sugar and acidic ingredients like lemon, vinegar, potassium bitrate and some salt. Vanilla, almond and coconut flavors are also added. The meringue makers also add corn starch and gelatin to the mixture.
The delicate and crisp structure of these home-made sweets is achieved by slow baking at 180-200° C. They are served with a cream made of milk cream or la Gruyère cream.
The story about the appearance of meringue is really intriguing. They were invented in the Swiss village of Meringen by a cook named Gasparini in the late 17th and early 18th century.