Switzerland is a place where you will certainly not stay hungry, because culinary surprises are literally around every corner. Each region and city is proud of its specific dishes with a long history and beautiful Zurich is no exception.
The largest shopping center in Switzerland is home to people of many nationalities who have arrived for business or tourism. What unites them is that everyone wants to try local specialties, and the Zurich culinary tradition definitely has something to offer.
Some of the delicious things to eat are sold right on the street. You can have a quick bite of the famous Zurich bretzel or just buy a bag of roasted chestnuts.
The hungrier can get an appetizing sausage with garnish or traditional Swiss potato wedges . For lovers of meat specialties are suitable stewed beef Geschnetzeltes and the incredible Veal liver in Zurich.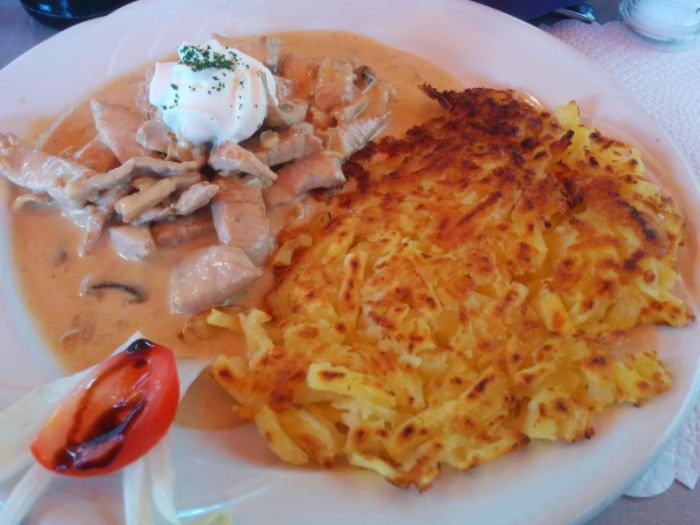 Here are Top 5 dishes that you should definitely try while walking the streets of Zurich.
1. Recorded
In Zurich is very popular dish Züri-Gschnеtzltеs, which is stewed beef with onions in light wine sauce with cream . The dish was prepared in Alps as early as the 19th century. The cut meat is made quickly and easily.
Although the original recipe is with beef or veal, the dish can also be prepared from pork, game, chicken or turkey. For the basic recipe the pieces of meat are cut into cubes of the same size . First, fry the onion and deglaze with vegetable broth.
Then the meat is left to simmer , and finally the cream is added and spices. Season the dish with salt, pepper and paprika. Some recipes for a richer taste also contain mushrooms, zucchini or carrots. Pasta such as Spätzle or tagliatelle are usually served as a side dish.

2.Groceries
Rösti is an easy-to-prepare potato dish that you can't do not try if you are in Zurich. In principle, it is traditional for the German part of Switzerland, but its fame has long since crossed the border of the confederation.
Rösti is made from grated raw or boiled potatoes which are fried or bake in a pan in the oven.
You can add fresh milk, cream, cheese, eggs. The dish is reminiscent of the delicious Rhodope patatnik. In the Swiss regions, onions, bacon or vegetables are also used in the preparation of the potato dish. The slices are shaped like a large pancake or as separate "schnitzels" or "meatballs".
The mixture is first fried on one side in a pan with melted butter, you can put a lid and bake so until you get an appetizing crust. The other option is to transfer the slices as they are in the baking pan in a preheated oven.
For the convenience of serving them on top you can put fried eggs on the eyes. Potato chips were originally intended for breakfast. Roasts can now be eaten as a stand-alone dish for lunch or dinner , and are often used as a side dish for various meat dishes.

3. Zurich Bretzel
As you walk the streets of Zurich, you can eat the famous Bretzel. These intertwined pretzels, also called pretzels , not only serve as breakfast, but are also a good appetizer for beer. The classic Zurich Bretzel is a favorite for all Swiss , and for tourists it is one of the many culinary attractions.
In fact, bretzels, although not exactly bread, can also be used to make sandwiches. All you have to do is cut them crosswise and grease them with butter, and put cheese, ham or another favorite product on it.
Then the two parts are joined and the delicious sandwich is ready. Bretzels come in many types, for example with or without stuffing, sprinkled with salt or various seeds.
And how are the famous bretzels prepared? The recipe includes flour, sugar, butter, salt and yeast , from which a dough is kneaded. It is used to make a thin "sausage", which is cut into 6 pieces with a length of about 40 see. From them the characteristic appearance of the bretzli is formed.
They boil in a saucepan in salt water for about 30 seconds . Then leave to cool on baking paper. They are usually sprinkled with coarse salt, seeds or other spices and placed in a preheated oven for about 20 minutes.

4. Veal liver in Zurich
The original Zurich recipe can be made with both beef and veal liver . The second option is cheaper, and the result is just as tasty. The main thing in the recipe is that the liver is first fried, and then white wine and cream are added to it, which form a lot appetizing sauce.
Required products:
600 g veal liver

300 g fresh or canned mushrooms

1 onion

2-3 tablespoons oil

100 ml. white wine

200 g sour cream

2 tablespoons flour

ground black pepper

red pepper

salt to taste
Preparation
Beef liver is washed well with cold water, cleaned of skins and lightly dried. Cut into thin pieces, which are rolled in flour.
Cut the onion into small pieces, and the fresh mushrooms into slices. Melt butter in a frying pan and lightly fry the mushrooms and onions in it. Add the pieces of liver rolled in flour and fry. 3-4 minutes.
Pour the white wine into the pan and let the dish simmer for a few more minutes, until the wine is half full. Add salt, black and red pepper.
Add the cream and simmer for another 3-4 minutes . Suitable garnish for beef liver are traditional potato wedges. It can also be served with french fries or rice.

5. Roasted sweet chestnuts
Roasted chestnuts are very popular, especially in the cold months. If you are in Zurich or another Swiss city, you will see how they are prepared and sold directly on the street. This creates a unique atmosphere, and their scent spreads everywhere and attracts both locals and tourists.
Special edible varieties are used for baking . A very important point in their preparation is to make an incision in each chestnut. In this case, this is done so that the chestnuts do not "explode" during roasting. Most chestnuts on the streets of Zurich is sold during the Christmas and New Year holidays.