04Swiss cuisine is known for its delicious and nutritious food. The tradition of preparing simple and filling dishes is largely due to the climatic conditions in the Alps.
However, along with meat and cheese dishes , there are also many interesting Swiss salads. They are fresh and appetizing and worth a try to make sure that alpine cuisine doesn't just consist of fondue, roasts and raclette.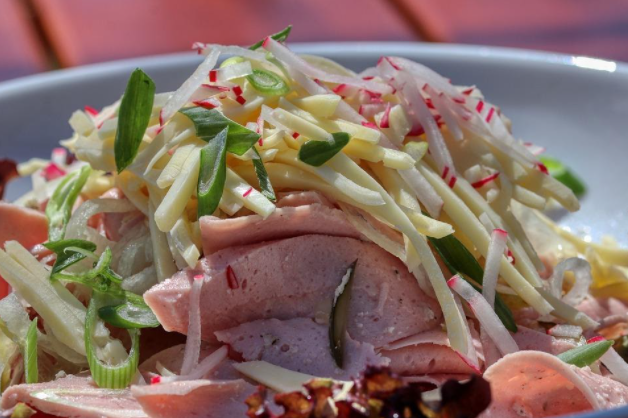 1504
Types of Swiss salads and specifics
Salads are part of Swiss cuisine and are very diverse as a combination of products. They are not only vegetables, with the addition of meat or fish products, but also with pasta, eggs, mushrooms and more.
Salads are present in the daily menu , but are also an excellent option to meet visiting. They are also preferred because of easier and faster preparation compared to main dishes.
Vegetable salads are not only delicious, but also very vitamin, which makes them preferred by people who adhere to a healthy diet.
For their preparation are used white and red cabbage, cucumbers, tomatoes, carrots, turnips and radishes, peppers, broccoli, etc. Various nuts and spices are also added to them.
Green salads in all their varieties are also very common. Great result is obtained, for example, from the combination of fresh spinach, lettuce, green onions and boiled eggs, seasoned with a dressing of wine vinegar, Dijon mustard, oil of choice , garlic, mayonnaise, salt and pepper.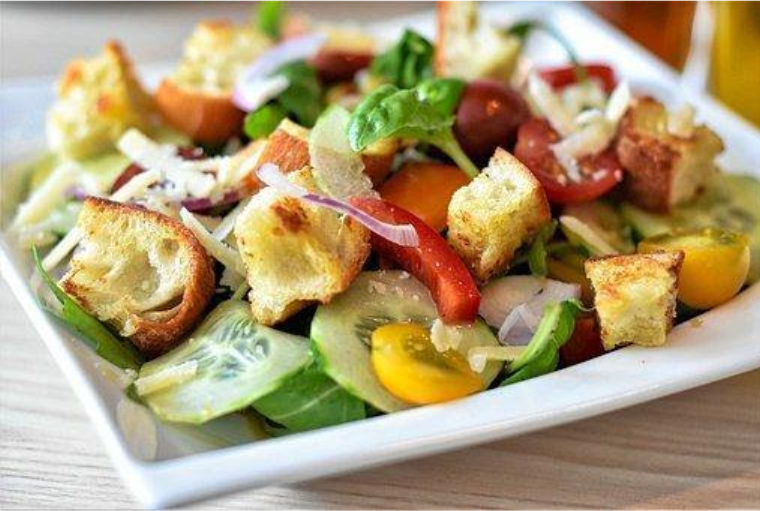 An interesting fact is that Swiss salads are made from both fresh vegetables and marinated and stewed . They can be consumed in all seasons, not just in summer, when there is an abundance of vegetables.
A great option for a winter salad for example is the combination of red cabbage, carrots, red onions and apples , which are stewed in oil and seasoned with brown sugar, bay leaf, vinegar, red wine, lemon juice, cloves.
And this time the excellent Swiss cheeses and other dairy products are not neglected and are often present in recipes. A nice summer option is a salad of cucumbers, tomatoes, red peppers, onions, croutons and grated hard cheese.
It is characteristic of many Swiss salads that they are rich and filling and can become a main dish . This is especially true for local salads, such as the very popular Schweizer Wurstsalat. It contains sausage, hard cheese, pickled cucumbers, onions and dressing.
It can be consumed on any occasion and is delicious, filling and easy to prepare at the same time. Many fans also have a salad with mushrooms, baby spinach, bacon, onions and cheese, as well as a salad with red beets and ham – Sauerkrautsalat mit schinken.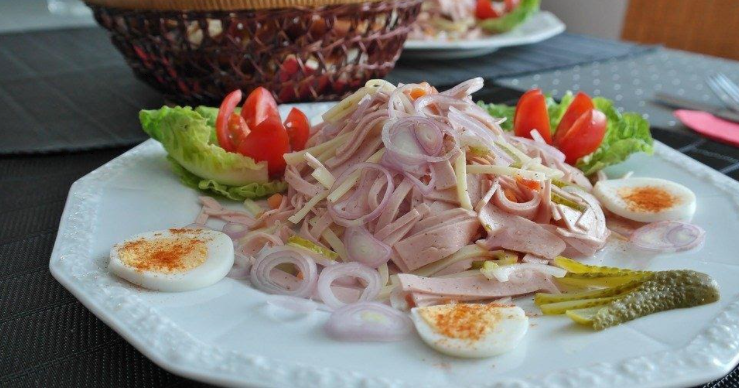 Although Switzerland is landlocked, fish and fish products are widely consumed in the country. That's why salads are no exception. Salads with vegetables, potatoes and tuna or marinated small fish are prepared.
Due to the influence of Italian cuisine , in some Swiss regions are popular and pasta salads. They are usually made from a small paste combined with vegetables and dressing.
Swiss salads are sometimes not only vegetables and fruits. Apples are used as a successful addition figs, grapes, pears, kiwis, raspberries, etc.
An important element in alpine salads is dressing . An example salad dressing contains vinegar, oil, salt or soy sauce, black pepper, Dijon mustard and other spices as desired.
Mayonnaise or cream is often added to the dressing . We are used to assuming that the preparation of the dressing consists simply in mixing some products and spices.
Some of the Swiss salads add a heat-treated dressing. This can be prepared by putting sugar, mustard, salt and apple cider vinegar in a pan and stirring until the sugar dissolves.
Then add oil, and after removing from the heat add grated onion and sesame or poppy seeds . The mixture is allowed to cool well and then added to the salad. The combination of products and their combination with the dressing makes Swiss salads unique.
The aesthetic layout of the salads is not unimportant, and the Swiss know how to arrange them so as to immediately whet everyone's appetite, and their unique taste will not disappoint anyone.
Recipes for Swiss salads that you can make at home
Swiss Salad
Products:
300 g sausages

200 g Emmentaler

100 g pickled cucumbers

1-2 onions
For dressing:
3 tablespoons

vinegar

3 tablespoons

water

4 tablespoons

oil

1 teaspoon

salt

ground black or white pepper
Preparation
First cut the sausage into slices , then into thin strips. The cheese and cucumber are also cut into strips, and the onion is cut into thin rings.

Prepare a dressing of vinegar, water, oil or olive oil, salt and pepper. Drizzle the products with the dressing, stir and leave to taste for about an hour. Then serve as you can garnish with leaves of lettuce, fresh tomatoes, radishes, boiled eggs, etc. .
Pasta Salad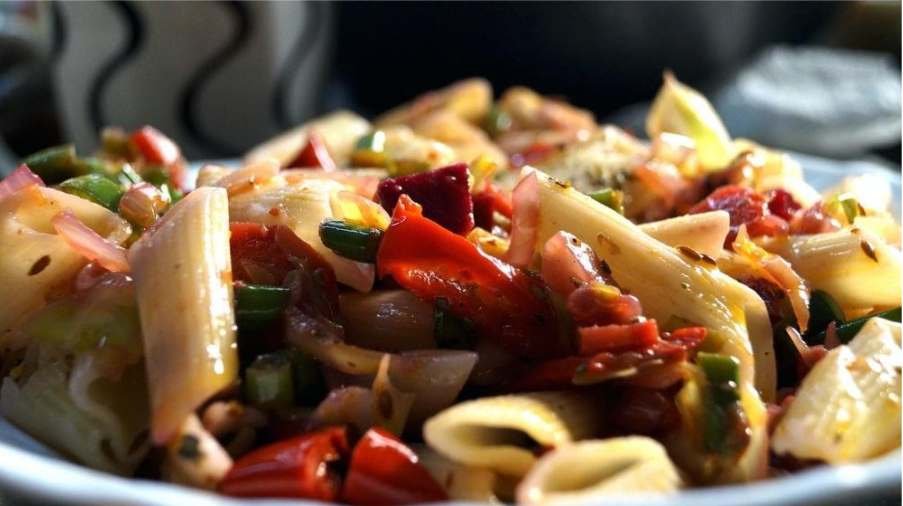 Products:
100 g pasta of your choice

1 red pepper

1 small onion

half a cucumber

1 tomato

30 g yellow cheese
For dressing:
1-2 tsp. wine vinegar

1 tbsp. water

1 tbsp soy sauce

2 tablespoons oil

black pepper

fresh parsley
Preparation
Boil the pasta in salted water, being careful not to boil them. After removing them from the stove, wash them with cold water . Prepare the dressing by stirring vinegar, water the oil and soy sauce and season with black pepper.
Cut the cucumber into circles and the tomatoes into cubes. Cut the onion into thin crescents. Pour the dressing over the vegetables and leave to marinate for 20-30 minutes. Then mix with the pasta and you can garnish with grated yellow cheese. and parsley.
Tuna Salad
Products:
1 can of tuna in your own sauce

1/2 lemon

1 tsp salt

10 tablespoons olive oil

2 boiled eggs

1 small onion

1 cucumber

7-8 cherry tomatoes

1 carrot

1 red pepper

baby spinach or arugula petals

green spices on request
Preparation
Onions are cut into circles or crescents. Boiled eggs are cut into circles. Cut the cucumber and carrot into thin slices slightly diagonally, and cut the cherries in half.
Red pepper is cut into semicircles. Prepare a dressing by mixing the lemon juice well with salt, olive oil and canned sauce.
Sliced ​​vegetables and green baby spinach or arugula leaves are arranged on a plate and tuna is placed on them . Sprinkle the salad with the dressing and garnish on top with sliced ​​boiled eggs and green spice of your choice.
Photos: Pixabay and Unsplash