The tired tourist will always find something to quench his thirst in Switzerland.
The choice of drinks in the Alpine country is generous:
there are refreshing

there are warming

there are weaker and stronger alcoholic that you can drink pure or in various combinations.
 What could be better than a glass of wine with a classic fondue, excellent kraft beer, aromatic schnapps or a fresh cocktail?  The traditional Swiss alcoholic and cocktail drinks offered  can satisfy all tastes.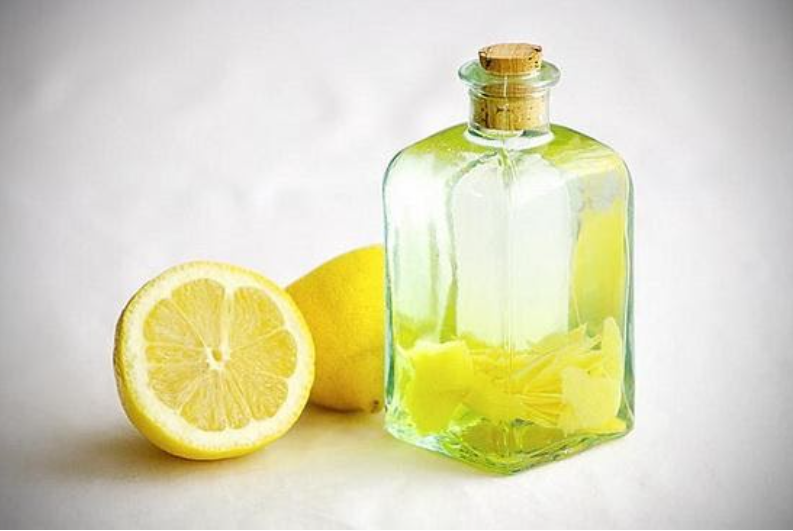 Swiss wines
The range of Swiss wines is really very large. Their production is in accordance with  the highest quality standards , and the grapes are grown in  ecologically clean lands.  In the Alpine country, more than 50 varieties of grapes are grown on an area of ​​about 15,000 hectares. Cantons is a prerequisite for the production of quality white and red wines.
In Switzerland, local varieties are grown,  the most famous of which is Chasla.  The vineyards are not large, but this grape can be found in almost all parts of Switzerland.  Chasla wines are fresh and delicate.  Most often produced  dry wines with moderate amounts of alcohol.  When aged, these wines develop a wonderful bouquet with hints of honey, caramel, cinnamon, dried apricots, curry and truffles.
Among the local varieties, Petit Arvin from the Vale region deserves attention. It is considered to be  one of the best for white wines.  Petit arvin produces dry and sparkling wines, and overripe grapes make wonderful sweet wines.
The imported wine varieties grown by the Swiss are Chardonnay, Merlot, Pinot Gris, Pinot Noir, Silvaner, Syrah, Game and others. There are also  newly created varieties,  such as Riesling Silvaner, Mueller-Thurgau, Galota, Diviko, Garanoar, Cabernet Jura, Gamare, Doral and others.
The quality of Swiss wines is guaranteed by a  strict production control system.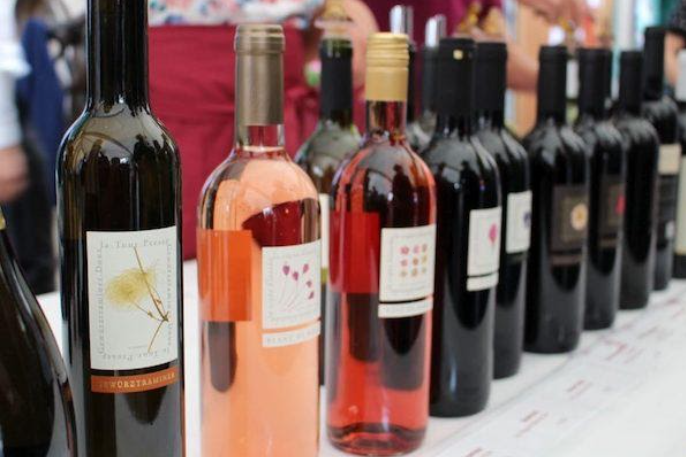 In Switzerland there are  6 main wine regions  They have different climates and soils,  which makes the wines very diverse.  Before the confederation was better known for its white wines, but the production of reds is now more than half the quantities. According to connoisseurs, Swiss rosettes are also not to be underestimated.
 Switzerland is also famous for its famous mulled wine , which will add a special charm to your trip to the Alpine country.  Aromatic and with a rich taste,  this drink will create a feeling of comfort and harmony at any time of the year.
Beer
Beer is  second in consumption among alcoholic beverages in Switzerland  after wine, and in some German-speaking parts of the country it is even in first place.
However, this has not always been the case. Until the 19th century, the Alpine country produced and consumed basic wine. Then the disease struck the Swiss vineyards and ruined the whole crop. As a result of the shortage of wine, which is loved by the locals,  in the German-speaking part of Switzerland they start producing beer.  The technology does not come from neighboring Germany, which is famous for its centuries-old tradition in the production of sparkling drink.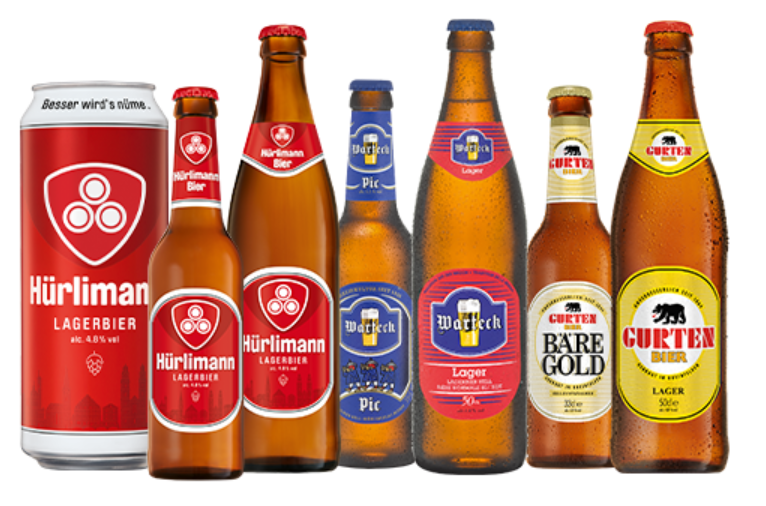 Today, Switzerland produces many  local brands of light and dark beer, which are of excellent quality . The long list of Swiss brands also includes kraft beers, which are high quality and impressively innovative.
Local brewers make  interesting craft beers,  for example with chestnut, alpine herbs, rosemary, anise, juniper or verbena. There is even  Swiss beer, reminiscent of absinthe in taste. 
Absinthe
The history of the famous absinthe originates from Switzerland. Kuwe, on the border between Switzerland and France, is considered the birthplace of the alcoholic beverage. Legend has it that  absinthe was first prepared in 1792 by the French physician Pierre Ordinar,  who lived in Switzerland. Five years later, Henri-Louis Pernot opened the first absinthe plant in Switzerland, and only then built a large factory in France. The green drink became  a favorite of Western European bohemians and members of the bourgeoisie. 
 Absinthe is a high-alcohol beverage , which owes its aroma and taste to the wormwood, green anise, sweet dill and many other herbs used in it.
In the early twentieth century, the "green fairy", as absinthe was called, was banned in many countries because the drink was accused of having hallucinogenic properties and brain damage. It was not until 2004 that the Swiss parliament repealed the 1907 law banning absinthe. According to a limit introduced by the EU,  wormwood in the drink should not exceed 10 mg per liter.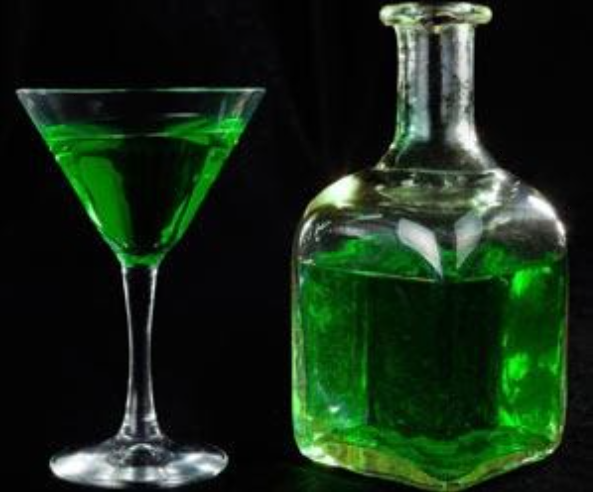 Schnapps and Kirsch
Of course, when we talk about Switzerland, we can not fail to mention schnapps, which  is most often a distillate of fruit.  It is common to call schnapps  all colorless drinks up to 40 degrees. 
A common variety of spirits is the traditional Kirsch. This fruit brandy, also known as Kirchswasser (cherry water),  has a pleasant cherry and almond aroma and a strength of about 40 degrees.  The high degree ranks it next to schnapps, although some consider it a kind of liqueur because of its strong aroma.
The real Kirsch is transparent cherry distillate, which is made from black cherries of the Morello variety,  but today growers are more likely to use red cherries. The distillate is not aged in oak barrels, but in  glass containers to keep it colorless. 
Cherry brandy is used in many cocktails and as an  aromatic additive for cakes.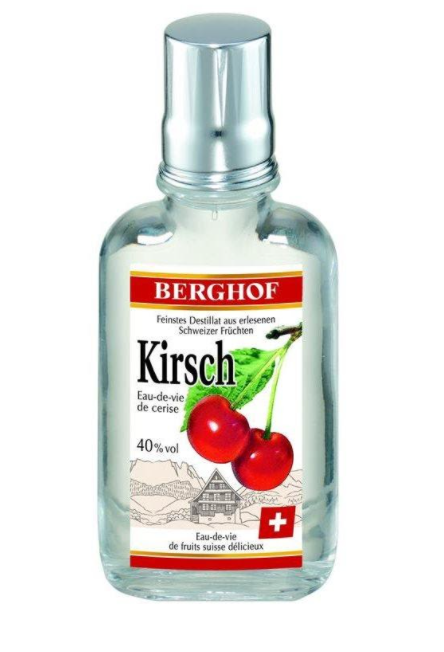 Apfelwein
Another  light and pleasant drink,  probably unknown to the average guest in Switzerland, is Most. This drink is made from apples and has a non-alcoholic and low-alcohol version. Carbonated apple juice is the soft drink Zus Most, and fermented juice becomes a drink reminiscent of the classic apple cider. It is  low in alcohol  and is called Apfelwein or Saurer Most.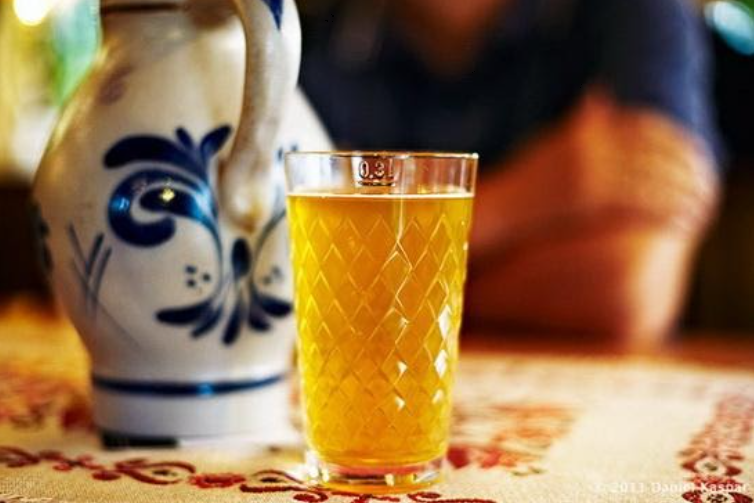 Swiss cocktails
 In summer, people are in the mood for nice cool cocktails.  The Swiss are no exception. The tendency in their preparation is to use mainly Swiss ingredients – for example, Basel gin, homemade syrups and very little alcohol.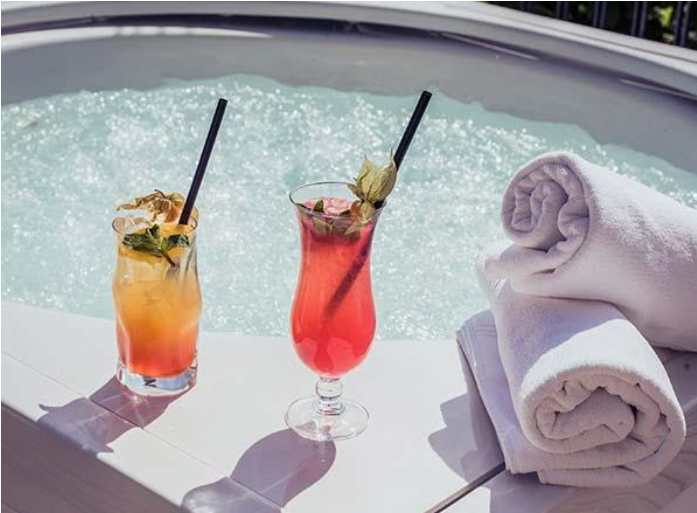 Lucerne sunset
Ingredients:
40 ml. Swiss vodka Xellent
60 ml. pink grapefruit juice
20 ml. lime juice
20 ml. Mount Rigi liqueur
Preparation:
Mix all ingredients well in a shaker and serve in a highball glass or other cocktail glass. Garnish with a long wooden skewer with a slice of pink grapefruit or a cocktail cherry.
White flower
Ingredients:
40 ml. Hendrick's gin
20 ml. lemongrass syrup
40 ml. jasmine tea
10 ml. lime juice
Preparation:
Mix all ingredients in a shaker and add ice. Shake and pour into a cocktail glass on ice. It is decorated with white "edible" flowers, from which the cocktail got its name.