When it comes to salads, Switzerland has with what to surprise us. In the national cuisine of Switzerland, there is a rich variety of delicious meals, typical for each region. But in addition to the rich selection of cheeses, chocolate, and wines, the Swiss cuisine presents its healthy and fresh side with its diversity of salads for every season.
In the traditional cuisine of Switzerland, there is a variety of salads, which impress with their taste even the most fastidious gourmets. Never underestimate the potential of the salad. When it is made properly, with carefully selected fresh products and dressings, the salad is a truly delicious and satiating dish. And even if the products in the salad are few, if they are properly combined, they make a unique taste.
There are, in them, easy-to-find ingredients such as cabbage, tomatoes, cucumbers, which can be found in any home garden. Salads do not take much time to prepare and everyone can prepare them themselves at home. Flavored with genuine Swiss cheese, salads turn into a complete dish for any occasion.
In fact, a typical multi-functional Swiss dressing is considered mostly the combination of:
Half a cup of wine vinegar
Half a cup of olive oil
Half a cup of saffron or sunflower oil
Half a teaspoon of salt
Pepper
Dijon mustard
Finely chopped onion or spring onion.
Two teaspoons of Dijon mustard
Half a cup of olive oil.
After it has been prepared, it is put into the refrigerator to cool. The typical Swiss salad is pretty simple and easy-to-prepare. We cut lettuce, carrots, cucumbers, tomatoes, corn, red or white beans (or green), beetroot, we can add a mixture of cabbage, carrots, and mayonnaise. For sprinkling on salads, are used the popular Swiss cheeses such as Parmesan, Grand Padano, Pecorino.  
One trick in the preparation of the salad is, that after we wash the green leaves, we have to leave them to drain well and to dry them lightly with a clean cloth.
Discover the green side of the traditional Swiss Cuisine and you will not regret. We will list some of the most popular Swiss salads which are available in each Swiss restaurant:
The most popular Swiss salads
Gurkensalat (Cucumber salad)
This salad comes from Germany, but it has become popular in Switzerland. It is prepared with thin-sliced cucumbers, which are sprinkled with sugar, vinegar, salt and pepper to taste and are left to get marinated for about 20 minutes.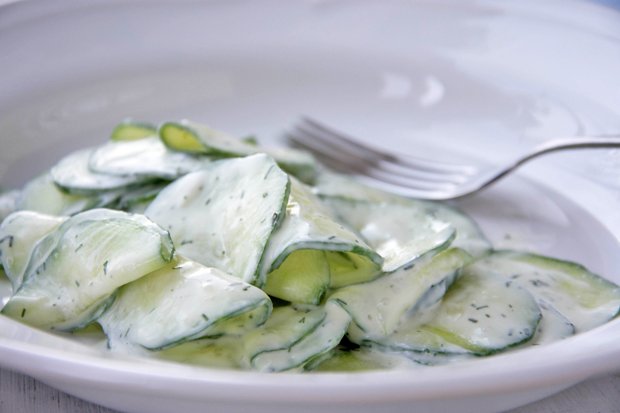 When they are ready they are mixed with sour cream. They are spiced with fresh dill.
Salade niçoise (Salad Nicosia)
This popular summer Swiss salad comes from the region of the town of Nice in south-eastern France. It is traditionally made of tomatoes, hard-boiled eggs, olives, anchovy, red pepper, spring onion, 'hearts' of artichoke and olive-oil dressing. It can be served both as well-trimmed and mixed.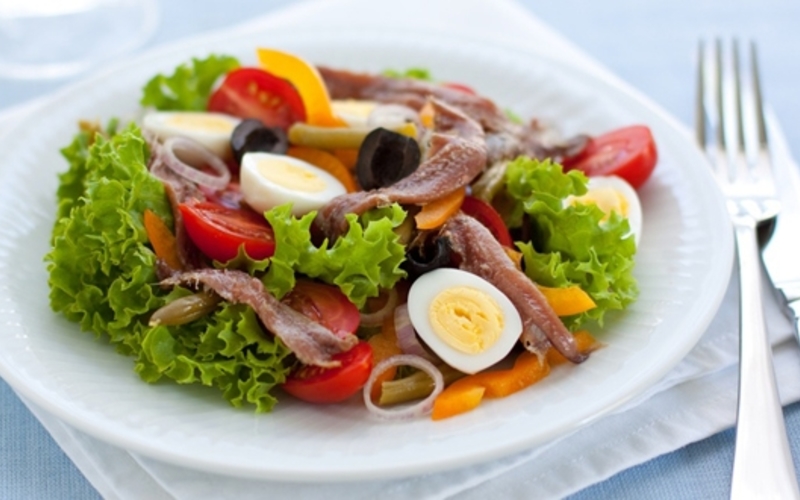 In some modern versions of the salad, there is tuna, tender spring green beans, and potatoes. An important condition is, in the traditional salad, all vegetables to be raw; in the original salad, there are no boiled vegetables.
Rotkraustsalt (Red cabbage salad)
One more light Swiss salad, suitable for the summer season. It is made of red cabbage, bacon slices, sugar, vinegar, salt, pepper, cumin, olive oil, red or white wine. Some recipes include other vegetables as well, such as broccoli for example. The bacon is fried until it becomes crispy.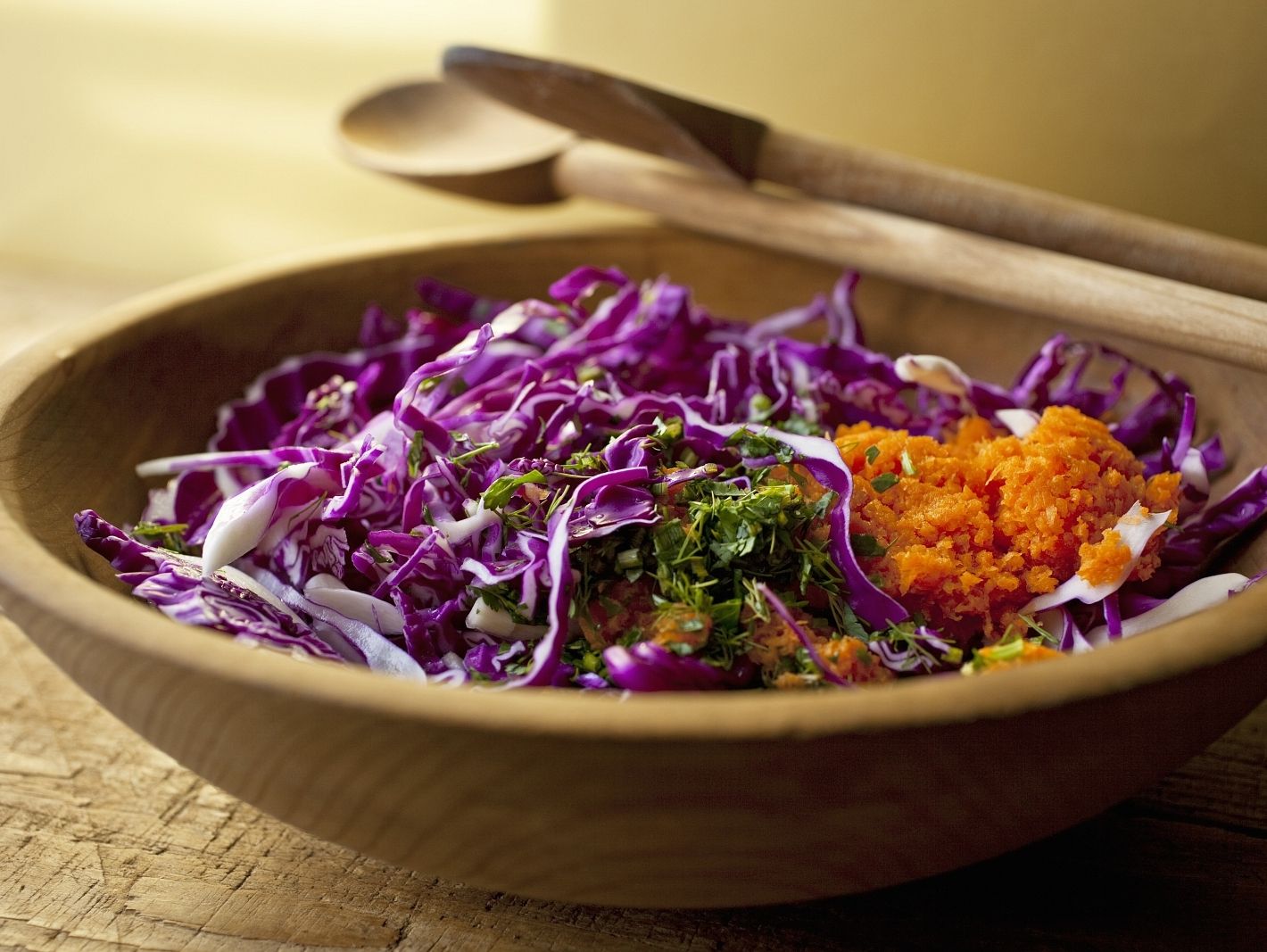 Salad dressing is made by mixing the vinegar, the olive oil, the sugar and the selected wine. The dressing is poured on the cut red cabbage. It is seasoned with cumin seeds, salt, and pepper to taste. Sesame seeds can be used as well.
The bacon cubes are sprinkled on top of the salad and it is served at room temperature.
Sauerkrautsalat mit schinken (Beetroot and ham salad)
It is prepared with large-sliced beetroot, sliced-into-Julienne ham and a cup of yogurt; It is seasoned with white pepper, salt and a teaspoon of honey. The red grapes are added, whose seeds are removed beforehand.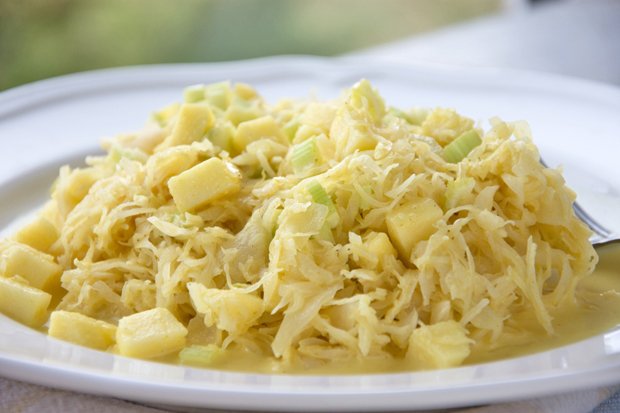 The beetroot is mixed with the half -cut red grapes and the Julienne-sliced ham.  The already-prepared dressing is poured on these three ingredients and we leave them to get marinated for 10 min. We add more salt and pepper, if necessary.
Nüsslisalat (Swiss green salad with creamy dressing)
The vegetables needed for this salad are tender spinach leaves, lettuce, hard-boiled eggs, spring onion. For the dressing, we need Dijon mustard, wine vinegar, avocado oil, or other oil at your choice, small cloves of garlic, mayonnaise, salt, pepper.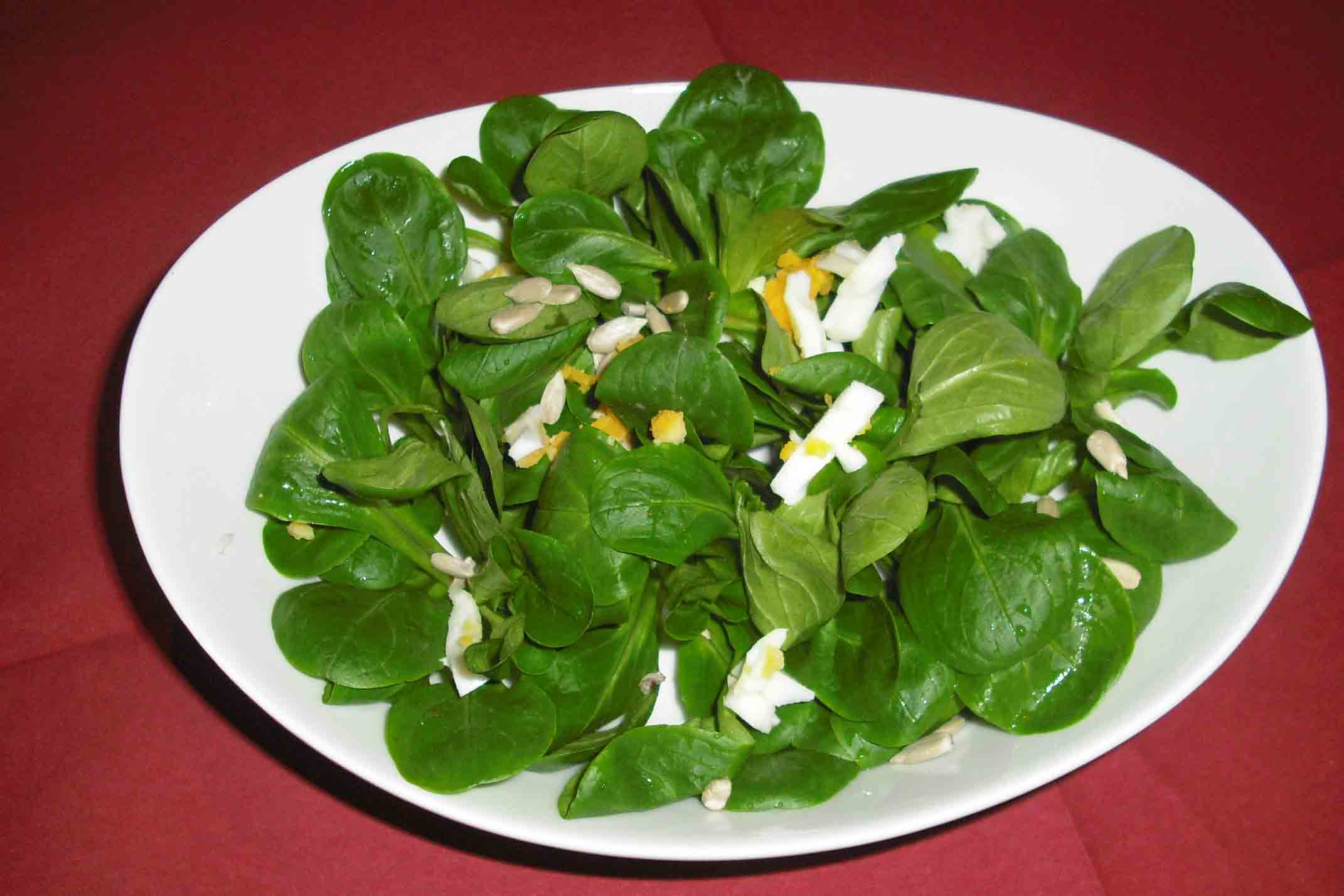 In a small bowl or a jar, we mix the mayonnaise with a little vinegar, until a smooth consistency is achieved; the oil is added gradually, the grated garlic, the mustard, the salt and the pepper. We close the lid of the jar and shake it until it becomes a cream-like homogeneous consistency. We add it to the cut vegetables and we are ready.
Gourmet salad (gourmet salad)
This salad contains a lavishness of sour, salty and sweet tastes. It is suitable for winter days. The ingredients necessary for it are mustard, salt, sugar, pepper, grated onion, garlic, cider vinegar, oil, tender lettuce leaves, pomegranate, winter pear, American walnut, grated Swiss cheese, poppy seeds.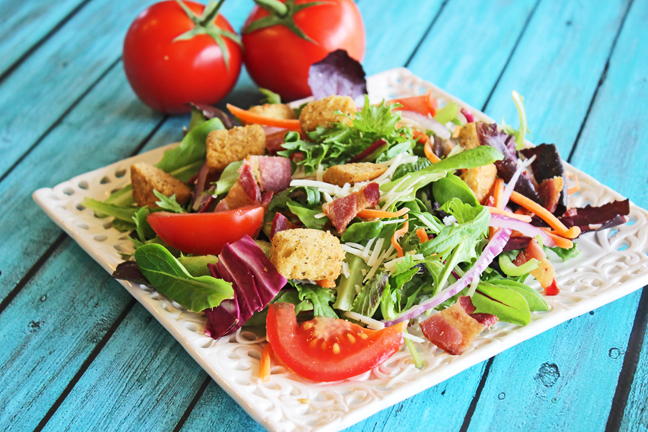 The dressing is prepared by putting the sugar, the mustard, the salt and the cider vinegar, in a pan, on the hob, at medium-temperature. They are to be stirred for approximately 5 minutes until the sugar is dissolved. Slowly to the mixture, we add two cups of oil. After taking it out of the cooker, grated onion is added and the poppy seeds; it is mixed well and after it cools down, we put it in the fridge to cool.
Cut the lettuce in large pieces; cut the pear in thin strips; chop the American walnut in large pieces, and add the grains of the so-called pomegranate as well. Stir everything and grate the Swiss cheese finely on top of it. Serve it in separate plates and sprinkle on the top the poppy-seed dressing.
The versions for preparation of gourmet salad, are extremely diverse. In some recipes products such as egg yolks, walnut or peanut oil, mayonnaise, basil, chicken broth, strawberries, nuts, Mozzarella cheese are used.
Swiss chard (salad with Mangold and roasted walnuts)
This refreshing Swiss salad, suitable for the warm days, will keep you full for longer. It is prepared from finely chopped mangold, spring onion, garlic, fresh rosemary, avocado butter, salt, black pepper, half-sliced walnuts, cider vinegar, lemon juice.
Sweet-sour red cabbage
One more traditional Swiss salad with herbs from the grandma's garden. It is made of cooked red cabbage and is more suitable for the winter season. In it, there is a tasty combination of mixed salty, sour and sweet.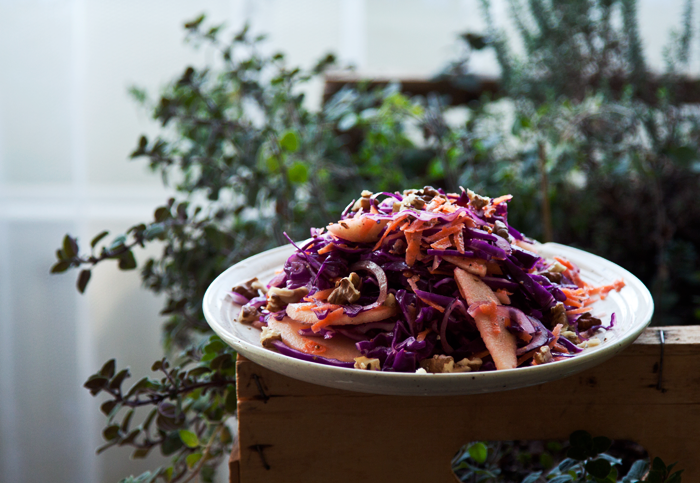 The necessary ingredients for the recipe are red onion, peeled apples, unsalted butter, brown sugar, bay leaf, vinegar, red wine, squeezed juice of one lemon, 4 sprigs of cloves (condiment).
The salad is prepared by melting some butter and stew the apples and the onion in it. We add the finely sliced cabbage, red wine, sugar, the clove and the bay leaf.
We leave the mixture covered by a lid to boil at low temperature for approximately 1 hour. Then, the lemon juice is added, the vinegar and it is stirred. The clove sprigs and the bay leaf are removed and it is served.
We can add blue cheese.
Swiss salad with mushrooms and bacon
It is made of tender baby spinach, mushrooms, crispy bacon, curd, Swiss cheese, red onion. The combination of Swiss cheese, bacon and curd gives the salad soft and palatable taste.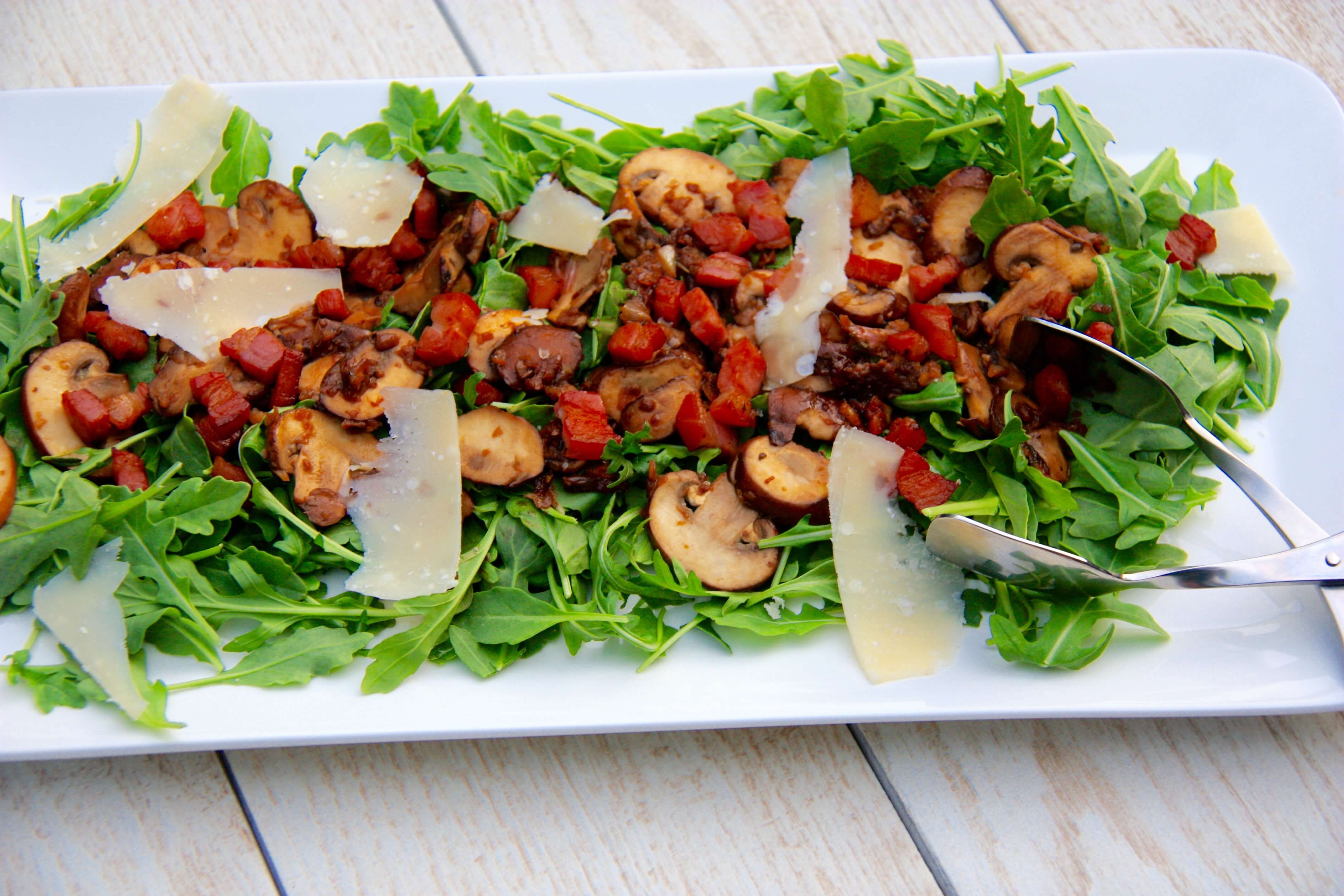 To the salad, we add dressing with poppy seeds which adds a sweetish zest. It is made of half a cup of sunflower oil, one-quarter of a cup of wine vinegar, 2 tablespoons of sugar, 2 tablespoons of finely chopped red onion, salt, and pepper, 1 teaspoon of Dijon mustard, half a tablespoon of poppy seeds.
Swiss salad with turkey
This Swiss-style salad is made of chopped onion, grated celery, cut-into-cubes Swiss cheese, sliced into cubes turkey meat, marinated cucumbers, almond flakes (optional). To all these products we add dressing, which is made of sour cream, 1 teaspoon of lemon juice, one-third cup of mayonnaise or salad dressing, salt, two teaspoons of mustard, a little Tabasco sauce. Apples can be added as well. It should be left for 2 to 3 hours to cool before serving.