In search of always the original proposals, today we have decided to present you an  original recipe from Austria  with an imperial flavor. When we talk about Austrian cuisine, we all know that it is a matter of  tempting pleasure on a plate,  of delicacies of the highest quality, masterfully executed and served with finesse.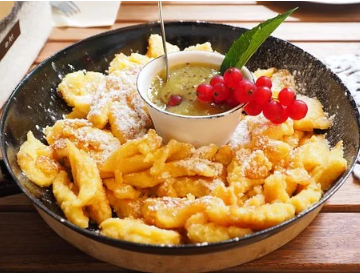 Austria belongs to the region of the Alps. Let us introduce you to one of the representative dishes for these places – these are the pancakes called  Kaiserschmarn . In the past, they  cooked on farms  and gained a lot of popularity in the world only when it turned out that they were  the favorite delicacy of the head of state.
Nowadays, this  sweet and extremely fluffy temptation  is a favorite of connoisseurs of the Alpine culinary tradition and is offered in every self-respecting  ski villa in the Austrian Alps , and not only there. Let's try to explore the secrets of this Viennese delicacy.
Dessert history
As we have already hinted, the dessert takes its name from its greatest admirer – the Emperor of Austria  Franz Joseph I,  who had the title  Kaiser.  But what is his story with them?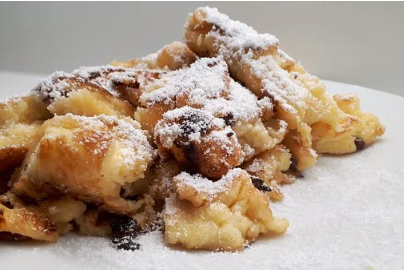 "Schmarn " means a dish that consists of  shredded pieces  (including it is possible to have the meaning of nuts, bread crusts, leftovers and even a bun).
According to one legend, the emperor  Franz Joseph  actually called " schmarrn " a dish rejected by his wife. According to her, it was not enough  light dessert  and would not have a good effect on her diet. The ruler ate not only his own, but also the portion of this  "bulamach" , which was prepared for his wife.
Note that it is no coincidence that we said  "one of the legends".  In fact, there are several different, always  bizarre stories about the origin of this dish.  However, they all revolve around an indisputable historical fact – the Austrian Kaiser really fell for it. And the mystique around it seems to  make it even tastier.
Kaiserschmarn can be offered  both for dessert and as a small snack,  when we eat something sweet. We serve it with jam or marmalade and sprinkled with powdered sugar, and maybe with cream. Traditionally in  Austria  the pancake is eaten in the company of a plum oshav (Zwetschgenroester).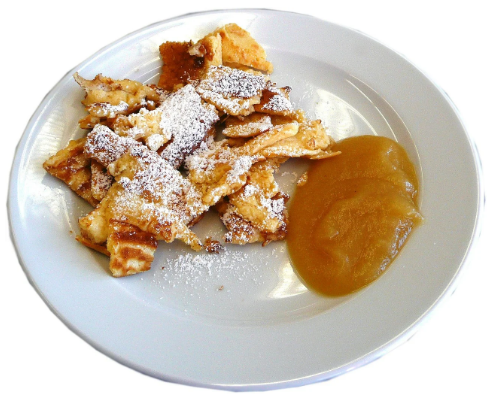 What are the main differences between a Kaiserschmarn and a regular pancake?
In  Bulgaria  we are most often used to making thin ethereal pancakes  crêpes.  Kaiserschmarn is a thicker pastry, quite similar to an omelet. The mixture is thicker, but also fluffier than the one for pancakes, which we are used to making for Saturday and Sunday.
The truth is that the decisive difference is in the number of eggs, as well as in the  technique used during their mixing.  If we just look at the recipe described below, we will notice that in Kaiserschmarn yolks and whites. In addition, for  standard crêpes , no more than two eggs per dose of mixture are used.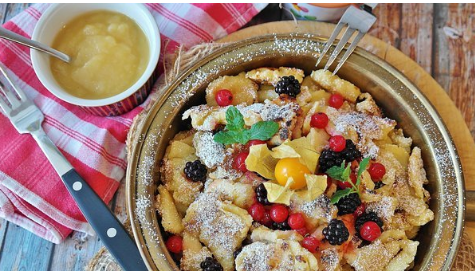 Another difference between the two is that we usually  serve thin pancakes,  wrapped or folded with a filling of chocolate or jam inside, while in the case of  Kaiserschmar, the sweet sauce is poured on the side or on the dough.
Can we cook Kaiserschmarn at home ourselves?
The dish is not as pretentious as it sounds from its name. On the other hand, in order to  become a breakfast, worthy of nobles,  a true Kaiserschmarn  requires certain cooking skills and dexterity to be attractive.
However, you don't need any  masterful skills to do well.  Remember that our goal is actually to achieve small, sweet pieces of sweet bread, and  the powdered sugar sprinkled on top  will erase any and any imperfections in the appearance of your creation.
Necessary products
To make a delicious Austrian pancake at home, we will need the following products:
3 pcs. eggs
1 tsp sugar
125 ml of fresh milk
100 g flour type 500
1 tsp baking soda
1 k. l. sol
1/2 packet of vanilla
100 g butter
Raisins to taste
Powdered sugar for sprinkling
Caution  – When preparing your Kaiserschmarn,  always use organic lemons.  The rind of  "ordinary"  has a risk of containing toxins from substances used against pests and to  stimulate crop growth.  Another tip from us is if the eggs are small, use  4 pcs.
Method of preparation
First we divide the eggs.  The yolks are mixed with the flour, and the milk and vanilla extract, sugar and salt are added to them. Beat the egg whites to a froth and mix them lightly with the rest of the dough.
Be careful not to stir for too long – just mix the products to keep as many air bubbles as possible in the dough.
It is they who give it its characteristic and irresistible fluffiness. Once  the pancake mixture is ready,  add a little raisins evenly and  fry over low heat.  You get something like a fluffy, sweet omelet.  Serve it with powdered sugar on top, and why not with liquid chocolate sauce?
The most pleasant part follows – with Kaiserschmarn there is no need to tremble whether this time we will be able to  turn the pancake like real professionals,  or not accidentally stick it on the ceiling, for example.
For the dessert to be authentic, it must be  torn into small fluffy pieces.  It only takes us a few minutes depending on the level of the hob and we are ready!
The Austrian Empress Sisi  has definitely exaggerated, disliking the dessert because it is high in calories. In fact, some historical evidence suggests that she may have had an eating disorder such as anorexia.
We are certainly not talking about  salad or protein shake.  Kaiserschmarn is certainly not keto because it contains too many carbohydrates, and it is not a  superfood  from which you will lose more weight than you eat.
In fact, a whole serving of it  contains no more calories, no more sugars,  or any other harmful substances than a packet of store-bought jam, which is even much smaller in size.
Note that in this case we use quite  a small amount of sugar in the proposed recipe.  If you would like the dish to be even healthier, we recommend that you  use brown sugar.
Nowadays,  keto versions of the dish have already been developed,  but they are quite far from the original, classic Austrian recipe, which  Franz Joseph I  adored.