If you want to eat something fast, other than a burger and a doner, you can rely on German cuisine. Traditional dishes in Germany are far from dietary, but there are many appetizing things that can be prepared in literally minutes.
Quickly prepared dishes are present on the table of all European nations, but the Germans are among the champions in this discipline. In the culinary tradition of many countries there are different types of sausages and roasted or fried meats, but the German alaminutes really deserve a gold medal.
The German culinary traditions are in interaction with those of the surrounding countries. There is a great mutual influence with the countries of the Alpine region, so it is natural that the German alaminutes are part of the  Swiss cuisine.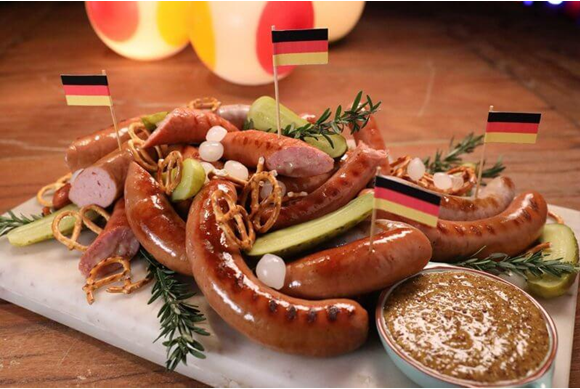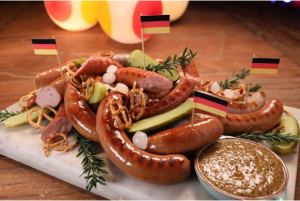 What products are used for alaminutes?
The preparation of alaminutes is generally not complicated, as their recipes usually use few products. They contain meat, minced or meat products, fish, eggs, cheese, vegetables. Recipes are easy to prepare, and the range is practically inexhaustible.
Alaminuts are most often fried, baked or stewed, and less often they can be cooked or steamed. The group of meat alaminutes is the most diverse. There are quick recipes for roasted or fried meats in all European cuisines.
The Germans put a lot of emphasis on pork. In general, they prefer a hearty diet, not accidentally usually eating five times a day.
Naturally, the queen of alaminuts in Germany is the sausage. Tourists are probably amazed by the fact that in every German city there are a huge number of shops selling sausages, which attract attention with their aroma and are not expensive. Meat delicacies are served with potato salad or as a hot dog in bread.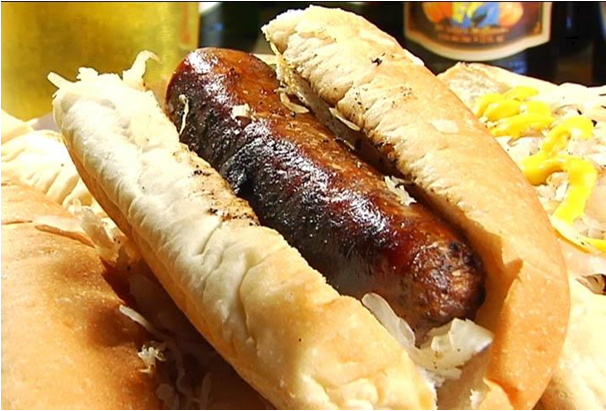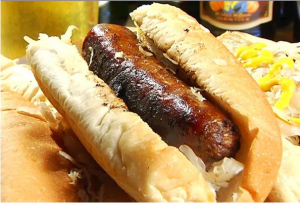 It is no coincidence that many tourists associate Germany mainly with sausages and beer and indeed the Germans have found the perfect formula for combining them.
Well, how not to raise beer and sausages in a cult, since 6 million thirsty and hungry people from all over the world crowd in Munich for Oktoberfest, which is considered to be the most popular national holiday on the planet. There, carnivorous visitors are not limited to sausages.
According to statistics, in two weeks of Oktoberfest about 120 bulls and 60 calves are eaten, cooked on a skewer, plus nearly a million roasted chickens, sausages and other sausages, abundantly poured with beer in one-liter mugs.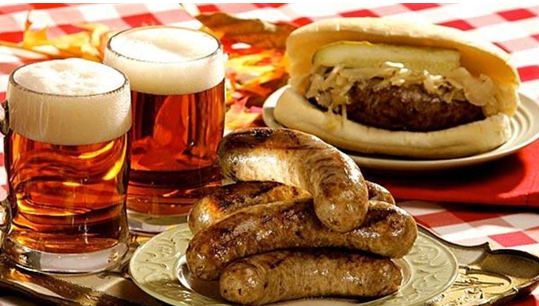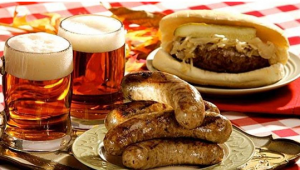 Favorite specialties for Germans are pork legs with sauerkraut and grilled pork ribs.
Other common alaminutes in Central Europe, including Germany, are schnitzels, which can be made from meat or minced meat.
Meat alaminutes are also made from chicken – fillet, leg, wings, skewers, chicken bites, livers, millet and hearts. By-products, such as pork or beef liver, are also prepared very quickly.
Alaminuts also include quick dishes of eggs and cheese. They do not require special skills and everyone can prepare eggs on the eyes or scrambled eggs.
For people who are not big fans of meat, quick vegetable dishes are prepared from potatoes, zucchini, eggplant, broccoli and others.
German cuisine in different regions has its own peculiarities. For example, in the northern regions they prefer potatoes, and in the Alps they traditionally eat a lot of cheese. This is not at the expense of meat, which is revered everywhere. Bavaria's business card, for example, is sausages with stewed cabbage and sweet mustard. In the Rhineland, they prefer potato pancakes with marinated beef.
The emblematic German sausages
The Germans claim that the sausages in their national menu are about 1500 and this is not so strange because each region has its own recipes. They are used to prepare not only fast, but also extremely tasty dishes. First you need to choose the type of sausage – wurst, but this is not easy with the existing abundance.
Bratwurst is a sausage consisting of finely ground pork and beef. It is most often grilled and served with sweet German mustard and loaf of bread. In different regions there are varieties of bratwurst, which differ in both spices and size. A popular side dish is sauerkraut and potatoes with cream and horseradish.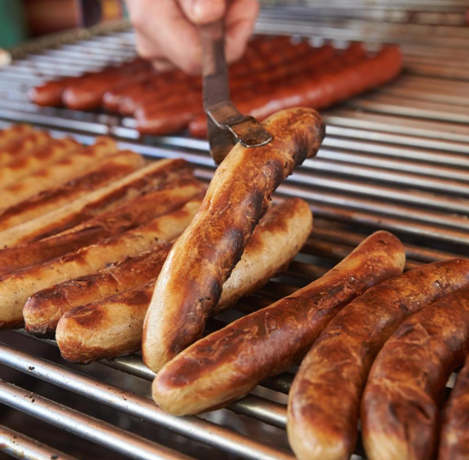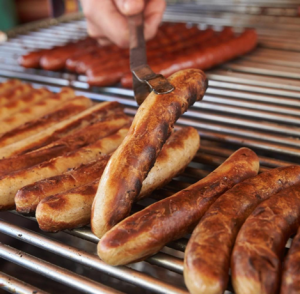 Bockwurst is typical of Frankfurt and is therefore also called Frankfurter. It is made from beef with a little pork, seasoned with salt, black and red pepper. You will not go wrong if you eat it with mustard and pour it with beer.
Blutwurst (Blutwurst) is something like our bloodsucker. Includes pork or cow blood, meat, bread or oatmeal. It is consumed cold.
We must mention the German Leberwurst, which is made from pork and pork liver, which are minced, seasoned and stuffed in pork intestine. However, in fact, leberwurst is more of a pate because it is spread on bread.
A traditional Bavarian sausage, common throughout Germany, is Weisswurst. The name comes from its white color. In fact, this sausage was created as an appetizer for beer. This happened on February 22, 1857, when the brewer Moser Sepp first offered this specialty to his guests.
Weisswurst contains two thirds of beef and one third of pork. Minced meat is seasoned with lemon peel, onion, pepper, parsley and salt. It is served with mustard and bretzel, which is something like a boiled pretzel in the shape of a ribbon or knot.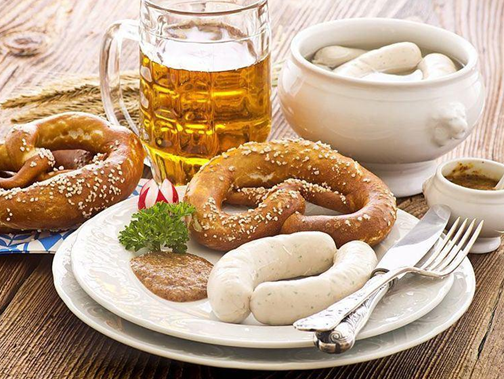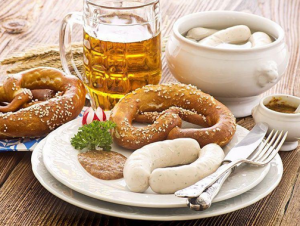 An interesting fact is that in Germany even salads are made with meat products. Here are two examples: Fleischsalat and Wurstsalat.
These are meat salad and salad with sausages. Dressing them is very important. Season with German mustard, salt, pepper, dill, vinegar and salad oil or with a dressing based on mayonnaise, cream, dill seeds, black pepper, a pinch of cayenne and a little vinegar.
It is not easy to list 1500 names of sausages, so we will stop here. It is best if you go to Germany to see for yourself why these meat specialties are so revered and spread irresistible aromas on the streets of all cities.
German schnitzel
You've probably heard of Viennese schnitzel, but you don't know that there is a German schnitzel. It is believed to have appeared on the culinary scene sometime in the 19th century. However, this is not so important. The main difference is that the original Wiener Schnitzel is made from beef, and its lesser-known neighbor German Schnitzel is usually made from pork.
However, they do not differ much in taste. Both types are made from a whole piece of thin meat, not minced meat. The most characteristic is that they are breaded with flour, eggs and breadcrumbs.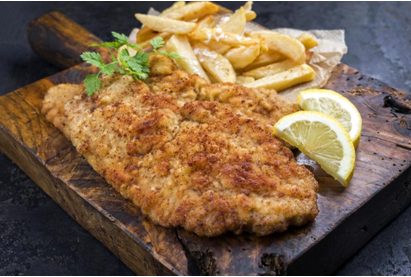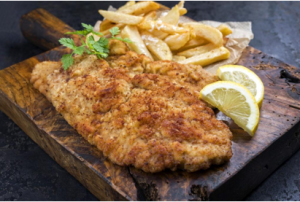 Quick recipes from German cuisine
Sausage with onions in a pan
Products:
4 raw sausages (or other type of choice)
4-5 medium-sized onions
200 ml of light beer
1 k. a glass of oil
sol
Preparation:
Punch the sausages with a fork and put them in a deep pan, in which you have poured about a finger of water. Let the sausages simmer, turning them from time to time. The heat treatment continues until the water boils. Only then is the oil poured into the pan and the sausages are fried at moderate temperature.
Cut the onion and add it to the pan. Once it turns golden, pour the beer and simmer over low heat until some of the beer has boiled. Serve the dish hot, as it is appropriate to season with mustard.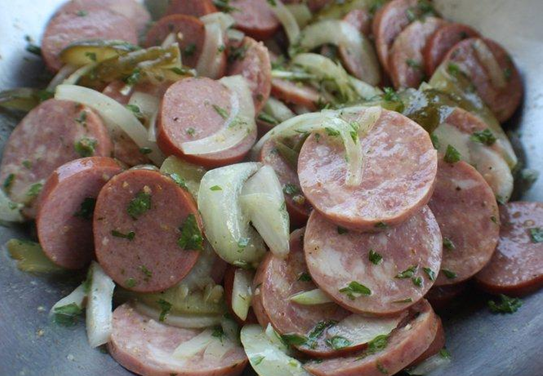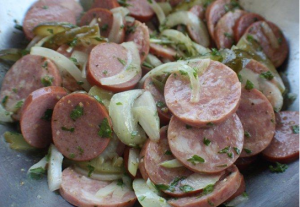 German schnitzel
Products:
4 boneless pork loins or cutlets
2 eggs
1 lemon
flour
breadcrumbs
sol
black pepper
frying oil
Preparation:
Cut the meat into thin slices (about one centimeter). Place them between two sheets of foil and thin them with the smooth side of a steak hammer. Season the meat with salt and paprika. Place the carriages in the refrigerator until it is time to bread them.
For the breading you need three bowls – for the flour, for the eggs and for the breadcrumbs. Roll the first square in the flour, but without squeezing it.
Fry the meat immediately in hot fat, but not on the highest heat. Fry on both sides until golden.
Serve with lemon, and for garnish you can bake potatoes.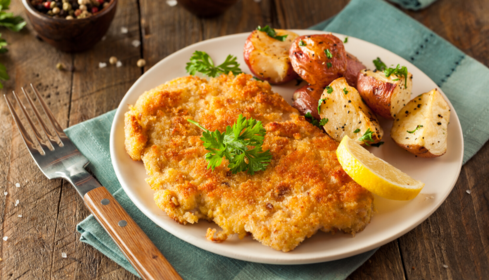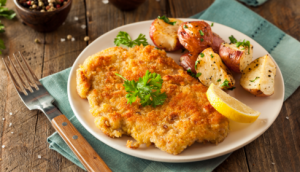 Steaks with green onions and beer
Products:
4 pork chops
2 tbsp. flour
1 tbsp. butter
2-3 cloves of garlic
200 g mushrooms
1/2 tsp. thyme
200 ml of beer
1 bunch parsley
1 bunch of green onions
salt and pepper
Preparation:
Put the oil to heat in a pan on the stove. Roll the steaks in flour and fry them in butter on both sides until completely cooked. Take them out on a plate.
Put the chopped green onions, mushrooms and garlic in the steak oil. Let them simmer for a few minutes until the onion softens, season with thyme. Return the steaks to the pan with the green onions, add the beer and simmer under a lid over medium heat.
After ten minutes, season with salt and pepper. When serving, sprinkle with chopped parsley, and for garnish you can serve potatoes, prepared of your choice.