French cuisine is both sophisticated and simple, luxurious and economical, complex and logical. It has undoubtedly influenced the development of all modern European, and not only European, cooking.
Can you imagine our menu without French salads and sauces, terrines and pâtés, soups and stews, cheeses and desserts? Home-made French cuisine is country cuisine dictated by local products and traditions. Each region boasts its own distinctive dishes, and Alsatian cuisine is as different from Bordeaux as the food in Provence from Burgundy.
A special place in the culinary treasury have the delicious offers from the Alps, which include extremely attractive French salads. They are also part of the cuisine of neighboring Switzerland and are revered especially in its French-speaking part.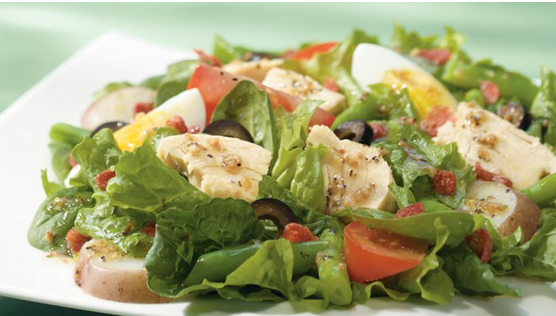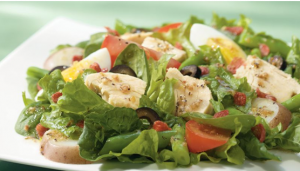 French salads suitable for summer days
What is more suitable for summer days than a salad? The heat predisposes to something fresh and light. In addition, summer delights us with an abundance of fresh vegetables and fruits. They are not only delicious, but also very useful with the vitamins they contain. Thus, salads can become a main dish during the warmer months.
And not to be overlooked is the fact that they help keep the body in shape and help maintain a slim figure. In addition, we can note that the salad will decorate any festive table and will be warmly welcomed by the gathered guests.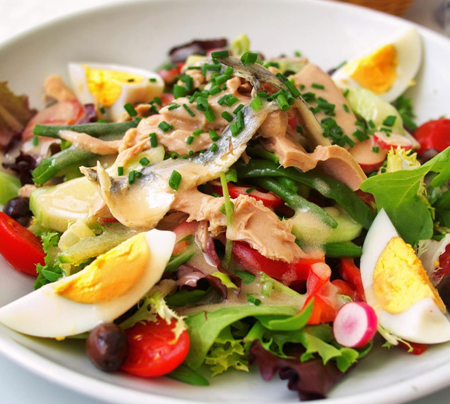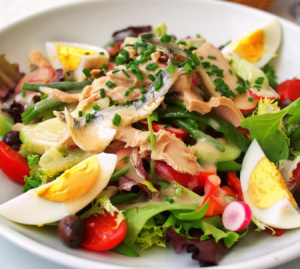 To all the advantages of salads we must add one more – that they are easy to make. The process of preparing most salads takes a minimum of time, and recipes usually do not involve the use of expensive or rare products.
The classic version of the French salad contains a minimum of components, but they all harmoniously complement each other and form a delicate fresh taste.
A huge advantage that distinguishes French salads is their ease of preparation and versatility. Their vision is refined and elegant, as it goes with everything French. They are often served in a transparent bowl, so that family members or guests can enjoy not only the taste but also the spectacular appearance.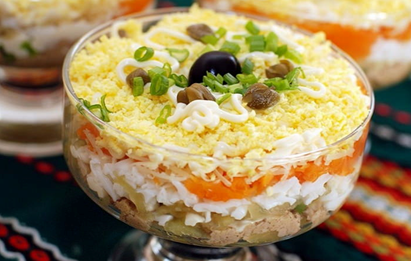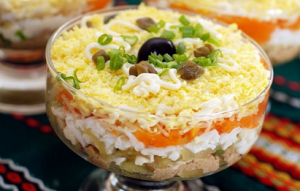 Recipes for French salads are different, but in most cases among the main ingredients are potatoes, tomatoes, cucumbers, apples, cheese, eggs, carrots. Green salads, cabbage, peas, celery and onions are also used. Some species are supplemented with nuts, meat products, dried fruits, fish, shrimp, olives.
In other recipes, vegetables are harmoniously combined with fruits such as strawberries, figs, grapes, kiwis and others according to the season. Salads with pasta and vegetables are also prepared. And last but not least – the dressing is very important.
A few very simple ingredients like olive oil, Dijon mustard and apple cider vinegar can make the salad taste amazing. Each version of French salads is interesting, delicious and original.
The preparation of a French salad is facilitated by the fact that there is usually no need to pre-prepare each ingredient. The products are often grated directly on the plate and can be stacked.
This type of salad can combine carrots, cabbage, cucumbers, and for greater satiety it includes meat or meat product, cut into strips and even french fries. Mayonnaise or cream can be added to them. The look is multicolored and spectacular, all the ingredients stand out well, and the mixing takes place after the serving.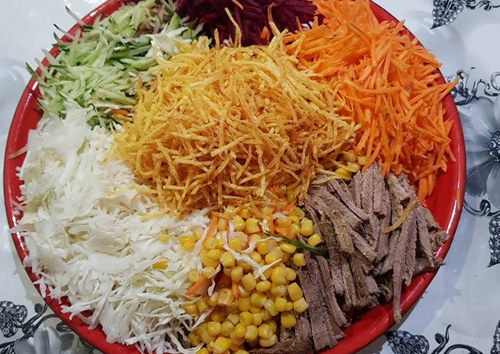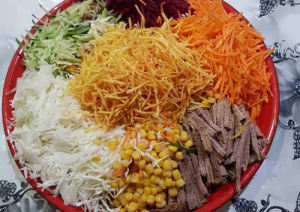 Another French classic is the layered salad, which includes carrots, apples, boiled eggs, hard cheese and mayonnaise, which explains the relatively high calorie content of the dish.
However, thanks to fresh produce, the salad is considered healthy and rich in vitamins. You can reduce the caloric content by replacing mayonnaise with low-fat sour cream or natural yogurt.
French salads sometimes contain cereals such as chickpeas or lentils. They are combined with fresh vegetables and spices and are a joy for every vegan. A wonderful option is, for example, the combination of boiled lentils with tomatoes, cucumbers, red onions and sliced ​​celery leaves or fresh parsley.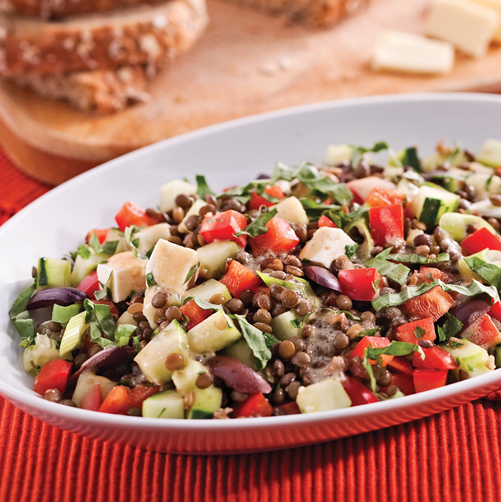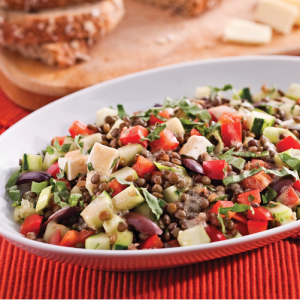 Receptions
Lyonez salad
Products:
200 g Frieze salad (or other lettuce)
50 g of bacon
2 eggs
1 head of shallots
2 tablespoons wine vinegar
1/2 teaspoon Dijon mustard
ground black pepper to taste
sol
Preparation:
Cut the bacon into cubes and fry it in a preheated pan until golden brown. Place the pieces of bacon on kitchen paper to remove excess fat. Fry the chopped onion in the same pan. Return the bacon to the pan with the onions and add the wine vinegar and mustard, mix well.
Put the sliced ​​salad in a bowl, add the contents of the pan and stir.
Now all you have to do is spread the egg, which will be the spectacular finish to your salad. To do this, heat water in a small saucepan and add a tablespoon of vinegar.
Once the water has boiled, carefully break one of the eggs in a bowl. Stir the water quickly with a spoon, creating a funnel. Pour the egg into it and cook for about 2 minutes. Repeat the same procedure for the second egg. The result should be boiled protein and raw yolk.
Divide the salad into two bowls or plates and place a poached egg on top of each.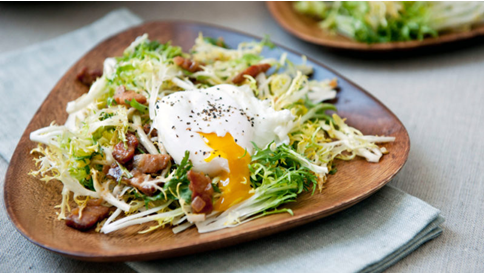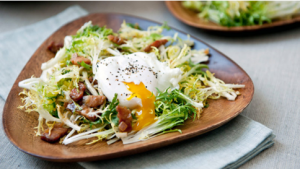 French salad with apples and carrots
Products:
3 carrots
2 ripe apples, preferably of a more sour variety
1 onion – red or other species
150 g of Gouda cheese
2 boiled eggs
mayonnaise
Preparation:
Prepare hard-boiled eggs and peel them. Cut them into slices. Cut the onion into small pieces, add salt and lightly mash it by hand. Grate the carrots and peeled apples separately. The salad is arranged in layers, with different options.
Here is one of them: Spread the chopped onion, spread it with mayonnaise, then spread the grated apples, put mayonnaise again and arrange the circles of boiled eggs on top, glue again with mayonnaise, sprinkle with grated carrots and cover with grated yellow cheese.
The eggs may not be sliced ​​but grated. Leave the salad in the refrigerator for a few hours to cool and acquire a harmonious taste.
There are other options for arrangement, the main one being to alternate the products and to spread mayonnaise or cream between them.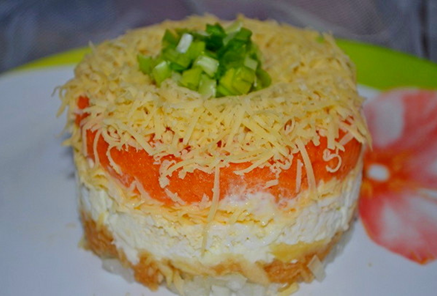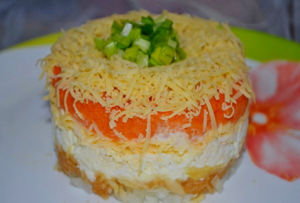 Salad with strawberries, cucumber and goat cheese
Products:
200 g of berries
60 g of goat cheese
80 g fresh pea pods (or canned peas)
50 g almonds
1 cucumber
freshly ground black pepper
For the dressing:
7-8 tablespoons olive oil
2-3 tablespoons rice vinegar
2 tablespoons lemon juice
sol
Preparation:
Put the pea pods in a large saucepan with boiling salted water for 2-3 minutes. Drain and rinse under running cold water. Cut the pods into pieces. You can just use frozen or canned peas.
Wash the cucumber and cut it into strips. Wash well and chop the strawberries. Crush the goat cheese and chop the almonds. Prepare the dressing by mixing all the ingredients.
Arrange in 4 plates harmoniously alternating strips of cucumber and strawberries. Sprinkle with peas and shredded cheese. Drizzle with dressing and sprinkle with almonds. Sprinkle with freshly ground black pepper to taste.