Summer is one of the best times of the year to visit the mountains. What cuisine to bet on this season? The picturesque views and a walk in nature are perfectly combined with exquisite cuisine from the country of mountain resorts, Switzerland.
A traditional menu offered in a gourmet restaurant can make you feel like in the Alps, even if you spend your summer vacation in the Pirin Mountains. What to choose from the rich menu of alpine cuisine? We give you some ideas for a fresh meal in the Swiss restaurant during the summer season, as well as some easy recipes that you can try to prepare at home.
Main dishes
In the summer we often look for lighter food that does not weigh us down in the heat. At the same time, hiking consumes a lot of energy. That's why we need dishes that satiate well, but do not burden the metabolism.
One of the basic rules of good Swiss cuisine is to use only fresh, organic products. It is preferable, of course, to get real, original products from Switzerland. Read the labels of different foods carefully, because they can help you orient yourself in terms of their origin.
Capon
"Kapun" is a typical dish of the country, something like the Bulgarian sarma. These are chard leaves, wrapped in small rolls with dough and minced meat.
Fish delicacies
Summer everywhere is a time for fish and seafood. Switzerland is landlocked, but 6% of the continent's freshwater flows are there. At the same time, saltwater fish are imported from neighboring countries. One of the classic recipes of the Alps is smoked salmon with herbs on lentils.
Cholera
At the time of the terrible epidemic, cholera raged in Switzerland in the first half of the twentieth century. At that time, people in the country could not afford to go out for food often, as they risked contracting the terrible disease.
For this reason, they began to cook something like salted tart, using leftovers from products such as mushrooms, potatoes, onions, cheese, bacon. one of the traditional foods. It is interesting to note that the original recipe for the dish also contained apples.
Fondue with fish
One of the traditional dishes Switzerland is popular with  is fondue. Instead of the heavier versions with beef and pork, in the summer try fondue with oil and fish. It is much more refreshing and goes well with soft drinks such as light wines.
Preparation: put water with a few drops of olive oil or vegetable oil in the fondue pot. When the water boils, add to it pieces of fish and reduce the temperature to a minimum. With the help of special long forks from the set you can prick bites of dry bread.
Dishes with Swiss cheese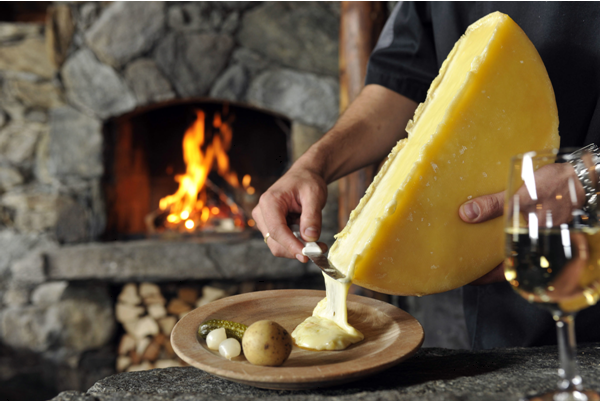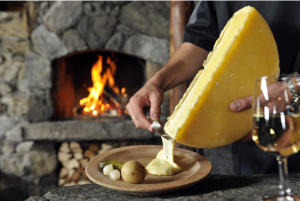 Classic cheese fondue
The other option for fondue is to bet on the classics and treat yourself to a mix of wonderful fragrant Swiss cheeses, melted in wine. In the past, this was the way for the inhabitants of the Alps to consume leftover cheese and pieces of dry bread.
Don't forget to choose the hardest possible cheeses. You can use, for example, Appenzell, Gruyere, Parmesan, Emmental, Franche Conte, Beaufort, etc. White wine is usually used for cheese fondue.
The method of making cheese fondue is similar to that of fish. Just heat a glass of wine and melt in it different types of cheese, cut into cubes.
An extravagant way to approach the dish is to melt pieces of pear in the mixture instead of bread. Others choose to put instead of wine, such as marinade in the dish, a little beer or, for example, liqueur cherry kirsch.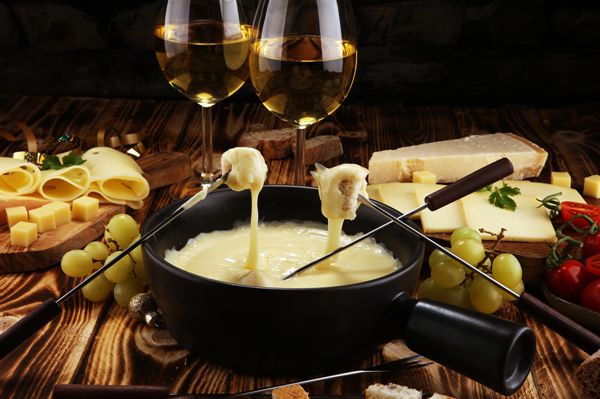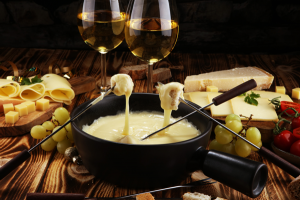 Raclette
Raclette cheese is another special recipe similar to fondue. It can be cooked in the same dish and also on a grill or grill pan.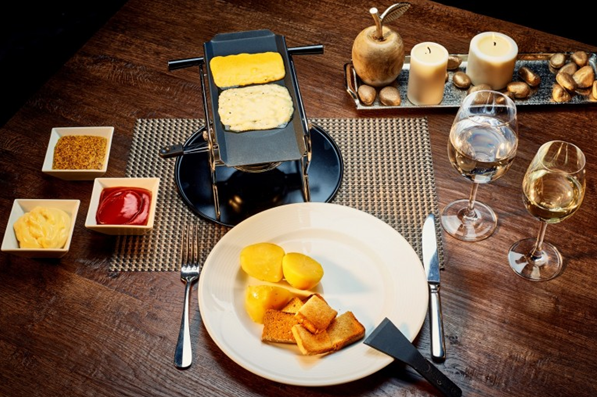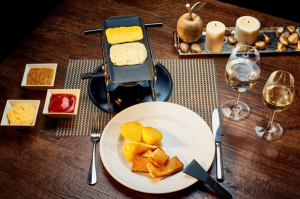 Tartiflet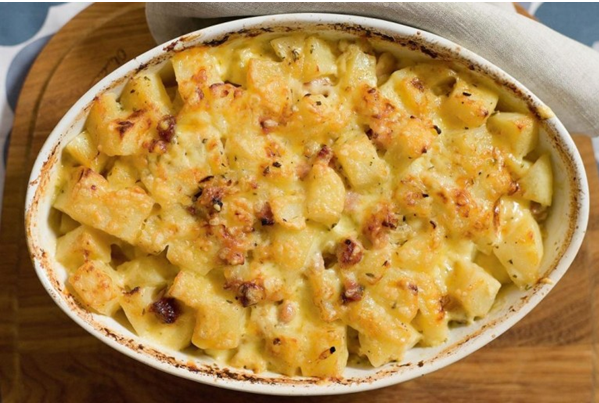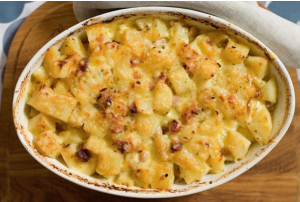 Tartiflet is a dish that is something like a Swiss casserole reading. Melted cheese with bacon, cream, potatoes or a vegetarian four-cheese vegetarian Sounds divine because it is! This dish goes with one of the favorite drinks of the Swiss, beer.
 R'oshti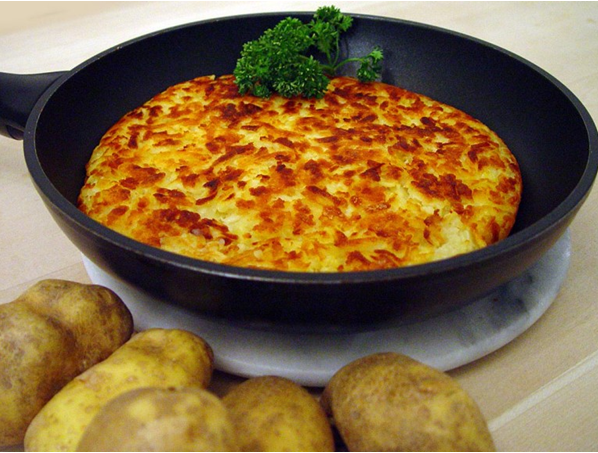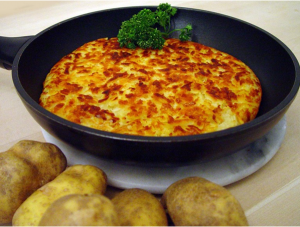 This dish is made from potatoes. The original recipe comes from the canton of Bern in Switzerland, and in recent years has gained popularity around the world. Traditionally in the past it was served most often for breakfast, but today it is accepted as suitable for any time of the day.
Vegetarian suggestions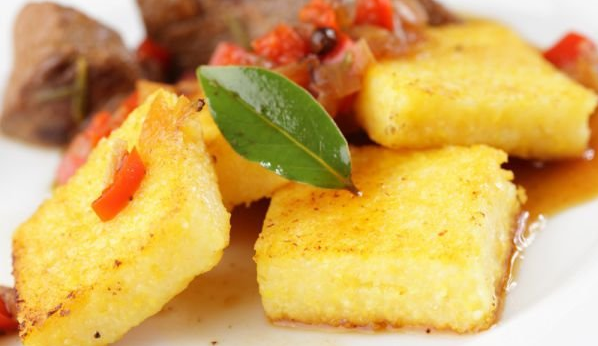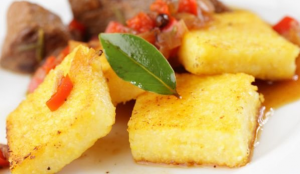 Lovers of plant dishes can try polenta – something like local mamaliga (porridge).
Salads
The Swiss usually eat salad as a side dish to the main course. Their salad recipes are not quite "light" and "vegan". One of the popular recipes you can try is the Savoy salad with pieces of bacon, a boiled egg and, of course, cheese. It's like a Shopska salad in the Savoy Alps.
In some variations of summer alpine salads, the cheese is goat cheese, and in others it may be reblochon (cheese made from raw cow's milk). You can also try salads with chard leaves, which is something like a national vegetable. Summer is the season of herbs, so you won't go wrong in your choice, no matter what you choose.
Irresistible alpine desserts
Fondue with chocolate
The fame of Swiss chocolate is spread all over the globe and for good reason. This is the homeland of milk chocolate, as well as some of the most skilled master chocolatiers. That is why the chocolate fondue is a favorite not only of children, the chocolate fondue is one of the sweet emblems of the Alpine region. You can eat it with pieces of cake, pancakes, cookies, marshmallows and all sorts of other delicious treats, even salads.
Fruit tart
In the summer, the Swiss hosts prepare fruit cakes, which they have on hand. Here we can get some of them on the market and in the supermarket – such as blackberries, blueberries. As a last resort, you can also use frozen fruit. Garnish with fresh whipped cream.
Alpine homemade ice cream
It is very likely that you will get a ball of fluffy milk ice cream together with your tart or croissant. It is a preferred dessert garnish for the Swiss. If for some reason you haven't been able to try it yet, be sure to correct this mistake. As a topping you can use a little crocan or syrup, decorate with some fresh fruit.