Fondue in the history of Switzerland
The classic fondue is a creamy dish. It is obtained by gradually melting pieces of cheese in a heavily heated wine. During the preparation, additional flavors are achieved through different spices. You can dip pieces of bread or vegetables into the dish with the help of special forks.
In recent times, variations with meat have been created with short dipping in fat for frying or cooking in broth, as well as in the form of a chocolate dessert. So in practice there is a traditional and non-traditional fondue. 
Fondue, which is today a national dish of the Swiss, originates from the alpine cuisine. It is believed that the shepherds in the mountainous parts warmed themselves in the evenings by melting pieces of cheese to a thick homogenous mixture in a pot of wine, heated on the fire. They dipped in this mixture pieces of bread put on a long sticks – spits. So, apart from staying warm despite of the cold mountain weather in the evenings, they significantly improved the taste of their food. 
Because they stayed for a long time on the pastures, the cheese and the bread were very dry and dry food was not "the best". And the fondue combines various flavors and aromas – from wine, from different types of cheese and from spices. 
There are different versions of the initial history of fondue in Switzerland. They are rather legends, and some point out to the XIV century, others century-two later. In any case, a fondue recipe has been found in a Zurich manual from the XVII century, which means that the meal was widespread and even emblematic. In 1885 Fondue was already with a "rank" of a national dish – included in the recipe book of a famous cooking school in Zurich, and in a form quite similar to the present ones. 
Nowadays, Switzerland has a Day of the Fondue made with cheese, which is on April 11th. Meat fondue also has the characteristics of the alpine cuisine and can be considered a part of the culinary traditions of the Swiss.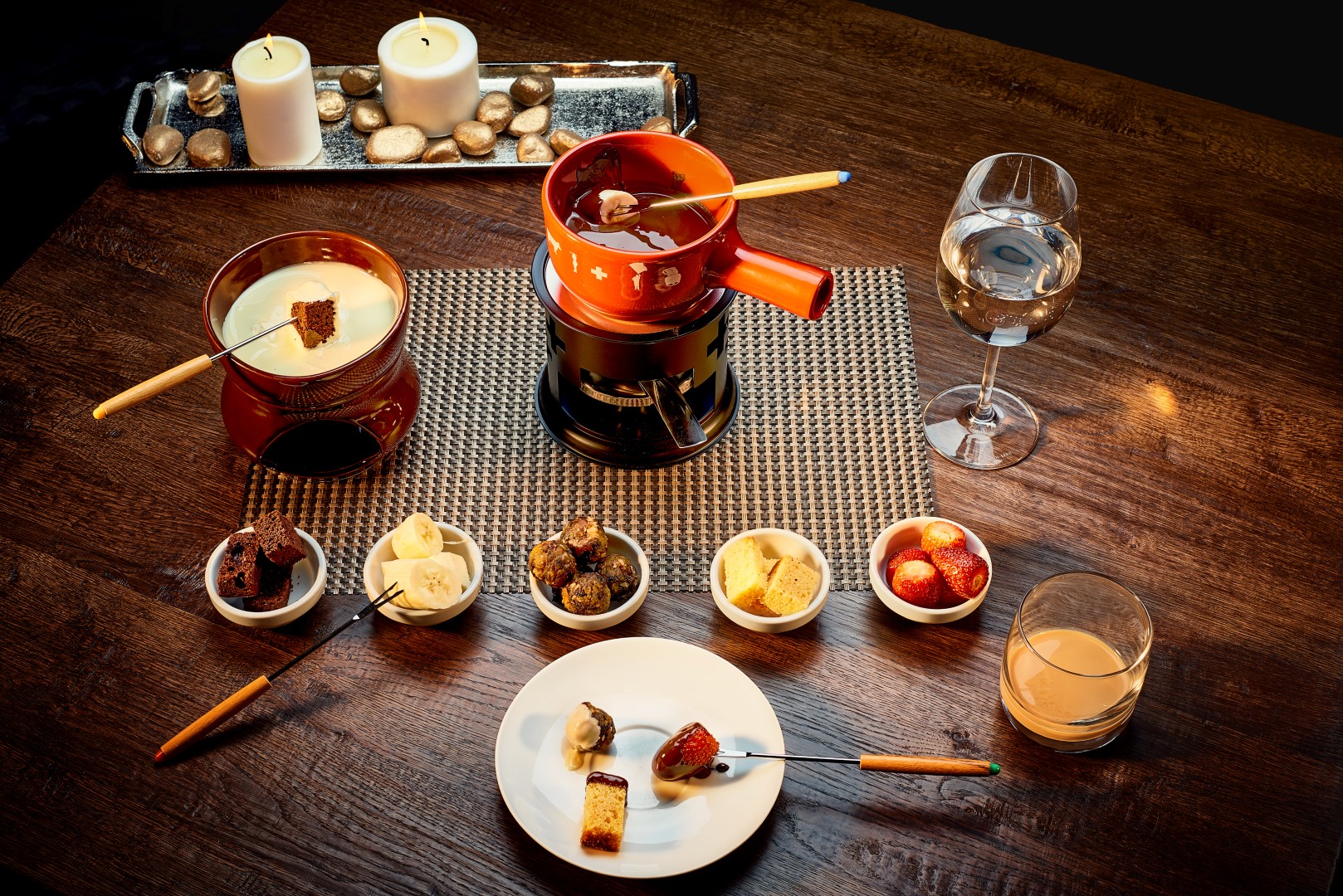 The interesting history of the chocolate fondue
The history of the chocolate fondue is also very intresting. It was invented by the Swiss company Toblerone, but this fondue is not "born" in Switzerland. 
The chocolate fondue appeared for the first time in the United States and more specifically in New York. This happened in 1966 at a briefing of the company that wanted to become famous with the new dish on the big American market. And a good advertisement in the United States guarantees popularity all over the world as well.
After the briefing, at the table of the Swedish media at a restaurant owned by a Swiss, along with a cheese fondue and other dishes, there was a chocolate fondue with fruits. People certainly liked it and the newspapers broadly popularized the new dish, which for a year or two became famous all over the world and triumphantly "came back" and settled in Switzerland. And no one can deny that it is best with Swiss chocolate! 
Considering everything mentioned above, when it comes to a traditional and non-traditional fondue, it can not be missed that there are also types of fondue that are beyond the traditions of Switzerland, which will be discussed later.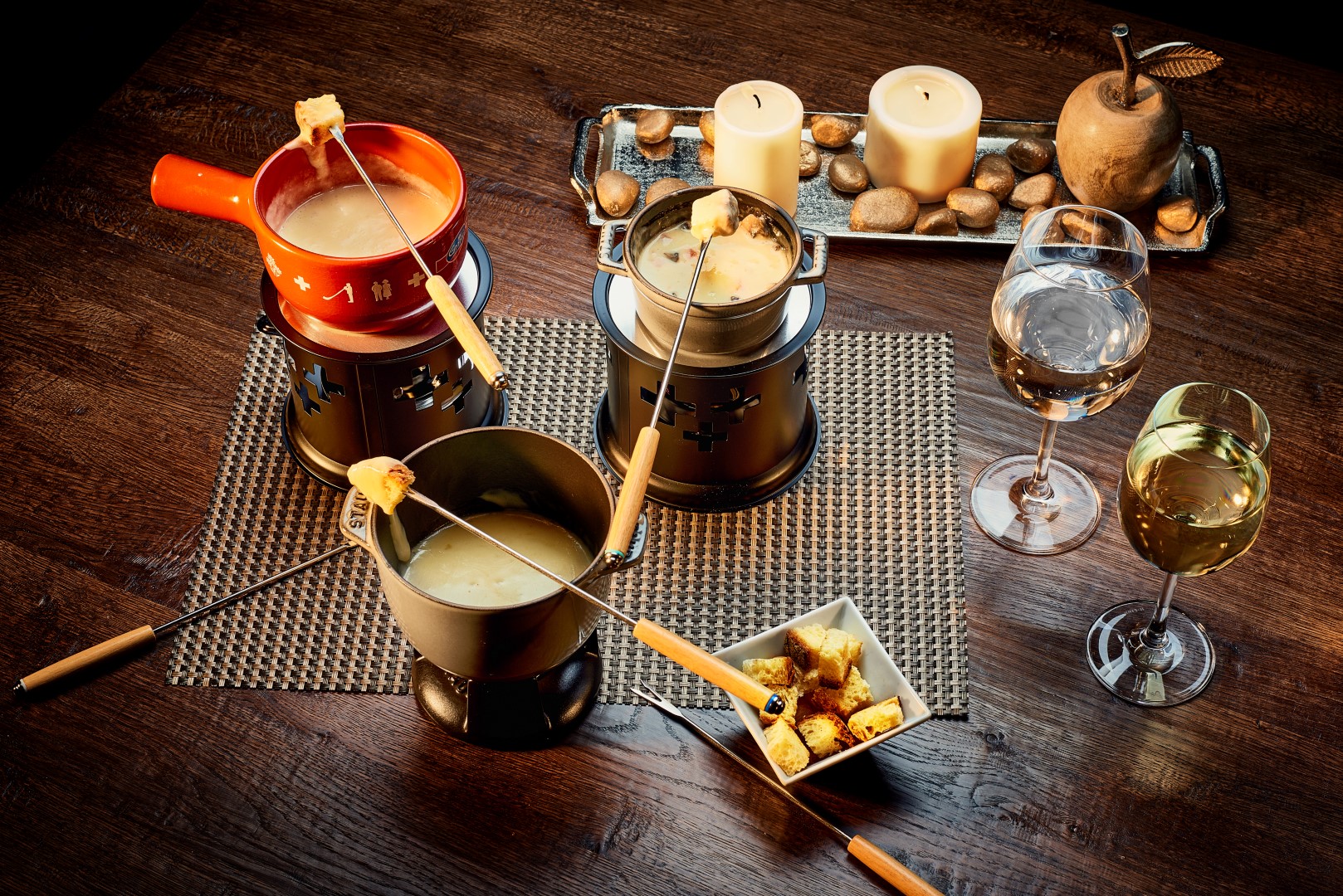 How to make a Swiss fondue
For the cheese fondue are commonly used two types – Grüyere and Emmental. For 6 servings, 500 grams of the two cheeses are required. The white wine in which the cheeses will be melted is half a bottle, which is advisable to be dry.
The preparation takes place in a ceramic or metal pot (there are also special pots for fondue called caquelon, which are part of a complete kit). It is pre-smeared with two garlic cloves, which are subsequently placed on the bottom. Add 30 grams of oil and heat the pot.
The melting takes place gradually, as in the hot pot is poured a little bit of the wine and the cheese ​​slices, then the mixture should be stirred. The mixture should become like a thick smooth cream. Corn flour is added to this mixture – a spoon dissolved in wine, and then it should be stirred. For flavor and aroma add cherry brandy, a little lemon. 
Traditional flavors for fondue seasoning are nuts are nutmeg, dill, cumin, pepper, as the selection varies depending on the type of cheese and personal preference. The prepared fondue is kept warm on a free flame, perhaps on a candle. Consumption is done by dipping bites, combined with white wine, tea and more. 
For a fondue with quick-frying or short-boiling,  the pot must be metal. Various meats are used – chicken, beef, pork, fish, crab, shrimp, etc. The heat is maintained with a burner and the flame can be adjusted. If fried, use vegetable oil. 
Thin slices of meat are dipped for about a minute with long forks until they are fried, then removed and left to cool down in separate plates. Consumption can also be done with ordinary forks, if the use of the special forks make it difficult for people on the table. For cooking, a vegetable broth can be used where spices can be added – rosemary, basil, etc. The meat should be sliced ​​very thinly so the pieces can easily be cooked.
The chocolate fondue can be made according to the preferences, for example, with white, black or milk chocolate, as 500 grams of chocolate are required for 5 portions. The chocolate should be crushed and melted on a water bath with a spoon of butter and 6 tablespoons of fresh milk. It can be combined with 2 tablespoons of chokeberry jam or other finely chopped nuts (say hazelnuts), a spoon of grated orange peel, two drops of vanilla essence. 
Once it is ready, add two teaspoons of liqueur, cherry-brandy, rum, etc., kept on a low flame. Consumed with different fruits – strawberries, chopped bananas, apples, peaches, etc., coconut, nuts, cakes, biscuits, and so on.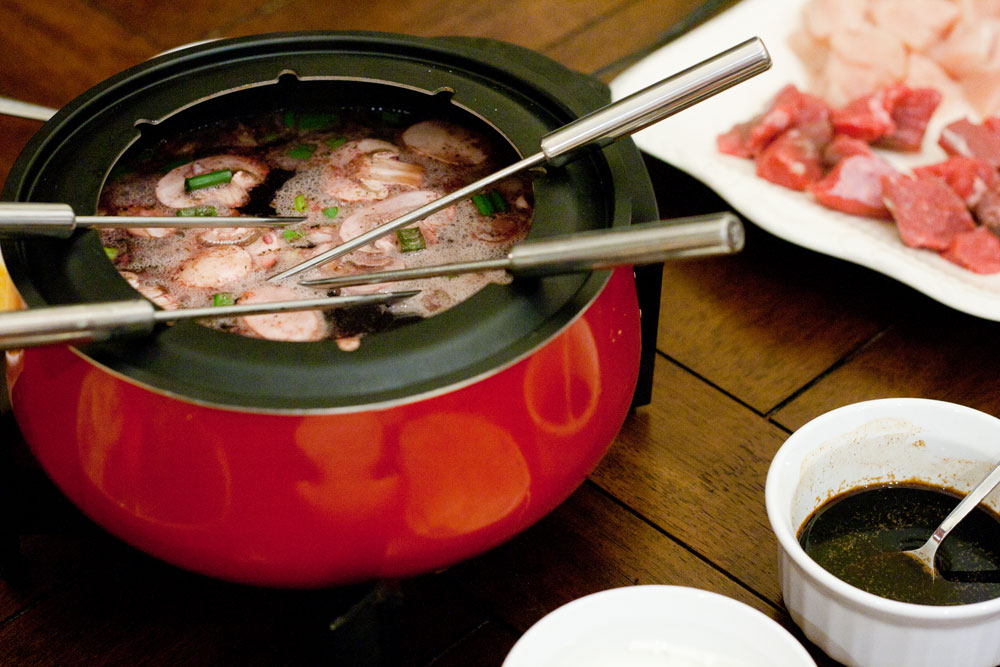 Fondue without cheese, wine, meat and chocolate
The Swiss Fondue – the classic with cheeses, the meat in a broth or fat, and the chocolate – all these based on Swiss natural conditions, domestic products and meat culinary traditions. All variants of the Swiss fondue are widespread and sought after around the world. Thus, the preparation method of Fondue is adopted in many places and the delicious dish is prepared in an authentic way according to Swiss recipes both in luxury restaurants, as well as by people at their homes.
At the same time, however, there are a number of cases where this method of preparation adapts to the different national culinary traditions, personal culinary experience and imagination. This results in interesting meals, which can be defined as a non-traditional fondue. 
For example, a cabbage fondue can be made that is combined with an apple sauce. Fondue without cheese and wine can also be prepared, but with milk, cheese and tomatoes. For this meal you will need an onion, finely chopped, which should be stewed in a little fat. 
Add tomato paste – 20 grams, fresh milk – 350 grams with starch diluted in it – 20 grams, and grated yellow cheese – 300 grams. A thick homogenous mixture is obtained in which sliced ​​tomatoes are cut into pieces. The mixture is placed in a fondue pot and heated with a spirit-lamp, as the flame keeps the dish warm. Bread bites are used to dip in the dish. 
You can also make a fondue with oil, but not with meat, but with mushrooms, beer, flour, yellow cheese and more. Prepare a thick mixture of 100 g of flour, 3 eggs, grated yellow cheese (150 grams), beer (125 ml) and some black pepper. Consumption is done by dipping whole mushrooms in this mixture – about 500 gr. Each mushroom is placed on a fork, then it is dipped into the mixture and then fried in heated fat, then and finally it dipped in a pot with finely chopped parsley.