Many countries have potato dishes in their national cuisines , but few they have gained such popularity as the Swiss roars. This simple recipe gives such a delicious result that it has long been on the daily menu of the people of the Alpine country.
Potato slices require few products and are easy to prepare, which makes it universal and suitable for both restaurants and home menus.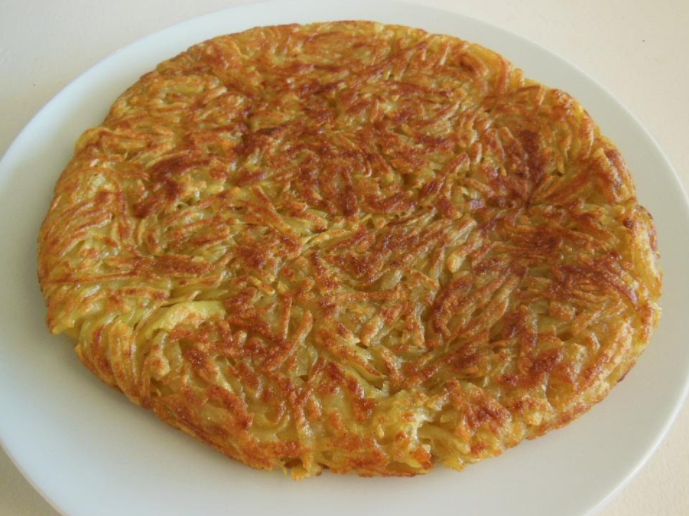 What are roars?
Rösti is a Swiss national dish , prepared from grated potatoes with added vegetable or animal fat . Although the dish usually consists only of potatoes seasoned with salt and pepper, sometimes depending on the region it is added bacon, onion, cheese, apple or herbs.
In most cases the dish is prepared in a pan , but it is also acceptable the use of an oven. According to the recipe and taste, the slices look like potato pancakes or American hash brown .
Historically, rösti is a traditional cantonal dish Bern . Like any country meal, the diggers ate for breakfast to give the mountaineers strength for the whole day.
Today they are prepared all over Switzerland, but are mostly typical of the German-speaking part of it. Served during lunch or dinner alone or as a side dish to meat or vegetable dishes.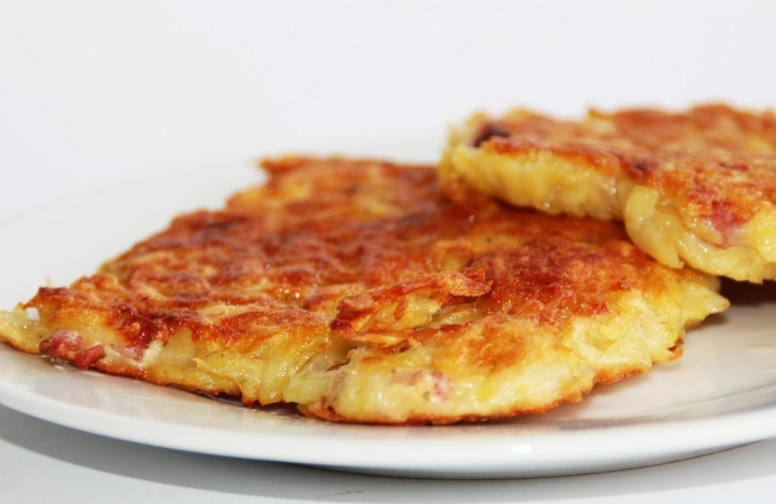 A curious fact is that this dish gave its name to the Swiss political term describing the difference between French-speaking and German-speaking parts of Switzerland : röstigraben (literally dig up rösti). There is also a saying that the border between German-speaking on the one hand and French and Italian-speaking cantons runs "along the Röschi line".
How to make roasts?
The Swiss use a special kind of potato with a low starch content, thanks to which the roaches acquire a yellow crust and are crispy on the outside and tender on the inside.
Since most countries do not have this type of potato, chefs apply various tricks to achieve the desired effect. For example, boil the potatoes before grating them or sprinkle the already grated raw potatoes with salt to make it easier to remove excess moisture.
To prepare classic roasts, first the peeled potatoes are grated on a coarse grater. Switzerland even has a special widget for this. By the way, the Swiss sometimes grate the potatoes without peeling them before.
It is important to keep in mind that traditional roasts contain nothing but potatoes, spices and butter. For two servings you usually need 2-3 large potatoes, and salt and pepper are to taste.
In the form of schnitzels or a large pancake, fry first on one side and then turn on the other side or toss in hot oven.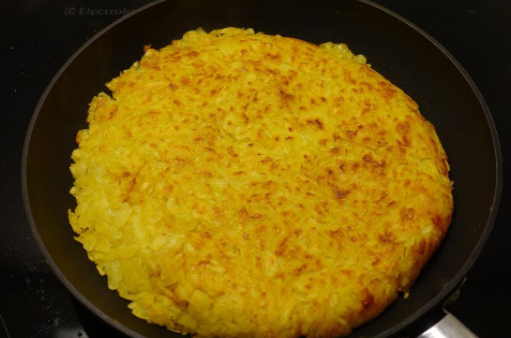 В базальск а and version of the roast, the onion, cut into thin circles, is added to the grated potatoes before cooking. In restaurant Fondue in Bansko , which specializes in alpine cuisine, you can try delicious roasts as an appetizing side dish to various dishes.
Famous recipes for roasts
Roasts – a classic recipe
Products:
3-4 large potatoes

butter or oil

sol

black pepper
Method of preparation
Roasts can be made from both raw and boiled potatoes, which are first boiled until semi-finished . The first option is more commonly used because the potatoes have time to fully cook during frying or baking. So, peel the potatoes first.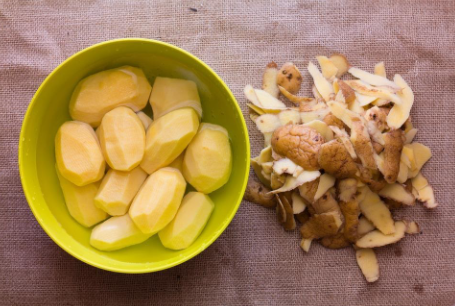 Then grate them on a coarse grater. Season with salt and freshly ground black pepper, add a few tablespoons of vegetable or melted butter and mix well. If everything is done quickly, the potatoes will not have time to darken and will keep their fresh look.
Put the pan on medium heat, pour the frying oil (optional) you can also fry in butter or lard) and let it warm up. Pour the grated potatoes with a spoon into the pan, flattening them with a spoon to form schnitzels.
You can make small flat-sized meatballs or classic meatballs that fill the entire pan. In this case, it is convenient to fry the roasts in a smaller pan so that they fit on a plate.
Fry for a few minutes until golden brown, then gently turn (for larger slices you can use two spatulas or a plate on which to turn them) and fry on the other side . Frying time depends on the frying pans themselves and the thicker they are, the lower the heat must be in order to there is no time to burn their surface.
Remove the fried raisins from the pan, remove the fat with paper towels if desired and serve as a side dish or on its own with sour cream.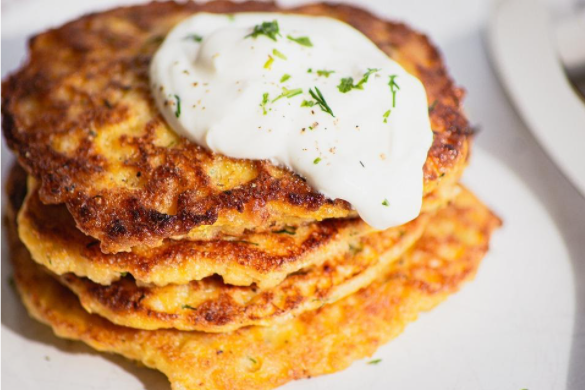 Cheesecakes
Products:
6 large potatoes

6 tablespoons butter

180-200 g hard Swiss cheese, grated

salt to taste

ground black pepper to taste

2 tablespoons hot water
Method of preparation
Bring a large bowl of salted water to a boil. Add the potatoes and cook until soft , but still firm. Drain and allow to cool. Then peel and grate the potatoes. Grate the hard cheese.
Melt 3 tablespoons butter in a large non-stick pan, add a layer of potatoes and a layer of cheese, sprinkle with salt and pepper. Repeat the layers, and finally you have to finish with potatoes.
Grease each layer with the remaining oil. Sprinkle 2 tablespoons hot water over the top layer, cover and fry over low to medium heat until the bottom layer is browned. Turn with a spatula and bake again. Or bake in the oven. If you have any grated potatoes left, just fry them separately.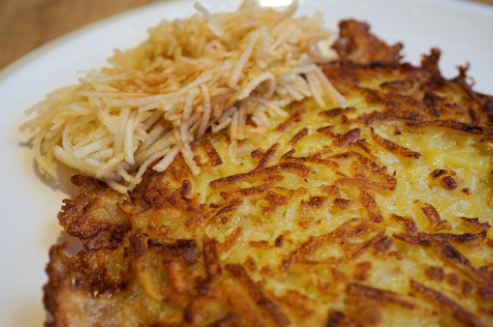 Rice with onion, egg and bacon
Products:
600 g potatoes

200 g bacon

1 onion

1 egg

1 clove of garlic

20 g cow butter

1 pinch of brown sugar

Salt and ground black pepper to taste

Oil or frying oil
Method of preparation
Grate the potatoes on a large or medium grater. Leave to stand for ten minutes and drain the potato juice. Grate the onion finely, beat with the egg. Add the onion and egg to the potatoes, salt and season the mixture with black pepper.
Heat the oil in a pan, fry the unpeeled clove of garlic in it, before crushing it with the flat side of the knife for a stronger aroma. Fry the roasts, spreading them in the pan with a tablespoon. Fry on both sides until golden brown.
In a separate pan, heat the butter, cut the bacon into cubes, add salt, a pinch of brown sugar and black pepper. Fry until the crystals dissolve. Serve the roasting hot, placing the fried bacon on top.
Egg and sage beans
Products:
2-3 large potatoes

1 egg, broken

1 tsp plain flour

1/4 tsp baking powder

1/2 small onion, finely chopped

6 sage leaves, 2 finely chopped, 4 whole

3-4 tablespoons sunflower oil for frying
Method of preparation
Peel and grate the potatoes . Squeeze the excess water from the grated potatoes, then pour into a bowl and mix well with the egg, flour, baking powder, onion and chopped sage leaves.
Heat 2 tablespoons oil in a large non-stick skillet over medium heat and add the mixture with a spoon to make 4 slices by flattening them with the back of a spoon in the shape of a flat meatball.
Bake for 5 minutes on each side until golden brown and crispy, then drain on kitchen paper.
When ready to serve, heat the remaining 1 tablespoon of oil in a skillet over medium heat. Add the whole sage leaves and cook for 20 seconds, until crispy but still green. Drain on kitchen paper and place a fried sage leaf on each potato meatball.
Photos: pixabay.com