During the holidays culinary traditions in the Alps find many followers. Most Swiss families return to the test and rarely decide to experiment with new culinary temptations. The richness of Swiss cuisine is largely due to the influence of neighboring Alpine countries, which is reflected in Christmas customs and culinary traditions
What dishes are served at the festive table in Switzerland?
Swiss Christmas Dinner is individual and varies greatly from canton. Therefore, the question arises whether there is a typical Swiss Christmas dinner and what is common to the festive table . The variety of the menu is great and often depends on the proximity of the region to neighboring countries – Germany, France and Italy.
However, there are a few dishes that are traditionally served at Christmas in Switzerland. The good meat dish is a guest at every festive table in the confederation. Many families include in their menu Christmas fondue, which is slightly different from the traditional with melted cheese. It is usually with meat.
In many parts of Switzerland roast turkey is popular and is often prepared during the holidays . Unlike stuffed geese, which are highly regarded in neighboring Germany, the Swiss prefer the turkey.
Birds symbolize the wealth and abundance that the people of the Alps hope for next year. The turkey is stuffed with trifles, rice, sauerkraut, carrots, onions and fresh mushrooms. Dried fruits or nuts can also be added.
The stuffing is first left to simmer on the stove and then the turkey is filled, which is finally smeared with oil and red pepper and sewn with thread. Cover with sauerkraut leaves and bake for about 3 hours.
During baking, the cabbage leaves are changed several times so as not to burn. Finally, the turkey is discovered and acquires an appetizing tan.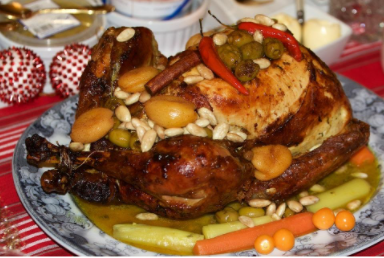 In addition to stuffed birds, many regions also offer traditional Swiss food, such as meat with potatoes and sauerkraut. The typical Swiss Alps racquet or roaring will not be forgotten.
Potato slices are often served as a side dish to roast meats. Favorite meat dish for the holidays are the shovels on sauerkraut and potatoes. The place for the festive table can be baked on a plate or in the oven, alone or with vegetables.
It may sound a little strange, but many Swiss people prepare for the holidays the so-called Fondue chinoise, and many ingredients are usually chosen for it. Raw meat, cut into chunks, and various vegetables are dipped in boiling broth.
They become especially tasty after watering with different sauces, so it's definitely worth a try.
The hot liquid in which the products are melted is prepared from beef broth, bay leaf, cloves, thyme and rosemary stalks and 1 shot of cognac. Boil one hour, to acquire a rich taste and aroma.
Then different types of meat and vegetables , which can be pre- blanch, prick with long-handled forks and dip into it.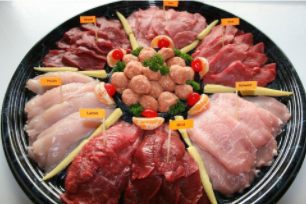 It is clear that all kinds of meat are welcome on the Swiss table, and this applies even to salads. The most popular is Schweizer Wurstsalat , which is prepared from sausage, hard cheese, onions, pickles and dressing.
It often contains radishes, baby spinach, parsley, chives, etc. The Swiss are happy to eat this delicious and filling salad for any occasion.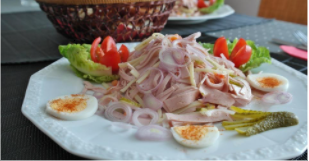 Walnut mayonnaise also has a place on the Swiss Christmas table. It is made from walnuts, garlic, olive oil, lemon juice and a little salt. Garlic is mashed and walnuts are ground a lot. fine . Stirring constantly, add olive oil to the ground walnuts until absorbed. To them add garlic, lemon juice and salt.
This appetizing mayonnaise is served with stuffed turkey or duck , but you can to be served as a snack with slices of fresh bread.

Regional trends in holiday menus can also be clearly identified. Some the typical holiday dishes are only available in selected regions. Examples are the Bernese plateau with meat, sauerkraut and potatoes or the milk pies in Aargau. In German-speaking areas, they are sure to serve their favorite ham with potato salad.
In Zurich and on holidays they rely on the traditional Zürcher Geschnetzeltes. This is a rich meat dish that is easy to prepare, as it consists of sliced ​​beef, beef liver, cream, mushrooms and white wine.
In the cantons close to Italy you can prepare ravioli with meat stuffing and eat sweet bread with dried fruit, called Panettone.
There are also delicious meat appetizers on the table. For example, in the canton of Graubünden they will not forget to serve dried meat Bündnerfleisch , which must be cut into very thin strips.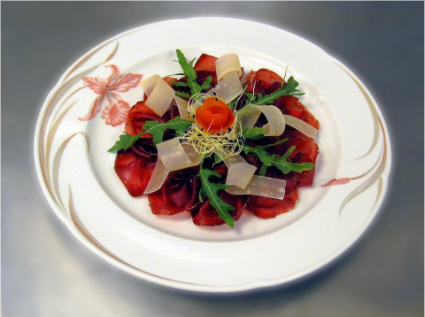 Fish is less common in Christmas menus , and is more common as an appetizer. For example, they are being prepared smoked salmon , tartar tuna or terrine from cod, trout or salmon, but these are not typical dishes for the Swiss holiday table , but rather modern innovations.
Festive traditions and customs combined with Swiss cuisine
The impression is deceptive, but Christmas is not just about gifts and food. The most important thing is communication. For most people a warm meeting with families is the main prerequisite for a successful Christmas party.
The houses are fabulously decorated and there are amazing scents everywhere. Traditionally, the menu consists of home-cooked food, and many of the recipes are passed down from generation to generation.
An important part of the festive table are exclusive Swiss breads. Not just everyone Canton has its favorite pasta, and almost every city is proud of its traditional bakery products.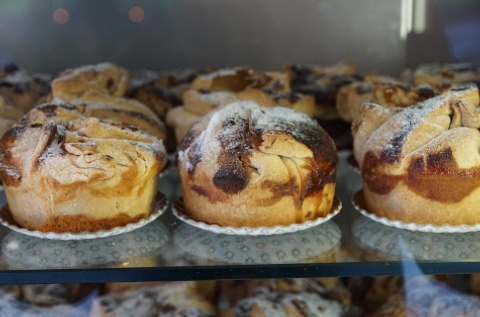 One of the characteristic pleasant smells associated with the Christmas holidays is that of roasted chestnuts. They are prepared everywhere – at home and abroad.
For sale right on the street, so their fragrance spreads everywhere in towns and villages. Special edible varieties are used for baking. It is very important before making them to make a cross-section of each chestnut, so as not to "explode" during heat treatment.
And one more thing, without which the holidays cannot pass in Switzerland – Grittibänz . These are cute little men made of dough , which are a mandatory element of the Swiss Christmas table.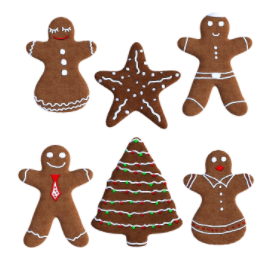 They can also be used as holiday decorations, for example hung on the Christmas tree. They are made from flour, yeast, butter, milk, egg, a little sugar and a pinch of salt. Two raisins can be used for the eyes, and the nose can be made of almonds.