Culinary Switzerland is best known for its cheese fondue, but the alpine state has many other gastronomic reasons for pride.
The local cuisine is intertwined with the influences of neighboring countries: France , Italy and Germany , which gives its own look to the typical dishes of the different regions. At the same time, there are a number of unique dishes that have gained national status.
Other interesting alpine dishes are warmly received far beyond the confederation.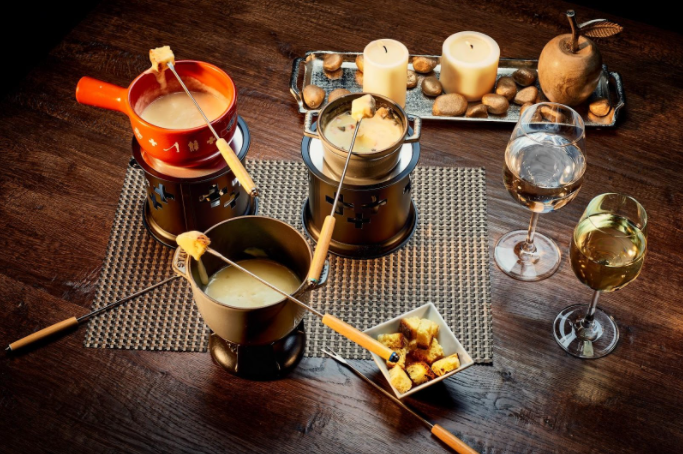 Here's what the Top 10 traditional Swiss dishes include.
1. Fondue
There's no way we can't put the amazing fondue at the top of the list. If you are making a culinary tour of Switzerland, you should definitely try this fabulous food. It may look very ordinary, but its tastes will surpass your imagination.
The fondue is made from several types of cheese, which are heated over low heat. Part of the experience is due to the fact that the dish is prepared directly on the dining table.
In the center of the table is placed a special vessel called kakelon, in which melts the selected cheeses. Usually between 2 and 5 species are used, among which are Gruyère, Vacherin Friborgeois, Raclette, Appenzeller and others. A little quality dry white wine is added to them. Season the dish with nutmeg, black pepper and a little garlic.
In the aromatic hot mixture of melted cheeses se dip pieces of bread with long trident forks, and on the table are served boiled potatoes, vegetables, pickled onions and more. products on request. And the biggest skeptics will eventually be convinced that they will not get such a delicious cheese food anywhere else in the world.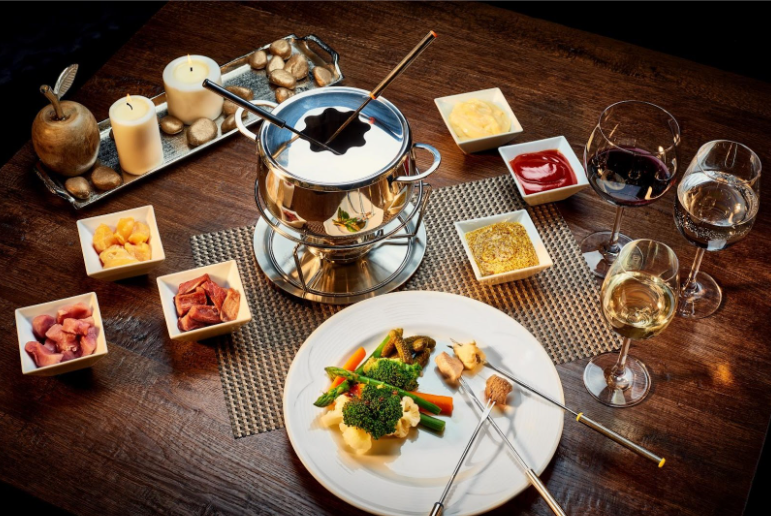 2. Rösti
Swiss roasts are grated potatoes, usually fried in a pan crispy and golden color. Rischi is one of Switzerland's iconic national dishes, originally prepared by farmers in the canton of Bern for breakfast.
They are traditional for the German part of Switzerland, but have long been gaining popularity throughout the country and abroad. or boiled potatoes , which are shaped like meatballs, schnitzels or pancakes the diameter of the pan.
The potato mixture is first fried in a pan with melted butter on one side. You can then put a lid on and bake until crispy, or transfer to the oven for baking.
For a richer taste you can add cream, fresh milk, cheese, eggs, onion bacon and vegetables. A popular option is Rosti Valaisanne, which is garnished with bacon, fried egg and melted raclette cheese. Marinated gherkins and small onions are served with the diggers.
3. Papet Vaudois
If we have to quickly describe Papet Vodoa, it's just leek and sausage mashed potatoes. However, this way you will not get an idea of ​​the unique taste of the iconic Swiss dish, which is typical of the Vaud region . It is rightly considered one of the best foods in Switzerland.
Le Papet Vaudois is a porridge made from leeks and potatoes, which are stewed with cream. On this simple base in the plate is placed the main emphasis – pork sausage with cabbage . The sausage is locally produced and is so special that it has a unique number and stamp on it.
The great popularity of this dish is evidenced by the fact that every October in the region celebrate the Day of Le Papet Vaudois.
4. Raclette
Raclette is a Swiss dish with cheese, which is usually baked on a special grill. Numerous slices of cheese are arranged one after the other on the plate and when soft they are grated directly on boiled potatoes . This top food originates from the canton of Valais. Like the fondue, the racquet gathers friends around the table because it is prepared directly on it.
Raclette cheese is used , and the appliance on which it is prepared bears the same name. Boiled hot potatoes are served in front of everyone on a plate, and marinated cucumbers and small onions, olives, vegetables, etc. are placed on the table. For meat lovers can be served ham, bacon, fillet and more.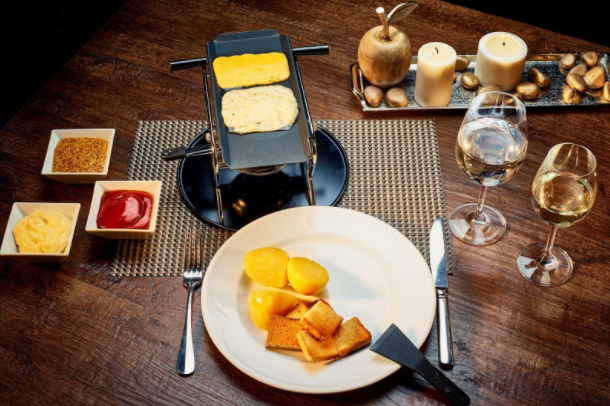 5. Älplermagronen
Älplermagronen are an interesting Swiss variation of pasta with cheese. This dish is often called shepherd's pasta because it is made from ordinary ingredients used by people working on alpine pastures. It is suitable for the harsh winters in the Alps . The main products of this popular dish are pasta, cream, cheese, potatoes and onions.
Älplermagronen is prepared by arranging layers of boiled pasta, boiled potatoes, cheese and cream. version of the bacon recipe.
6. Zurcher Geschnetzeltes
This is an iconic national dish, which is a favorite hearty winter lunch for all Swiss. The dish is culinary pride of Zurich , where it is popular as Züri-Gschnätzlets. Locals say the recipe has been made in the Alps since the 19th century
This famous food in Switzerland is prepared from chopped beef and veal kidneys with onions stewed in a sauce of butter, white wine, cream and mushrooms. This dish will definitely make you remember it for a long time and the cozy Zurich restaurants.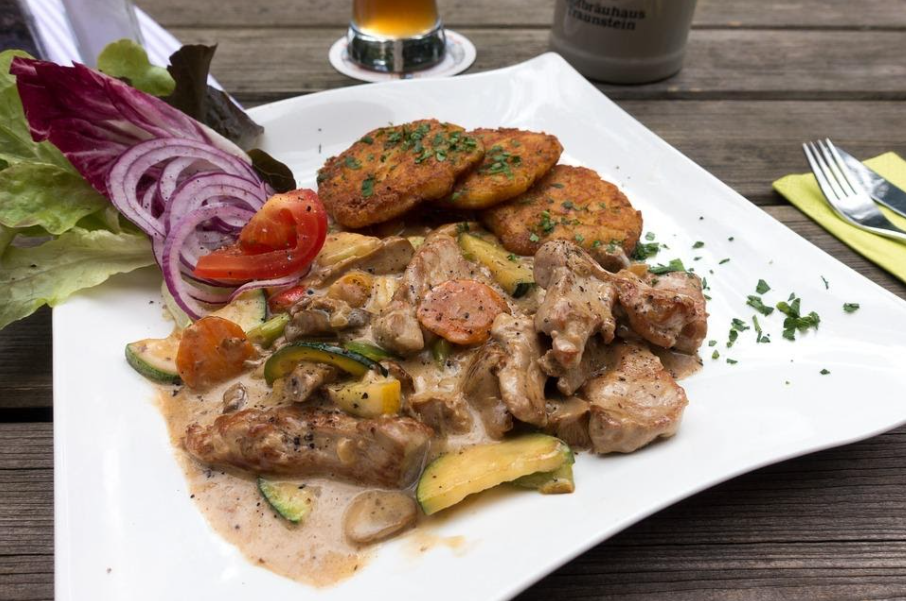 7. Bircher muesli
You probably ate muesli for breakfast at some point. However, you may not know that this healthy food was actually invented by the Swiss doctor Maximilian Oscar Bircher-Brenner in the distant 1900
Believing that a diet consisting of grains, fruits and vegetables is better than a meat-based diet, he created Bircher müesli for patients in his sanatorium in Zurich.
The term comes from the German word for fruit puree or porridge ( Mus ), and the first muesli was made with fresh fruit. In essence, this food is a mix of oatmeal, fruit, nuts or other nuts.
Yogurt or fresh milk is usually added to them, and if desired, sweetened with honey. The original recipe involved soaking raw oats overnight to soften them. Today the dish is a very popular breakfast not only in Switzerland but all over the world.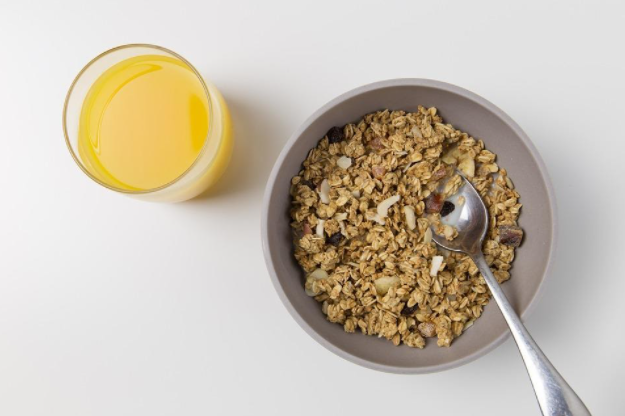 8. Basler Mehlsuppe
Anyone who is annoyed by rare watery soups should try one of the most common foods in Switzerland . This is the famous Basel flour soup, which at first glance looks very ordinary, but with its creamy texture it is very tasty and filling.
The story goes that it was invented by accident when a distracted cook toasted flour for onion soup , which he was about to cook. Instead of starting again, he added brown flour to the pot and the soup prepared in this way was a great success. Today it is consumed as one of the most popular dishes in Switzerland.
Everyone has their own recipe for the soup, but the main ingredients are just flour, butter, onion and beef broth, and finally garnished with grated Gruyere cheese. This soup is a must-have during the annual Basel Carnival.
9. Tartiflette
This is a main dish offered in most ski resorts, especially those in Swissé romande . It is a culinary delicacy of French cuisine and is something like casserole or hot. Mainly made from potatoes, onions and necessarily with cheese Reblochon.
Often the dish is enriched with bacon, cream, wine, mushrooms and etc. The combination of thinly sliced ​​potatoes, pieces of smoked bacon, caramelized onions and cream cheese makes this dish attractive to the eyes and stomach.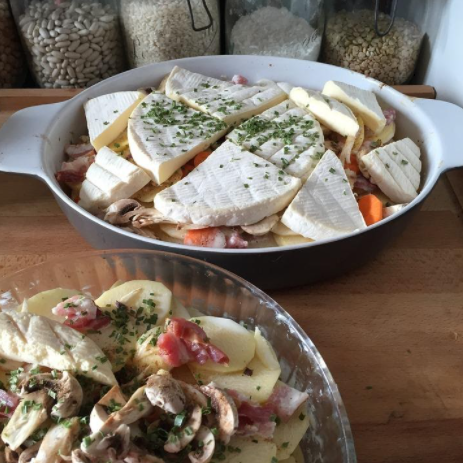 10. Zopf
Bread is highly revered in Switzerland and that's why we can't include at least one species in the ranking of the best foods in the Alpine country. Swiss knitted bread Zopf is one of the most popular in the confederation.
It is believed that originates from the canton of Bern and for the first time mentions about 1430. The most characteristic feature of this bakery product is that it resembles a class of wheat, and its name in German means braid. Its appearance is festive and is considered ritual bread.
To make this unique Swiss bread you need flour, honey or sugar, warm milk, butter, egg, salt and dry yeast. To get the characteristic "braid", you need to divide the dough into 3 or 4 parts. Once it rises, spread with egg yolk and put in the hot oven for about half an hour.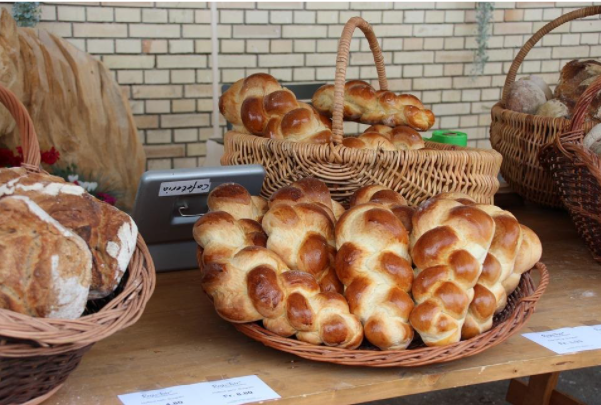 Photos: leonardobansko.bg / pixabay.com