The world fame of Italian cuisine is due to the huge variety of delicious, usually not very complicated to prepare and useful dishes.  The richness of the culinary tradition has another dimension, which is expressed in the preparation of traditional for Apennines appetizers, called antipasti.  They have no less presence in the menu than pasta, pizza, risotto and other remarkable culinary works typical of the Mediterranean diet.
Italian appetizers are the thing that starts lunch or dinner and opens the appetite. They are also part of Alpine cuisine, which has become increasingly popular around the world in recent years.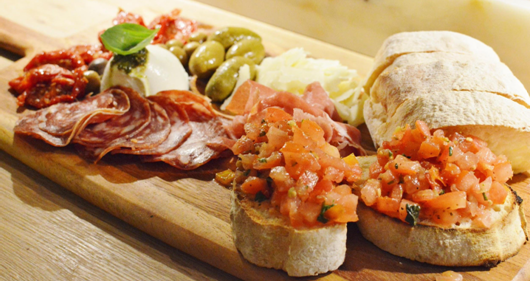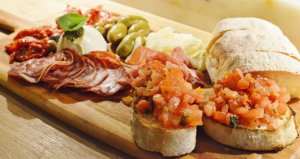 History of Italian appetizers
As usual, when we talk about the history of an Italian dish, its roots must be sought somewhere in ancient Rome. In more recent times, the tradition dates back to around the 15th and 16th centuries. In 1475 the Vatican librarian Bartolomeo Sacchi recommended to the Romans to start every meal with fruit. As a result, tempting combinations appeared such as pieces of ham with melon, figs or peaches.
In the 16th century, the first explanation of appetizers appeared, written by the father of Italian gastronomy Pellegrino Arthus. According to him, these are "those little things that whet the appetite" and are prepared from oysters, cold meats, ham, salami, mortadella, tongue, cheese, anchovies and sardines. Over the centuries, the culinary tradition of Italian appetizers, called antipasti, has developed, but even now these are various small delicacies that are served before the main course.
In classic Italian cuisine, appetizers usually consist of several ingredients, among which can be smoked meat, sausages, olives, roasted or marinated vegetables, cheese, seafood, fresh fruit. As spices. various aromatic herbs are used. Antipasti are usually served with fresh bread, high quality olive oil and balsamic vinegar.
If marinated vegetables  are to be used in the appetizers, they are prepared at least a few hours in advance, otherwise the antipasti are prepared immediately before serving.
Types of Italian appetizers
It can be said that there are hundreds of varieties of Italian appetizers, without exaggeration. According to the products, they can be meat, fish and seafood, cheese, vegetables and various combinations of several types of products.
The antipasti are arranged on a plate, plateau or board, so that they represent a harmonious composition and arouse the appetite not only with their aroma and taste, but also with their appearance.
Here is a sample version of antipasti: roasted red pepper with garlic, two types of salami, eggplant, olives, slices of mozzarella.
Another rich combination of products, served on a plate, is: smoked salmon, chicken and pork, sausage, goat cheese and some kind of soft cheese, pate, olives, arugula pesto.
Among the most popular Italian appetizers are bruschettas and crostini. They can also be used on their own as a light main course, without being part of a whole lunch or dinner menu.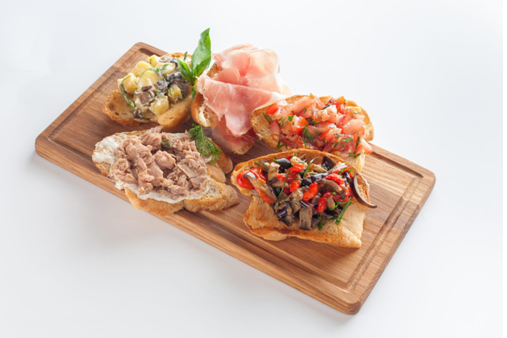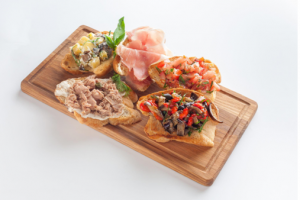 Bruschettas are thick slices of toast, rubbed with garlic. Bread can be baguette, baguette, ciabatta or other type. Top with chopped tomatoes and other additives such as peppers, cheese, sausages, olives, fish. Olive oil is also a mandatory part of this appetizer.
Crostini are thinly sliced ​​toasted slices, smeared with olive oil, on which there may be various products –  chicken or other liver, roasted peppers, cream cheese with finely chopped cucumber and green onions, butter and anchovies, cucumber and salmon, ricotta cheese and pieces of figs, etc. The combinations can be endless, according to the available products and the imagination of the chef.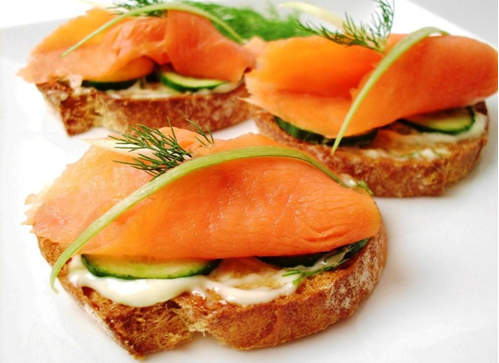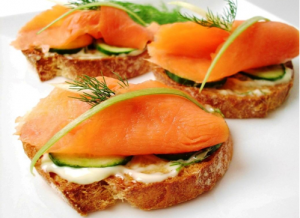 Spices for bruschettas and crostini are basil, parsley, black pepper and others.
Italian antipasti also depend on the region in which they are prepared:
For Northern Italy, part of which is in the Alpine region, more meat products such as bacon and smoked meats, cheeses, aromatic herbs are used
In Central Italy, in addition to meat products, fish and fish products are also used as starters. Cheeses and various vegetables are often included as elements of antipasti
In southern Italy the variety is very large. It relies on tomatoes and other vegetables, seafood is also plentiful, and cheeses complete the picture.
Receptions
Rolls of roasted pepper with tuna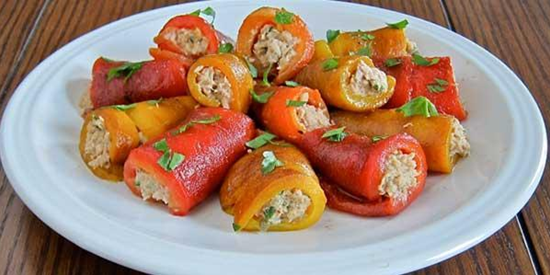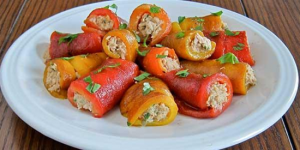 Products:
2 red peppers
2 yellow or green peppers
canned tuna in olive oil
2-3 anchovy fillets
1 tbsp capers
1 tbsp apple cider vinegar
1 tbsp mustard
2 tablespoons mayonnaise
fresh parsley
sol
freshly ground black pepper
Preparation:
Roast the peppers, then cool and peel. Cut the peppers lengthwise into three strips. Cut the top and bottom of the strips to make them more rectangular and place them on a worktop. Place the drained canned tuna in a bowl and chop it into very small pieces.
Add to the bowl,  chopped anchovy fillets, chopped capers, chopped parsley, vinegar, mayonnaise and mustard. Stir well until you get a homogeneous mixture, but not quite creamy. Try and add salt and pepper to taste.
Place the strip of pepper inside out and place a tablespoon of tuna filling at one end. Wrap the pepper strip with the filling Place the peppers on a serving plate.
Sprinkle evenly chopped parsley  on the rolls and pour a few drops of olive oil. Serve slightly chilled or at room temperature.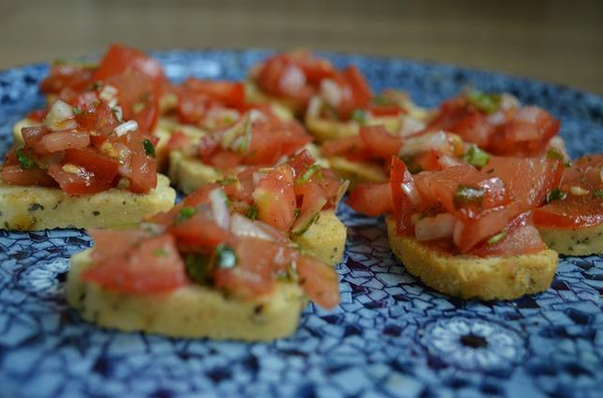 Bruschettas with tomatoes
Products:
6 slices of baguette bread
3 tomatoes
2 tablespoons grated Parmesan cheese
olive oil
garlic
fresh basil
sol
ground black pepper
Preparation:
Tomatoes are washed, the seeds are removed and cut into cubes. Season with olive oil, salt and pepper. Add the grated Parmesan cheese and chopped basil leaves.
If you want to make a vegan version,  you may not add parmesan. The baguette slices are toasted on both sides. Spread olive oil on one side, rub with garlic and then garnish with the tomato mixture.
Chicken rolls with spinach and mozzarella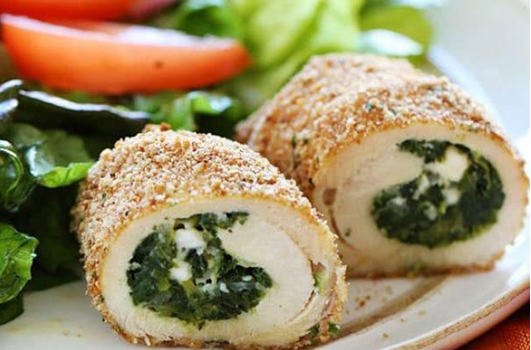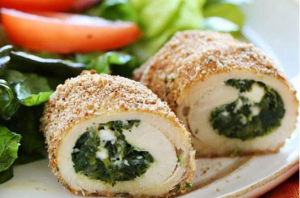 Products:
chicken breast
300 g of fresh spinach
150 g of mozzarella
breadcrumbs
salt and pepper
extra virgin olive oil
Preparation:
Thin the chicken breasts, which you will use for rolling. Salt them and sprinkle with ground black pepper. Boil and squeeze the spinach well. Cut the mozzarella into thin strips or small pieces. Wrap the chicken breast rolls with spinach and mozzarella, season the filling with salt and pepper.
Seal the rolls well, pressing with your hands on all sides. Roll the roll in breadcrumbs and stick it with toothpicks if it tends to open. Fry it in a pan with heated olive oil at a moderate temperature on all sides.