As famous as a national cuisine is, it can't help but include something quick to eat. We usually call these dishes alaminuti, which is indicative of the speed of their preparation.
The Italian culinary tradition is no exception, although fast food remains in the shadow of the world-famous pasta, pizza and risotto. This does not make them less tasty and noteworthy.
Italian alaminutes also carry some of the features of alpine cuisine, as they are part of it.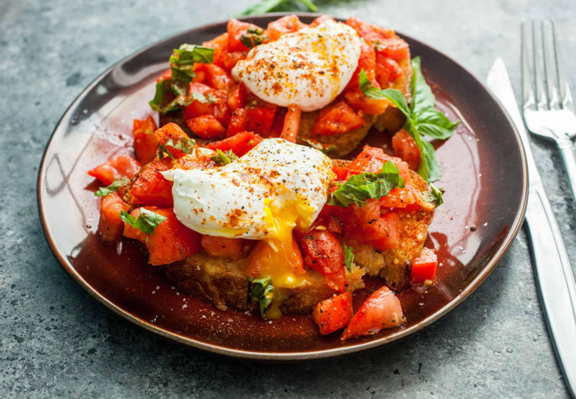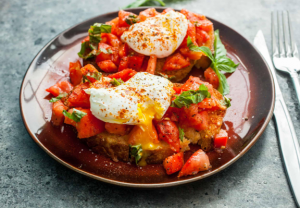 Types of alaminutes
Alaminuts are a large group of foods and can be prepared from many types of products. Their main features are that they are not many in one dish and it is even more important to prepare them quickly.
The recipes are easy and varied and probably every housewife has at least a dozen in stock, which she includes in the menu, when there is no time. Alaminuti can be prepared from meat or meat products, fish and seafood, eggs, vegetables.
In terms of heat treatment, they are:
fried
baked in the oven
grill
barbecue
suffocated
steamed
One of the most popular and easy to prepare are quick egg dishes. In Italian cuisine this is the famous frittata. Quick recipes for roasted or fried meats are available in all European cuisines. From meat dishes in most countries, including Italy, there are variants of steaks, meatballs, sausages and others.
Vegetable alaminutes also find a place on the menu of Italians. They are made from zucchini, potatoes, broccoli, eggplant, tomatoes and others. Another fast food that has found a place in every kitchen in the world are sandwiches.
And if many people perceive them as a slice of bread with salami and yellow cheese, the Italians have developed a new concept for this culinary product. It is based on delicious Italian breads, and on them appetizingly and beautifully stand different products – from tomatoes and mushrooms to salmon and shrimp.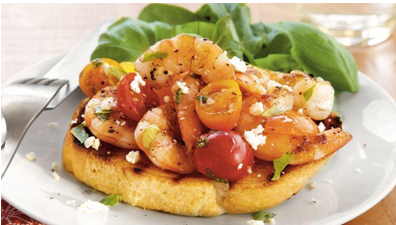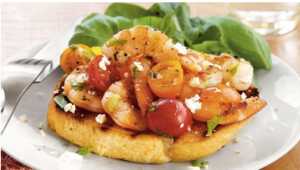 Eggs in Italian – frittata
If there are people who think that egg dishes run out of boiled, fried and stirred, they have obviously not tried the Italian frittata. She herself is a separate group of dishes with countless recipes.
Frittata is similar to an omelet, but can be enriched with various additives – meat and meat products, potatoes, spinach, zucchini, mushrooms, various cheeses and more. It can be served as an appetizer or main course, hot or cold, alone or with a garnish of vegetables. This egg dish is very popular with Italians because it is easy, fast, tasty and affordable for every pocket.
Bake the frittata in a pan or pan in the oven. The master frit should be ethereal and light, and this is achieved by breaking the yolks and whites separately. For a perfect taste you can add one spoon of cream or milk.
It is characteristic of the frittata, that it always has at least one additional product in addition to the eggs, which is added to the beaten egg mixture. Put the pan on low heat, heat the butter and pour the mixture into it. After the eggs are fried until golden on one side, you can turn them in the pan and fry them or bake them in the oven.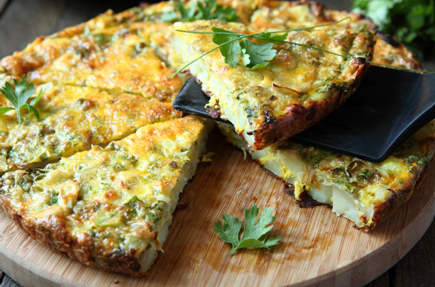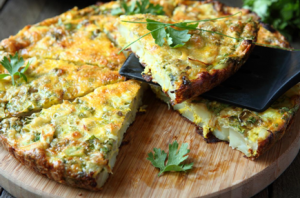 Bruschetta
Among the most popular Italian fast food items are bruschettas. They are thick slices of toast, rubbed with garlic. Baguettes, baguettes, chabata or some other type are used as a base. Top with chopped tomatoes, peppers, cheese, sausages, mushrooms, olives, fish, shrimp. Season with basil, parsley, pepper, olive oil.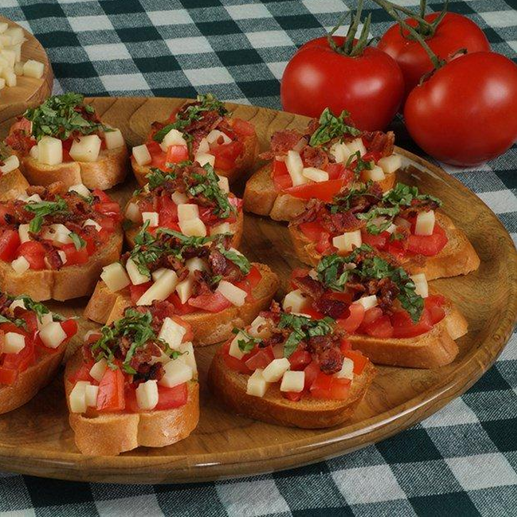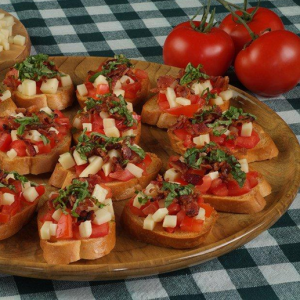 Crostines are similar to bruschettas. They are thinly sliced ​​toasted slices, smeared with olive oil, on which cream cheese with sliced ​​cucumber, chicken or other liver, roasted peppers, anchovies can be placed. Pleasant combinations are cucumber and salmon, ricotta cheese and pieces of figs, etc.
Bruschettas and crostini allow for an infinite number of variations, and the result is the same – easy and very tasty fast food.
Florentine steak
Italians are not known for their steaks, although there is one exception. This is a special type of steak, specific to Tuscany and of great cultural importance to Florence.  They call it Bistecca alla Fiorentina or in other words steak or steak in Florentine style.
There is a legend that the name comes from somewhere in the distant Middle Ages during the time of the Medici family. Florence was then an important crossroads where travelers from all over the world could meet.
It is said that on the occasion of the feast of St. Lawrence English knights attended the festivities, and in the streets beef was roasted on fires and distributed to the people. Enthusiastic British guests began to shout "bifstek!"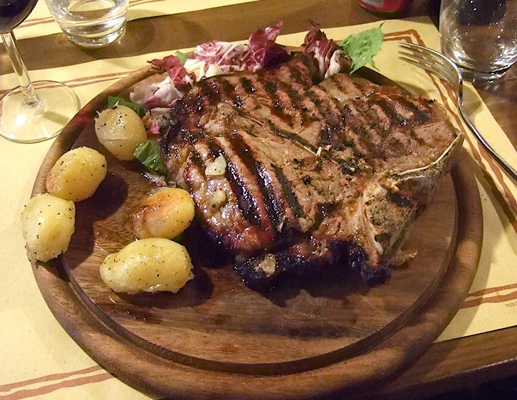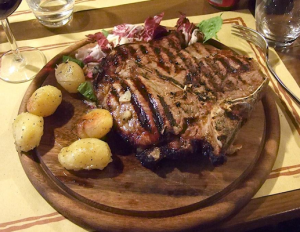 The original Florentine steak is prepared from a special breed of cattle and from a certain part of the carcass. The meat is seasoned only with salt and pepper. Bake briefly on a grill, under which there is embers, turning on both sides. The idea is to keep the steak almost raw on the inside and nicely roasted on the outside. When it is ready, it is sprinkled with a little olive oil, which gives it extra shine.
Italian meatballs – Polpette
Meatballs are not food invented specifically for Bulgarian village gatherings. Minced meatballs, flat circles or ellipses exist in most national cuisines under different names. The Italian version is called Polpette.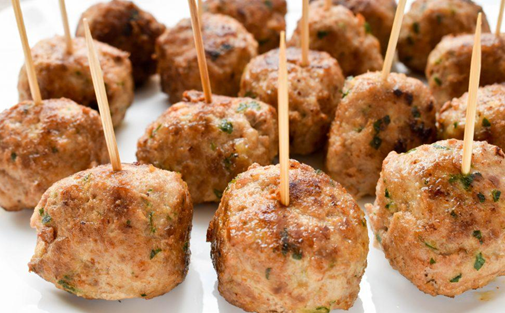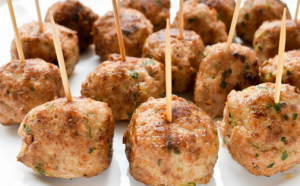 Eggs, onions and breadcrumbs or dry bread soaked in milk are added to the minced meat, which can be pork, beef or a mixture. Their taste can be enriched with  parmesan, mozzarella, sun-dried tomatoes, olives.
The spices used are very diverse: black pepper, oregano, nutmeg, garlic, parsley, cumin, basil, thyme and more. Many additives make the list of recipes for Italian meatballs inexhaustible. Polpette is often made with a delicious tomato sauce.
Recipe for fried meatballs in Italian
Products:
400 g ground beef
200 g pork sausage
4 slices of dry bread
100 ml of milk
2 eggs
fresh parsley
80 g parmesan
1 onion
nutmeg
rosemary
thyme
Preparation:
In a large bowl mix the ground beef with the flavored minced meat, eggs, parmesan and bread taken out of the sausage, pre-soaked in milk and drained. Add grated nutmeg, chopped parsley, salt, pepper and butter.
Mix well and shape the meatballs into balls. Fry them on a low heat in a pan.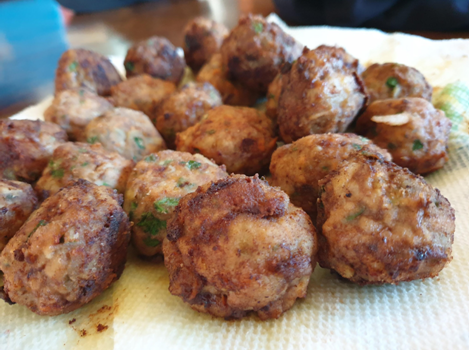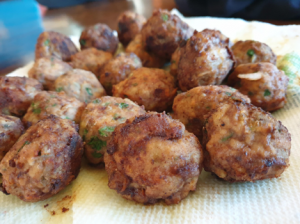 If you are not in a hurry, you can make them with sauce. Then fry the meatballs for a shorter time and then put finely chopped onions in the pan, add white wine and, when it evaporates, add the tomato puree. Season with salt and pepper.