Soups are one of the most interesting and distinctive dishes from French cuisine. Unfortunately, in everyday life, the French themselves cook them less and less.
They are usually served for dinner, not for lunch. French soups are quite different from ours, which are filling and thick, as they say "the spoon can stand upright" in them.
Soups in the homeland of haute cuisine are usually light, often offered consommets (broths) or cream soups. Of course, there are exceptions, such as Provencal fish soup Bouillabaisse, which is very rich.
The French culinary tradition naturally interacts with neighboring countries. For example, French soups are also part of Swiss cuisine, with which they are relatives in the Alpine line.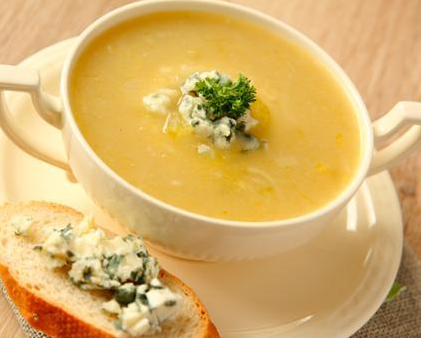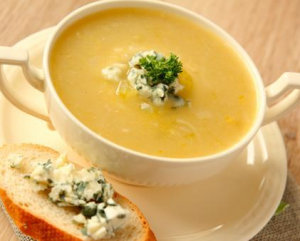 French onion soup
Onion soup is a French classic, known beyond the borders of his homeland. Legend has it that onion soup was prepared for the first time by Louis XV.
One night the king was hungry, but in his hunting lodge there were only onions, butter and champagne. The king mixed these ingredients to create the original onion soup.
Today, onion soup is prepared on the basis of meat, chicken or vegetable broth. To caramelize the onion, it is slowly fried on low heat for at least half an hour.
Chefs often extend this time to reveal all the richness of flavors. You can put a clove of garlic and a teaspoon of sugar. The onion should become evenly deep golden brown.
When the onion starts to caramelize, add thyme and salt to taste, and increase the heat. Finally, with a little cognac, sherry or white wine, remove the leftover onion from the pan, thus enhancing the aroma. Then add the broth and bay leaf. When the soup boils, reduce the heat and simmer for 15-20 minutes, or until the soup thickens.
Some recipes use flour to thicken. Onion soup is prepared in small quantities and is usually served in the dish in which it was cooked.
One of the most common ingredients in onion soup is cheese. The soup is served with baked slices of grated hard cheese, which are placed on the bottom of a plate or serving bowl and topped with hot liquid.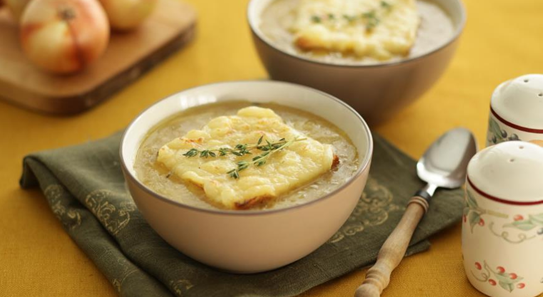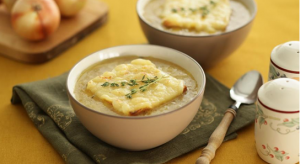 Buyabes
Bouillabaisse is probably the most famous traditional recipe from Provence. This is a thick fish soup originating from Marseille. According to legend, the first to start this soup were Provencal fishermen from unsold catches.
Buyabes is based on a broth of several species of sea fish with the addition of seafood. Vegetables, olives, spices and orange peel are also added to the soup.
The name Bouillabaisse comes from the method of preparation. Ingredients are not added at once. The soup is first boiled (bouillir), then the fish is added one by one, each time the heat is reduced (abaisser). Buyabes is eaten hot, with croutons and garlic sauce. The fish itself is removed from the broth and served in separate plates.
Traditionally in Marseille Bouillabaise is rarely done for less than 10 people. The more people share the dish, the more different types of seafood are used, which leads to better taste. Although the soup is rich, it cooks relatively quickly – in about 30 minutes.
It is usually served with a spicy Rouille sauce made with olive oil, garlic, hot pepper and stale bread.
Here is exactly how Rouille is prepared:
Take 2 large cloves of garlic and grind or crush them in a mortar. Take a piece of old bread, soak it in water and squeeze it until a ball the size of a walnut remains. Finely chop 2 red hot peppers and add them together with the ball of bread in the mortar. Stir, add olive oil and beat until the mixture begins to look like a smooth orange-red mayonnaise.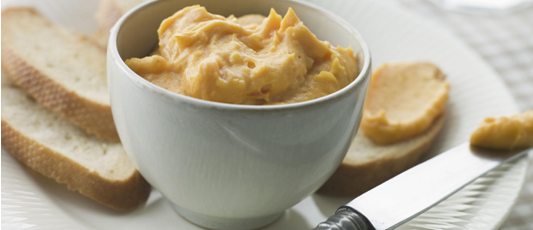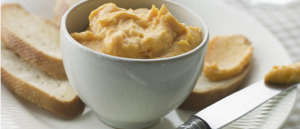 Recipe for Bouillabaisse
Products for 6-8 servings:
2 kg of mixed fish, whatever you like the most
15 pcs. shrimp
Mussels / optional /
2 onions
6 cloves of garlic
2 pcs. through
5 ripe tomatoes
2 tablespoons olive oil
1 sprig of thyme
1 stalk of dill
2 pinches of saffron
1 tablespoon grated orange peel
Salt and pepper
Preparation:
Clean and prepare the fish, and it is best to use fillets for easier. Also clean the shrimp. Boil water in a saucepan and fry onions, leeks, garlic and tomatoes in olive oil in a deep pan for 5 minutes. 
Add the thyme, dill and orange peel, mix well and leave for another 5 minutes. Add the vegetable mixture to the boiling water and stir quickly for 1-2 minutes. 
Once it starts to thicken, add equally large pieces of fish to the broth. Season with salt and pepper and add the saffron. Simmer for 10 minutes, then add the shrimp and mussels for another 3-5 minutes or until the mussels open and the shrimp turn pink. 
Remove the fish with a slotted spoon and arrange on a warm serving plate. 
Serve in a tureen or bowl and traditionally Rouille (the spicy sauce we described above) is added to Bouillabaisse and a little fresh french bread.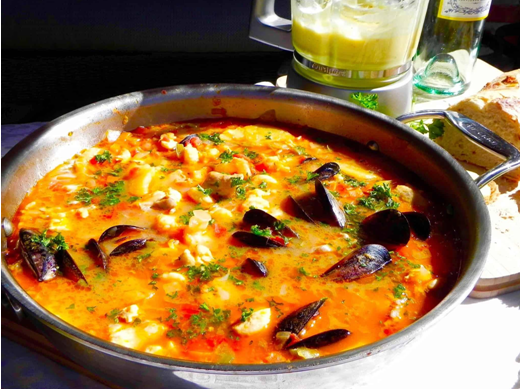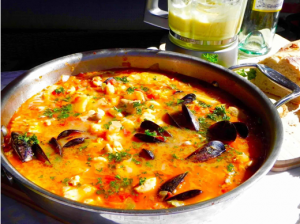 French soup with leeks and potatoes
Potage Parmentier is a traditional cream soup of potatoes and leeks, which is usually eaten hot. It can be served as an appetizer, as a side dish with meat dishes or as a separate afternoon breakfast.
The soup consists of potatoes and leeks, or optionally onions, which are boiled and pureed until they develop a smooth, delicate texture. Broccoli, asparagus, parsley or parsnips can be added to the mixture.
In French cuisine, dishes labeled Parmentier always have potatoes as their main ingredient. This is in honor of Antoine Augustine Parmentier – the agronomist who lived in the time of Louis XVI, who made potatoes popular in France. Thanks to Parmentier, an ornamental plant has become a delicious food.
Vegetable soup has many variations, but the main products always remain potatoes and leeks. To them you can add diced carrots or turnips, peeled sliced ​​tomatoes, cauliflower, peas, beans, okra, zucchini, spinach or cabbage.
At Potage Parmentier you can enjoy with the addition of croutons and a little cream.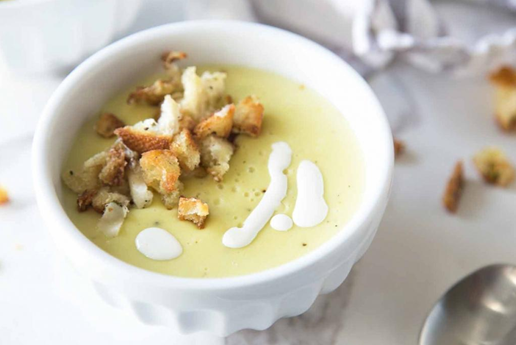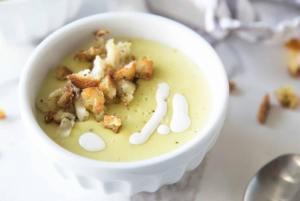 Recipe for Potage Parmentier
Products:
1 kg of potatoes, peeled and cut into cubes
3 tea cups leeks, thinly sliced ​​(white parts only)
2 liters of water
1 tablespoon salt
4-6 tablespoons cooking cream or 2-3 tablespoons of melted butter
2-3 tablespoons chopped parsley or 2-3 tablespoons of chives
Preparation:
Boil the chopped vegetables in water until soft. Mash the vegetables in a blender or mash them well with a fork. Spices can be added to taste.
Just before serving, add cream or melted butter. Pour the soup into a tureen or soup cups, add croutons and garnish with parsley or chopped chives.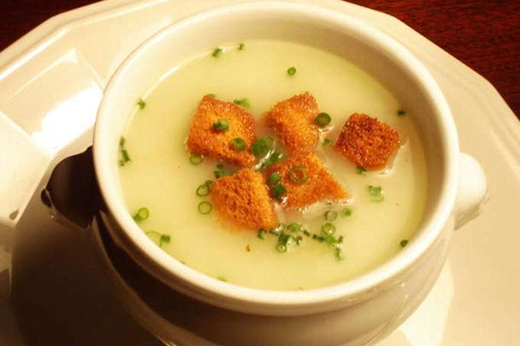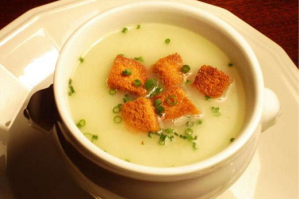 Consomme
Consomé is rich in taste and aroma, but clear broth. Before consomme was made mainly of chicken and beef. Lately it is also cooked from fish, seafood and even vegetables.
Consome is prepared in the same way as ordinary broth, with all kinds of roots and spices, carrots and onions. The finished broth is clarified with egg white. It is broken up and poured into boiling broth, and the emerged particles must be removed.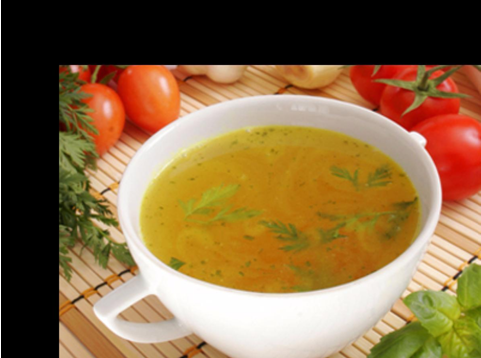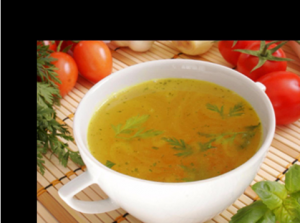 Consomme is served hot or cold as a separate dish. But on the basis of this broth you can prepare a delicious soup – with meatballs, vegetables, mushrooms or whatever else you can think of.