Swiss cuisine
Switzerland is usually associated with beautiful snow slopes and breathtaking alpine sights. But Switzerland is also a country of rich culinary traditions shaped by its intriguing history.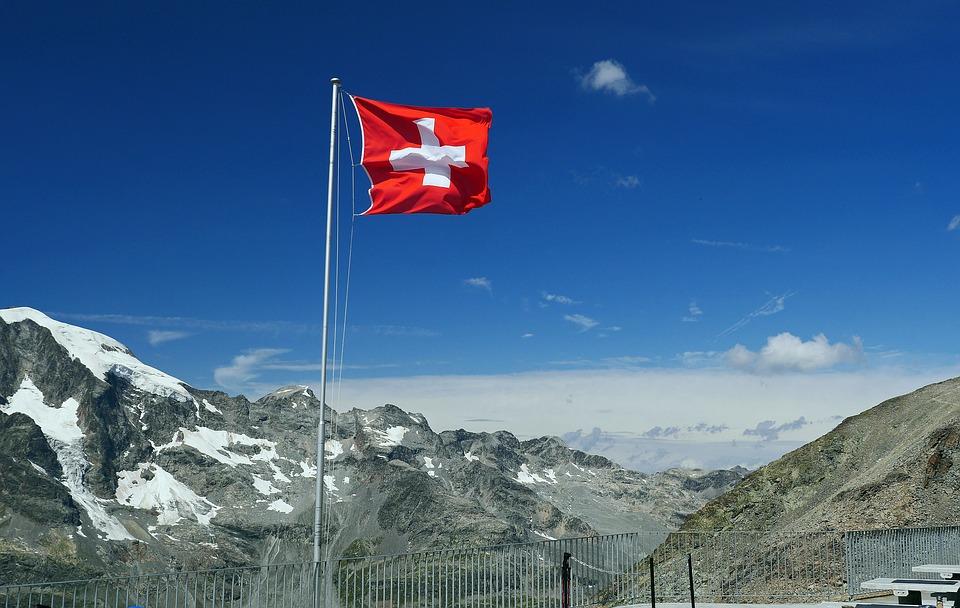 When it comes to authentic cuisine, traditional Swiss dishes it is not very well known in the world.  Although small in size, the name of Switzerland is associated with things that have become a common part of our lives, such as alpine chocolate, Swiss pocket knife, breakfast cereal, and also the so popular fondue.
This beautiful country, however, is not limited to chocolate and picturesque mountain slopes. Besides beautiful ski resorts, Switzerland is a country that offers rich national cuisine, a great culinary journey. It combines the culinary traditions of different countries such as Germany, France and Italy and for that reason it is so rich in tastes and colorful combinations of products.
Swiss cuisine is a culinary pleasure and delight for taste buds, so no fan of good cuisine should miss to taste an authentic Swiss dish. Traditional Swiss dishes are not characterized by elaborate cooking methods but are characterized by high quality and freshness of the products.
Traditional alpine cuisine is characterized by the use of simple and easily accessible ingredients, which in the past have occupied a major place on the table of ordinary farmers. These are products such as potatoes, cheese, onion, eggs.
Farmers living high in the mountains had to show creativity in cooking because of the shortage of food supplies. They created the most simple recipes that are made from cheap products and are both delicious and satiating.
In Swiss cuisine, most dishes are predominantly rich in vegetables, followed by beef, game and fish specialties. For Swiss cuisine, there is a curious fact that some of its regional traditional recipes have gained worldwide fame and have become part of other world cuisines.
These are, for example Fondue, Raclette, Rösti and others. Of course, there is no better way to feel the authentic taste of Swiss cuisine than to try it.
There are more than 450 types of Swiss cheeses. The most commonly used cheeses in Swiss specialties are: Emmental, Gruyere, Vacherin, Appenzeller, Raclette and Parmesan.
Italian cheese Parmesan
It is simply an integral part of traditional Swiss cuisine and there is no question that it is one of the symbols of the country. With its irresistible taste, it is not accidentally a favorite ingredient in a number of authentic Swiss dishes.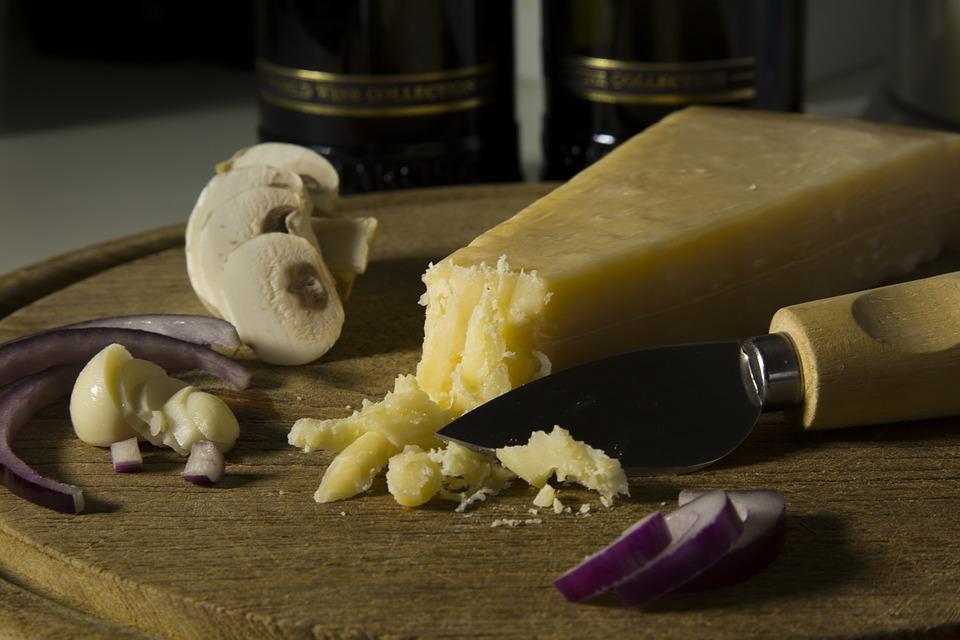 The very popular Parmesan or Parmigiano-Reggiano is the most popular in the world Italian cheese with wide application. The original Parmesan cheese is produced in the region of Emilia-Romagna: Parma , Reggio Emilia , Modena and Bologna .
Only the cheese produced there can be called Italian Parmesan cheese. In 2008, the European Court established the rule that only the cheese produced in these regions could be labeled "Parmigiano-Reggiano", that is, it is the original hard cheese in the world.
Its name is formed by the names of the regions where it is produced – Parma and Reggio-Emilia. The very word "parmesan" is a French version of Parmigiano-Reggiano. In Switzerland there is a cheese called Sbrintz which very much resembles parmesan in terms of texture and taste. It is produced in 42 dairy farms in central Switzerland.
How is Parmesan produced?
The production tradition of Parmesan dates back more than 1,000 years ago. Historical facts indicate that the Benedictine monks first invented the parmesan recipe. They accidentally discovered the recipe while trying to obtain cheese with long durability. It is because of its durability that the Parmesan has gained popularity. The Parmesan type refers to hard cheeses and is both table and dessert cheese.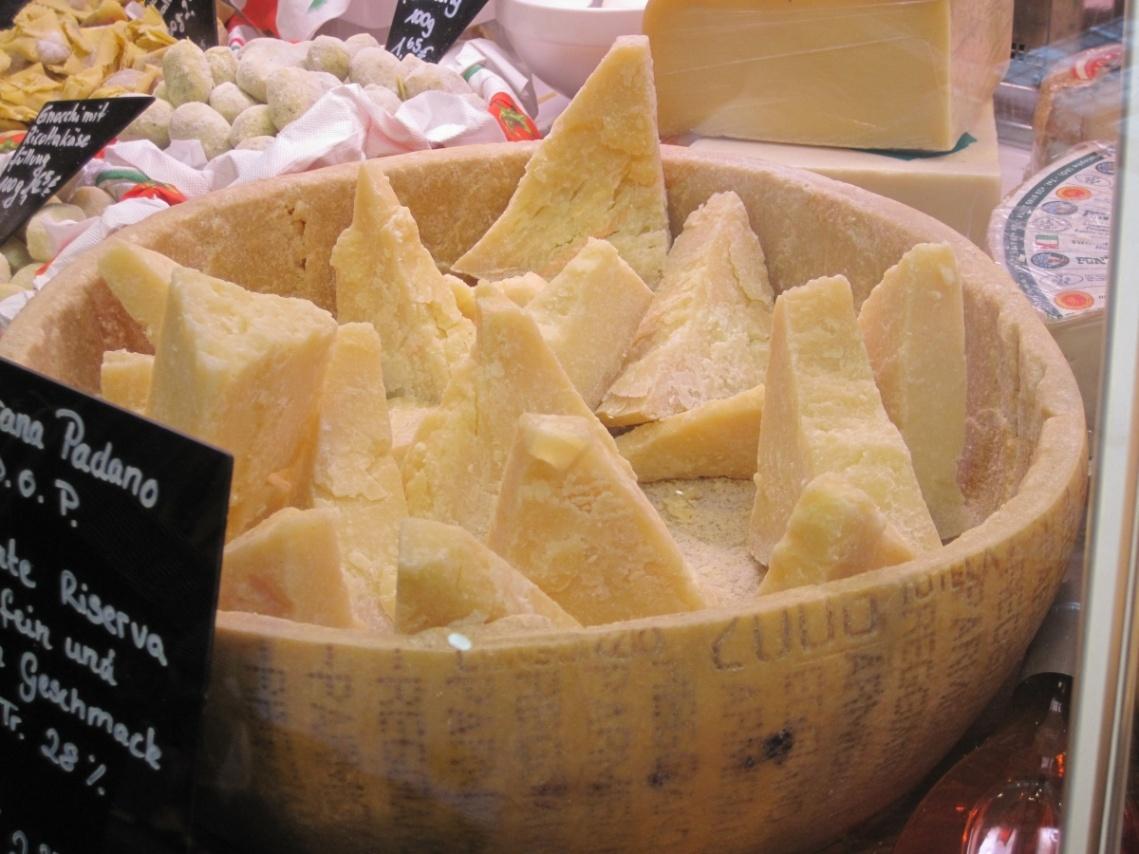 Each year Parmesan production is starts annually on April 1 and on November 11 it ends. Parmesan cakes are put in special solutions where they stay for about three weeks. Once the cakes are formed, they are left to stand for 36 months on wooden shelves and stored at a specific air humidity and temperature.
A curious fact is that for the production of one kilogram Parmesan 16 liters of cow's milk are needed. A tinge of pineapples and raisins can be smelled in the cheese.
Milk delicacy is made from unpasteurized cow's milk, which is actually made up of two types of milk – one milk comes in a completely natural form from the morning yield of milk and the other is pre-skimmed and is obtained from the evening milking.
Typically, the average parmesan cake may reach a weight of 30-36 kg. Parmesan contains a lot of calcium and is certainly useful for teeth and bones. It is an extremely digestible cheese because of its natural maturation.
The fact is that 100 grams of parmesan digested for 45 minutes. The same amount of meat is digested for 4 whole hours. Also in 100 grams of cheese there is just as much protein as in 185 grams of beef, 225 grams of trout and 190 grams of pork.
According to the ripening period, parmesan is divided into 3 types .
The first type matures up to 1 year and a half and is called fresh cheese.
The second type, which matures for 2 years, is called old, and the one what matures for 3 years is very old parmesan.The Parmesan maturing process is under constant monitoring and control by master craftsmen. This process of cheese observation involves knocking on the cakes with small hammers in order to determine by the sound if there are any cavities that should not be there.If there are cavities found in one of the cakes, the cake is considered to be of poor quality and sold grated.
Only high-quality parmesan is sold in whole cakes. Its structure is flaky and grainy, so it is not cut with a knife, but with a special Italian kitchen knife with almond-shaped blade that resembles chisel.
Parmesan has a really wide use in a variety of specialties not only in Italian but also in Swiss cuisine. It is served grated on top of lasagna, pizza, pasta, toasted bread or bruscchettas, salads, soups, risotto and sauces. Besides with the classic red wine, Parmesan can also be served in combination with fruits such as pears and figs.
One of the authentic Swiss dishes that can be prepared with Parmesan cheese is the cheese fondue. This is perhaps one of the most famous Swiss dishes that no one should miss to experience.
The Swiss fondue
Fondue has earned a worldwide reputation of an irresistible culinary temptation. It can be salty (with cheese, broth and oil), as well as sweet (with dark, milk and white original Swiss chocolate).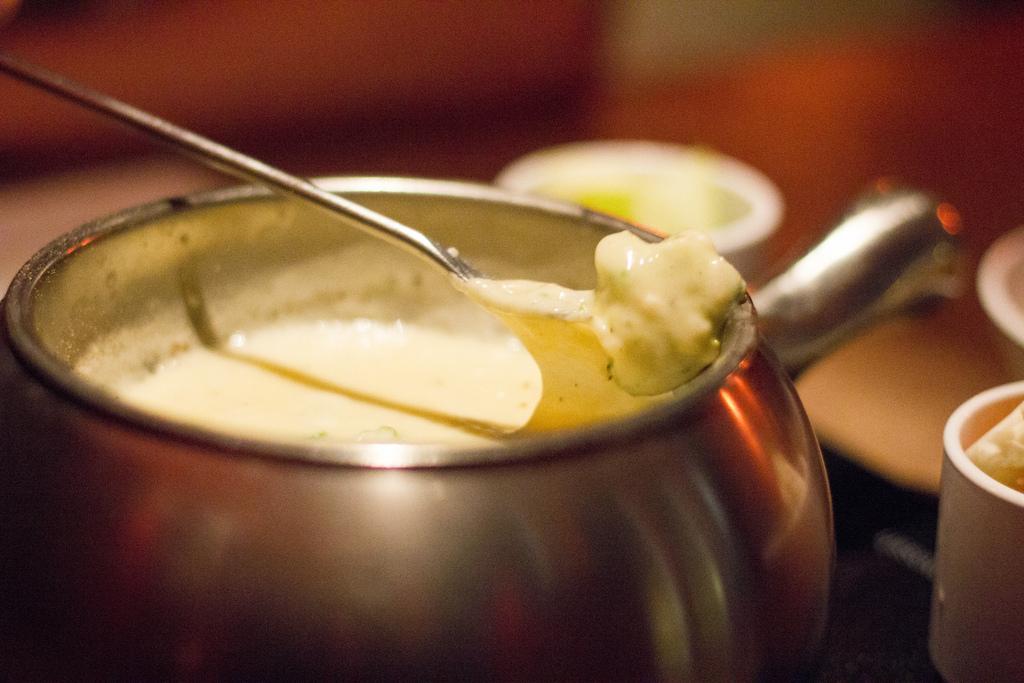 A cheese fondue is prepared by putting pieces of different Swiss cheeses (Appenzeller, Emmental, Gryuere, Vacherin, Parmesan, etc.) in a special stainless steel or ceramic vessel called caquelon, which are melted at a constant and uniform temperature.
The caquelon can be heated on a spirit lamp or a candle. Corn flour or starch, garlic, black pepper, white wine, Swiss cherry rakiya called kirsch which is similar to cherry brandy are added to the cheese mixture. This mixture is continuously stirred to maintain its uniform consistency.
It is consumed by melting cubes of bread, vegetables or meat inside the warm mixture with the help of long metal forks. The cheese used in the fondue varies depending on the culinary traditions of the Swiss region we are in.
Many different products such as pickles, pickled onions, pickled vegetables, mushrooms, concasse tomatoes, fried bacon can be used to consume the cheese fondue.
Fondue with vegetable broth and oil is prepared in a similar way. Fat or broth is added at choice in the caquelon. Vegetables such as broccoli, cauliflower, carrots, asparagus, meat (pork, veal, chicken, fish) or various seafood such as shrimps, squid, octopus and others are dipped in the heated liquid.
Finally, a garnish of pickles, stewed vegetables, sauces such as mustard, mayonnaise, ketchup can be added to the fondue.