Few of us can deny that the soft and creamy fondue cheese is something great. Many housewives have a fondue set in their homes, and some have even more than one.
But how often we find time to use them as intended and enjoy an exciting fondue experience between the four walls of out home? Some of us do not even dare to try to prepare a fondue because we are worried about the complexity of the recipes.  
First of all we have to be aware of the fact that fondue recipes are not just another new culinary hit. On the contrary – it is very old-fashioned way of eating that comes from Switzerland – sometimes we might get confused with regards to the origin of the word "fondue", because it is French – so we may think that this is a typical French dish. At the same time, this is one of the most social and friendly traditions in that cuisine. These recipes are very suitable for colder weather and they go very well with a nice wine and good company.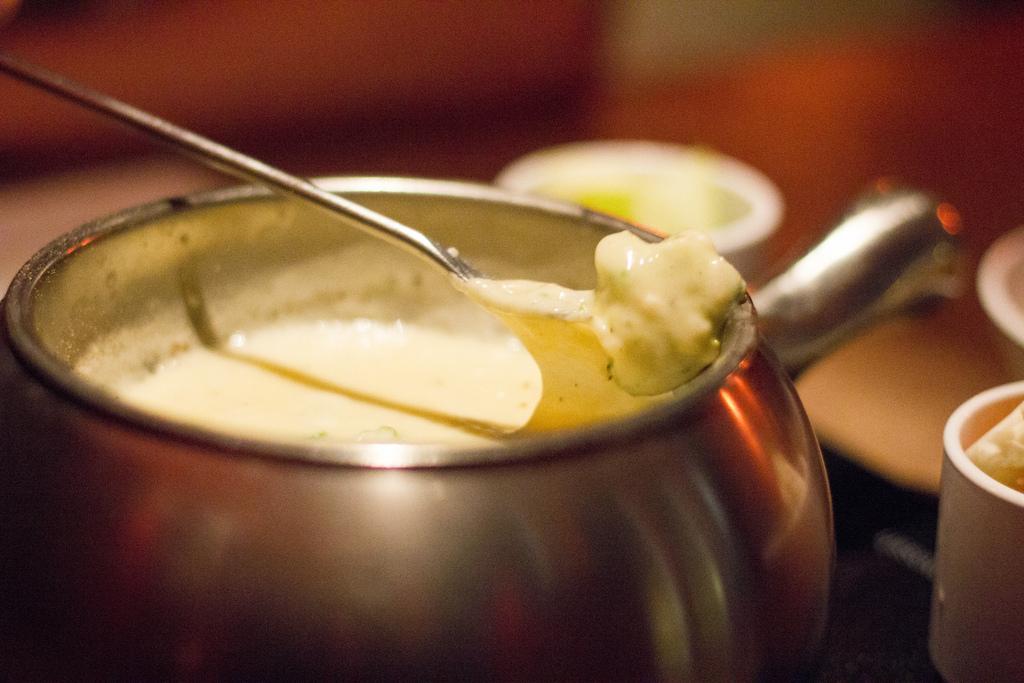 In its most widely known variations, the fondue is prepared with wine
In the Italian-speaking canton of Ticino, however, this dish has its own Italian name – fonduta, as it is prepared with egg and milk that are added to the cheeses. The so-obtained creamy texture is traditionally served as a topping for the Italian polenta.
In the Netherlands, for example, you can enjoy the local fondue, which in translation means – "cheese in a pot", and it is made with several dutch cheeses. In general, when it comes to fondue, there are almost as many recipes as the number of the mountain villages around the world.
Switzerland even has a lot to do with China with regards to the recipe for "huo guo" –borscht prepared in something like Chinese samovar, which is extremely popular in the Asian country. This dish has been in existence for more than two millennia and is also preferred for cold periods in China. Perhaps because of the similarity in the way of preparation, in Switzerland the dish is known as "chinese fondue". Its European version includes the well-known Asian mushrooms, but the diffrence is that it contains more meat and creamy sauces.
The truth is that basically the very technology of fondue preparation is very simple. For this purpose, we need a clay or metal pot called kaklon (its more common name in Bulgaria is "caquelon"). The entire inner surface of the caquelon has to be rubbed with a clove of garlic, which after that we will cut and add to the fondue mixture.
Heat white wine and mix it will some corn starch. This is necessary in order to avoid the  formation of pats. Some lemon juice also can be added. This is everything that you need to know about the preparation of fondue. From then on, you will need the products that will make your fondue really unique and original.
In general, fondue is a blend of two types of cheeses that vary depending on the region of Switzerland we are in. The Gruyere cheese – one of the most commonly used in the fondue recipes, is typical of many parts of Switzerland and it has a Protected Geographic Indication certificate  (PGI). We can also use the cheeses appenzeller or emmental.
Also typical of the Swiss is to use Kirschwasser liqueur, called Kirsch, for the preparation of cheese fondue. Kirsch is a transparent alcohol, similar to the Bulgarian brandy, which is made from black sour cherries and is believed to originate from Germany.   
Technically, the Kirsch as an ingredient sometimes can be replaced by cognac or brandy. In no case, however, don't try to replace this special cherry alcohol with a liqueur of sour cherries or cherries, because they, unlike it, are too sweet to taste. Various spices such as white pepper or nutmeg can be used to season the fondue, also vegetables such as mushrooms or tomatoes, even hot peppers can be used. For example, you can season the gruyere cheese with black pepper, nutmeg and Kirsch in order to obtain the famous Lausanne fondue from the Swiss canton of Vaud.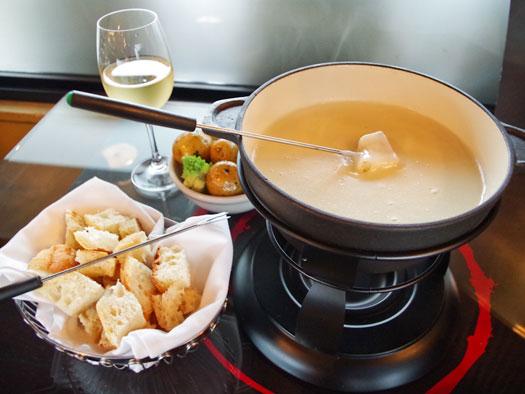 Traditional fondue with bread and cooked potatoes
Sometimes you can hear the Francophones call this fondue "moitie-moitie"–literally means – "50:50", because it is prepared with gruyere cheese and another Swiss cheese having PGI– vacherin fribourgeois, sometimes called just Fribourg in French or Freiburg in Germnay, which is the name of the Swiss canton for which it is considered to be most specific, although in general historically the Vacherin cheese is also produced in France.
The moitie-moitie fondue is one of the most popular recipes in the Fribourg region and there is a good reason for that. The simplicity of the recipe – cheese, garlic, white wine and Kirsch, makes this fondue a little heaven in a bowl. If you like you can add a pinch or two of hot red peper as a final touch.   Traditionally, this fondue is served with bread cubes and cooked potatoes.
Fondue with Neuchatel gruyere
The gruyere cheese from the canton of Neuchatel in Switzerland also has a PGI certificate. In order to prepare the typical fondue recipe it has to be mixed with savory and soft emmental cheese. The most popular foods that can be dipped in it can be baked broccoli, mushrooms and others.  
Fondue from the canton of Lucerne:
No, it is not a dish made of the Lucerne plant. This amazing fondue recipe comes from the German-speaking canton of Lucerne, which is located in the northern part of Switzerland. It is prepared by combining the typical gruyere cheese with the harder appenzeller cheese.
Finally we have to decorate the dish with a handful of freshly cut seasonings that include onion, parsley, tarragon and others. For example, without involvement of Lucerne, the pot gets a beautiful touch of the green color and smells great.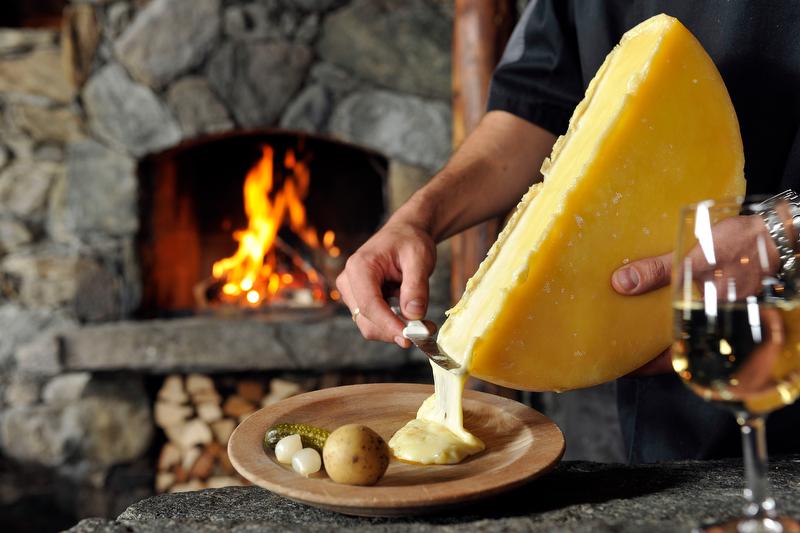 Raclette
Racette is a semi-hard Swiss milk cheese, but is also the name of a very famous dish in Switzerland. In the past, it has been prepared by holding a whole cheese cake of approximately 6 kg in front of the fire and the melted cheese was scrapped in order to be consumed. Here comes the name of the dish – "scrapped"in French. Nowadays, there are modern Raclette grills that you can use to melt a piece of cheese and to grind it on grilled meat or vegetables.
Equally abundant is the world of the sweet fondue recipes– it includes the participation of different kinds of chocolate in which we can dip fresh fruits, marshmallow sweets, cookies, pretzels, ladyfingers or – why not – pieces of chocolate.