Fondue is a warm dish from
Fondue is a warm dish from Switzerland's national cuisine. The traditional recipe can generally be described as two or more types of cheese and white wine. The cheese is shredded and melted in the heated wine.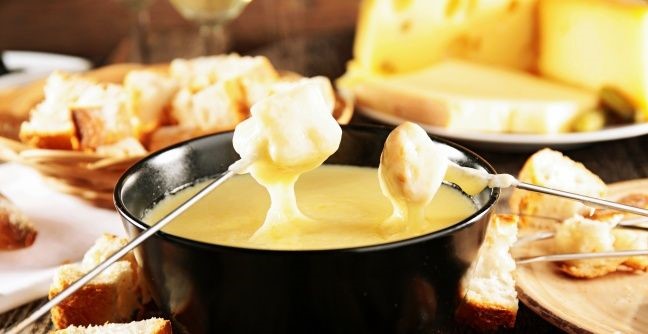 The resulting creamy mixture is enriched with different spices and used to dip pieces of bread in it. There are, however, different options, including a sweet fondue – made of chocolate and dipping appropriate fruits.
This national Swiss dish is very popular all around the world. It is prepared in luxurious restaurants on all continents as a unique combination of tastes, flavours and attraction. One peculiarity of fondue is that everyone in the table dips in the same pot.
People who tried it joke that it can be made into a game – if someone inexperienced drops their piece of bread in the pot, they buy a treat. The treat is determined in advance and, of course, it's a fun teaser for everyone.
Another detail of fondue preparation is that it is cooked on the table where it will be eaten. Both the cooking and the temperature maintaining are done on open fire. This table-top cooking with open fire is known in eastern cuisine, but is an exception for European traditions.
In Switzerland fondue is a celebratory dish. It is made for example during the weekend when everyone in the family is home or there are guests coming over. Of course, it may be made every day, but the Swiss tradition puts special meaning in fondue. It is more than just delicious and flavourful food, it is cheer and sense of community and togetherness.
That is why the dish is not prepared by the hostess, but rather everyone on the table joins the cooking of fondue That is why the dish is not prepared by the hostess, but rather everyone on the table joins the cooking of fondue. Psychologists say that this is a successful way to fight the feeling of loneliness, depression, discovered centuries ago by the Swiss when villages were separated from harsh alpine conditions. In this sense, the shared emotions in making and eating fondue are definitely a stress-buster.
Why fondue is so delicious and flavourful
Basically, it is not very hard to make a fondue . Although – of course, there are some technological rules and craftsmanship for every type – choosing the right types of cheese that have reached certain maturity, a correct way to thicken the mixture, keeping it from burning, preparing dipping pieces that don't fall apart, etc.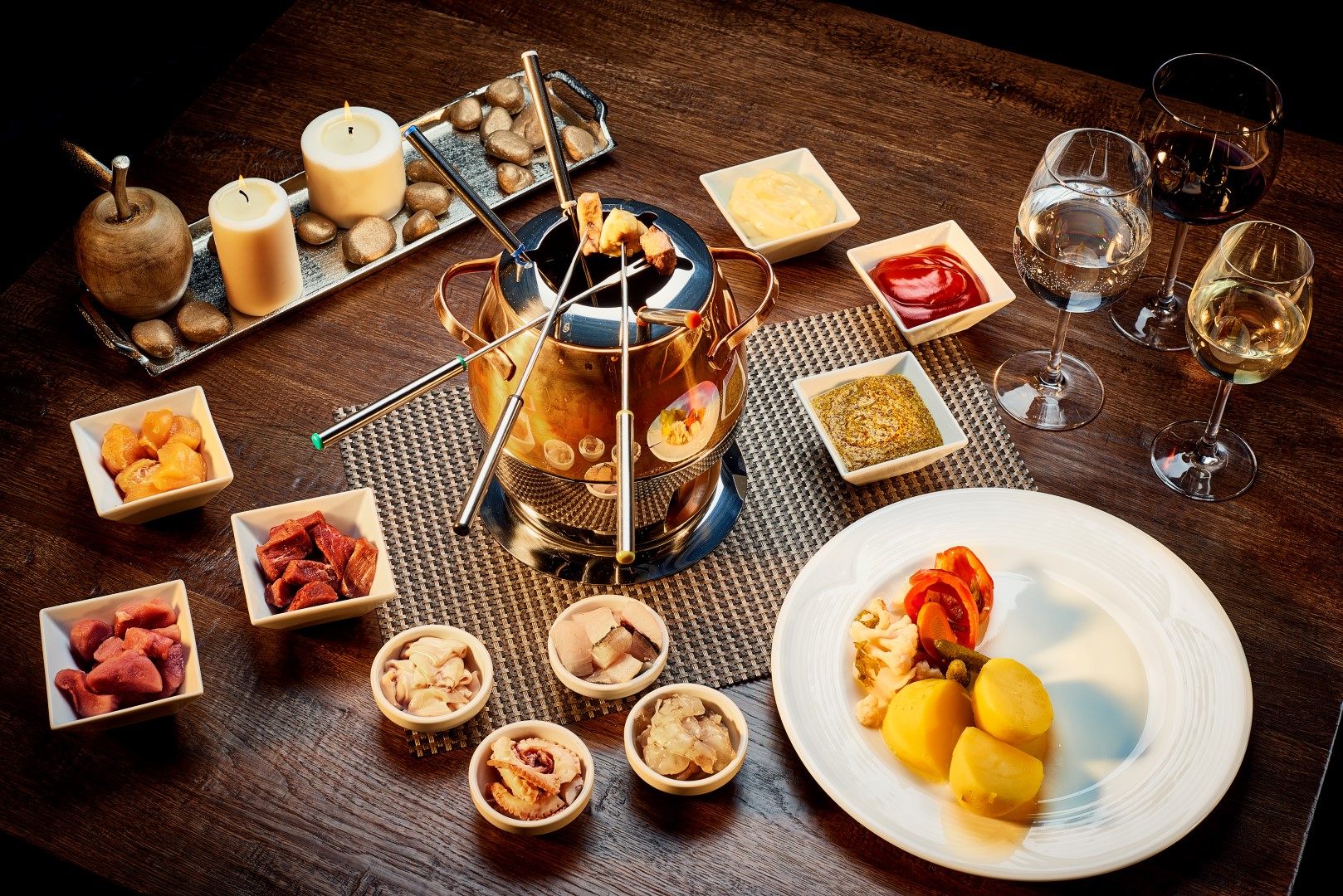 Technology is important, because the original Swiss fondue – of wine, cheese, spices. – in a certain way. This also applies for fondue made with mushrooms, meat, seafood, fish.
Preparing fondue requires a special set. It is called "party flame". A metal stand holds the pot /"caquelon"/ where the meal will be made, and under it there is a stand for open fire – once, candles were used, now it is usually a spirit lamp. The sat also includes forks, grinder, etc.
If it is going to be a cheese fondue, a ceramic caquelon . is used. For the other types of fondue, for example meat, metal pots are used because it is necessary to heat them to a higher temperature.
The traditional cheese recipe requires for the walls and bottom of the pot to be rubbed with garlic , and afterwards to leave the clove in the pot.
A glass-glass and a half of wine is poured in the pot and heated to high temperature, without boiling it. Part of the cheese – shredded or minced , – is added to the wine with constant stirring until the cheese liquifies. The procedure is repeated until there is no more cheese to add.
The mixture is thickened with four or starch, stirred separately with lemon juice. Next, it's time for spices – pepper, nutmeg, cumin, dill. A flame keeps the ready dish warm during eating.
Everyone dips hard bread pieces in the pot with twirl moves using the special long-stemmed double- or triple- toothed forks. In addition to bread pieces, different vegetables may be used for dipping, potatoes are especially popular for fondue dipping. In some regions of Switzerland flavours, tastes and mood are enhanced by dipping pieces first in fruit brandy and then in the fondue pot.
Types of cheese fondue
When cooking a cheese fonduethere are different tastes that may form – from mild to really spicy, all following proven recipes. There is variety between the regions, which is understandable given the nationalities in the different Swiss regions.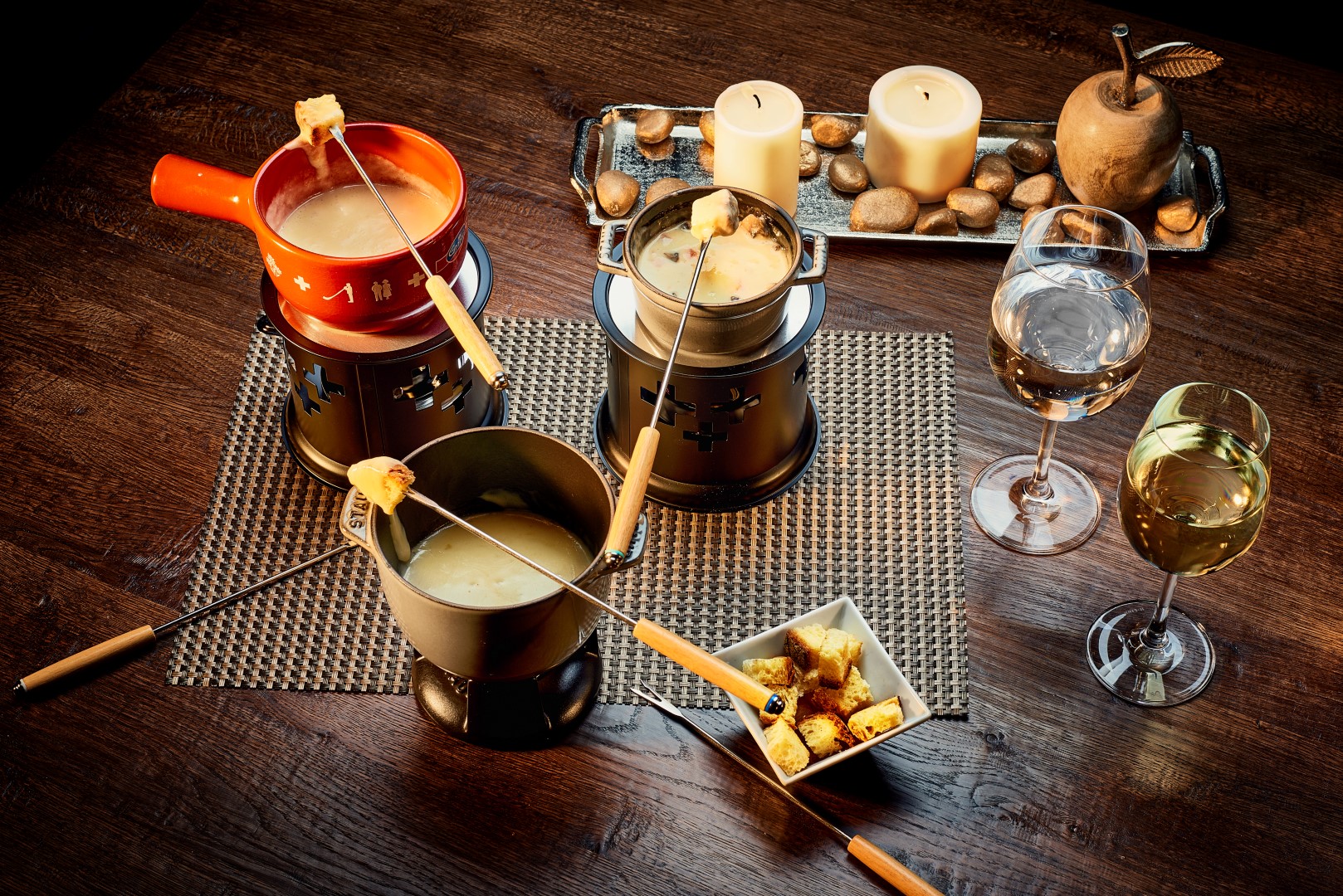 As it is known, the country is populated mainly by Germans /a total of 4 700 000 people/, French /1 485 000/, Italians /750 000/. These groups of course carry their ethnic culinary traditions, which makes culinary different in every region. Difference starts from the choice of cheese – among the used types are Gruyère, Fontina, Emmental, Appenzeller, Camembert, etc.
The Italian regions' type of fondue is called Fonduta. It must always be made with Fontina, because it's Italian cheese. In the recipe, wine is swapped for milk, and the mixture includes egg yolks and butter as well. Milk and cheese are mixed and let to rest for a certain amount of time. After that they are heated and melted with constant stirring and adding egg yolks one at a time until the mixture becomes creamy. The dish is very popular in Northern Italy, mostly in Valle d'Aosta and Piedmont. By the way, wine is not off the table – dish is consumed with a glass of wine and toasted cubed bread , as part of the served antipasto.
In the French parts, for centuries fondue has been made with Gruyère cheese typical Swiss cheese from the district of the same name. The technology of the cheese production is described in a 12th century document. It may have five different tastes according to the time it was left to mature – from 5 to 15 months. Both the cheese and the fondue it is used to make are popular in Eastern France.
The recipe in the Norman part is mainly with Camembert – soft mouldy cheese. Its name is related to the village with the same name in the department of Orne, and its origin goes back to the 18th century.
Other types of fondue
In addition to cheese, Fondue can be made with pieces of meat – veal, pork, chicken; with fish, shrimp, crab, spinach, bread, chocolate and many others.
When adding meat, pieces of meat. should be used. For the meat type of fondue , heated oil – may be used – made from sunflower, peanut, rapeseed, olive, for frying of the meat cuts, or vegetable stock for boiling them. In some regions meat is boiled in white wine.
Frying is done with a spirit lamp to maintain the temperature of the heated oil on the pot and the meat pieces are fried for a short interval – 40-60 seconds, using long-stemmed fork. If it is cooked with stock, the meat needs to be very thinly cut, so it softens quicker. The stock may have different spices depending on preferences – like basil and rosemary.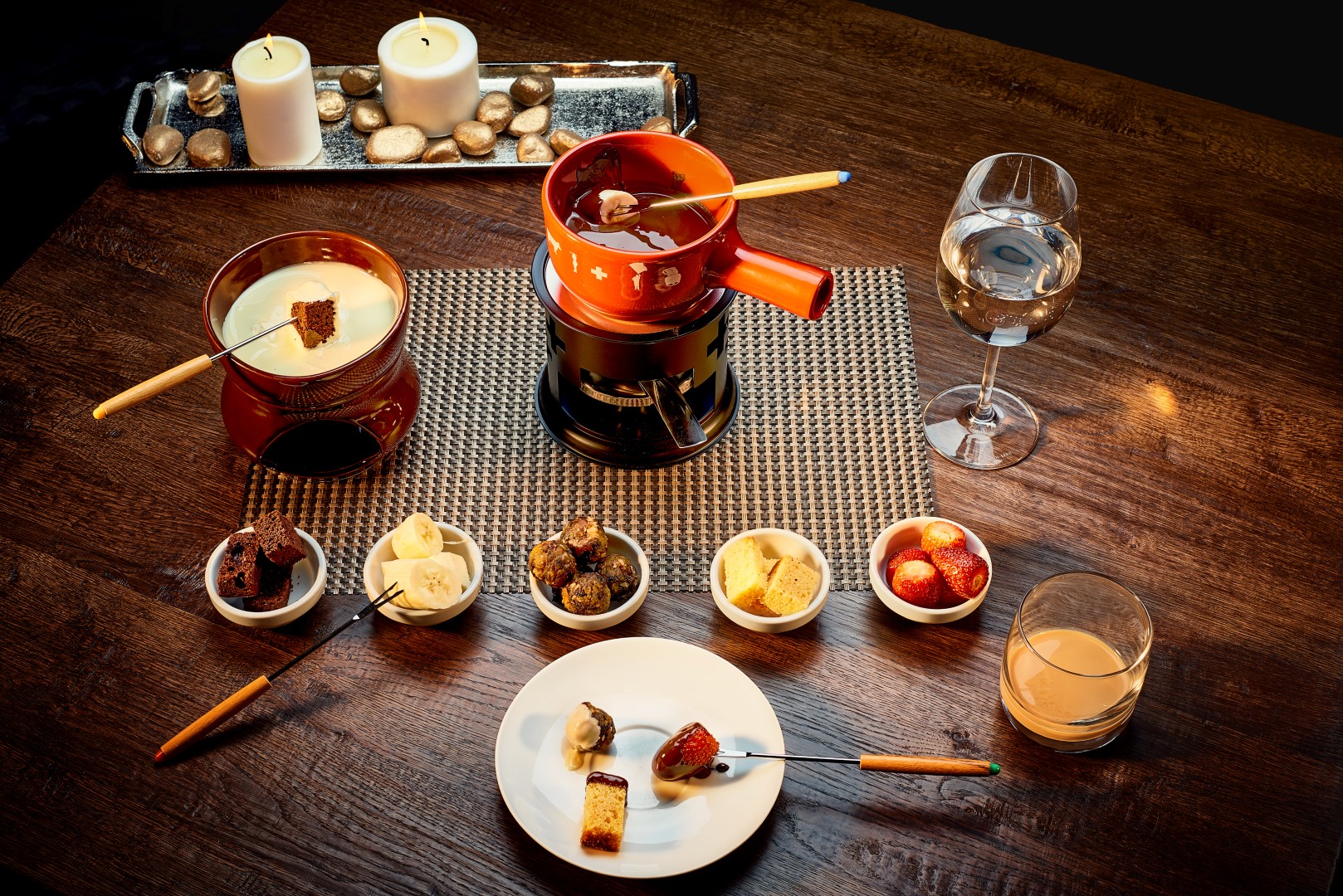 Dessert fondues are also a matter of preferences – they can be made using black, white, milk chocolate, adding liquor and cream. The chocolate made into pieces is stirred over hot water until melted.
If we're making, for example, orange chocolate fondue, grated orange zest , is added to the chocolate with liquor and cream. There are different suitable fruits to mix and match – strawberries, sour cherries, kiwi, pineapple.
Fruits or pieces of fruits are dipped in chocolate. It is kept warm and creamy using candle flames.